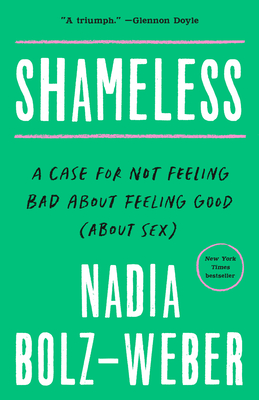 Shameless: A Case for Not Feeling Bad About Feeling Good (About Sex)
Publication Date:
March 3rd, 2020
Publisher:
Convergent Books
The Book Tavern
1 on hand, as of Dec 10 11:18pm
(Religion::Christian)
On Our Shelves Now
Description
NEW YORK TIMES BESTSELLER • Raw, intimate, and timely—a no-holds-barred celebration of our bodies that flies in the face of antiquated ideas about sex and gender.
 
"A triumph."—Glennon Doyle • "One of the most important, life-changing books I've ever read."—Rachel Held Evans, author of Searching for Sunday and Inspired
 
Negative messages about sex come from all corners of society: from the church, from the media, from our own families. As a result, countless people have suffered pain, guilt, and judgment. In this instant bestseller, Nadia Bolz-Weber unleashes her critical eye and her vulnerable yet hopeful soul on the harmful conversations about sex that have fed our shame.
 
Bolz-Weber offers no simple amendments or polite compromises. Instead, this modern-day reverend calls for an inclusivity that empowers us to be loyal to people and, perhaps most important, ourselves. "Christianity is not a program for avoiding mistakes," she writes. "It is a faith of the guilty." With an alternative understanding of Scripture passages that have been weaponized against Christians for decades, Bolz-Weber reminds us that sexual flourishing can and should be for all genders, all bodies, and all humans. She shares stories, poetry, and Scripture that wage war on perpetual anxiety around sex by celebrating sexuality in all its forms and recognizing it for the gift that it is.
 
If you've been mistreated, confused, angered, and/or wounded by shaming sexual messages, this one is for you.
Praise for Shameless: A Case for Not Feeling Bad About Feeling Good (About Sex)
"Shameless is a triumph. Nadia Bolz-Weber returns to readers the gift toxic religion and consumer culture stole: the gift of sexuality. Her wisdom is unparalleled, her vulnerability touching, her storytelling masterful, and her perspective both ancient and fresh. Shameless will give its readers their joy, relationships, and freedom back."
—Glennon Doyle, author of #1 New York Times Bestseller LOVE WARRIOR, founder and president of Together Rising
 
"Shameless is one of the most important, life-changing books I've ever read. Expertly-crafted and lovingly delivered, it serves as both a bomb and a balm—blowing up the lies religion teaches about sex and tenderly healing the wounds those messages have inflicted. Pastoral and prophetic, Shameless weaves together history, theology, biblical studies, personal narrative, and sex ed, without ever losing sight of its most important aim—honoring the dignity of actual human beings living actual, messy and beautiful lives. It's Nadia Bolz-Weber's best book yet. And that's saying something."
—Rachel Held Evans, author of Searching for Sunday and Inspired
 
"If the conversation around sex in the Church has felt like a small, cramped room to you, brace yourself: Nadia Bolz-Weber is about to kick in the door, hustle you outside, and burn down the room as you march out into the fresh air. This irreverent, bold, and authentic book is deeply centered in love and the transforming goodness of God. If ever there was a time for the Church to disrupt the world's broken notions around sex, gender, masculinity, and power with this sort of a shameless reformation, it is now. And Nadia is the loving, hopeful, wise, take-no-prisoners disruptor we've been waiting for."
—Sarah Bessey, author of Jesus Feminist and Out of Sorts
 
"Nadia has an amazingly faith-filled way to say good things in a hard way and hard things in a good way. She does it again with one of our most wounding, dangerous, and needed subjects—Christian gender and sexual teaching! This will heal many."
—Fr. Richard Rohr, O.F.M., Center for Action and Contemplation, author of Falling Upward
 
"Nadia Bolz Weber returns with her page-turning, vulnerable storytelling, this time with her sights set squarely on purity culture. She unravels the problematic, toxic frameworks around sexuality – the burden of which many of us still carry today – and offers us the freedom we need to say no to shame. If you know Nadia's work, you know that she is fearless. In Shameless, we all benefit from her bravery."
—Austin Channing Brown, author of I'm Still Here: Black Dignity in a World Made for Whiteness