Discounted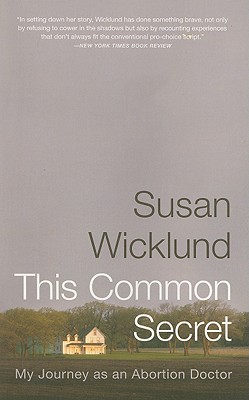 This Common Secret: My Journey as an Abortion Doctor
Previous price:

$21.99
Current price:

$16.99
Publication Date:
December 30th, 2008
Usually Ships in 2 to 14 Days
Description
A brave account of the social and political forces that threaten a woman's right to choose, this emotionally affecting memoir from a doctor on the front lines of the abortion debate reveals what's really at stake in the Supreme Court
In America the reproductive justice debate is reaching a new pitch, with the Supreme Court weighted against women's choice and state legislatures passing bills to essentially outlaw the practice of abortion. With This Common Secret, Dr. Susan Wicklund chronicles her twenty-year career in the vanguard of the abortion war. Growing up in working-class rural Wisconsin, Susan made the painful decision to have an abortion at a young age. It was not until she became a doctor that she realized how many women shared her ordeal of an unwanted pregnancy. . . and how hidden this common experience remains.
Now, in this raw and riveting true story, Susan and the patients she's treated share the complex, anguished, and empowering emotions that drove their own choices. Hers is a calling that means sleeping on planes and commuting between clinics in different states -- and that requires her to wear a bulletproof vest and to carry a .38 caliber revolver. This Common Secret reveals the truth about the reproductive health clinics that anti-abortion activists mischaracterize as damaging and unsafe. This intimate memoir explains how social stigma and restrictive legislation can isolate women who are facing difficult personal choices -- and how we as a nation can, and must, support them.