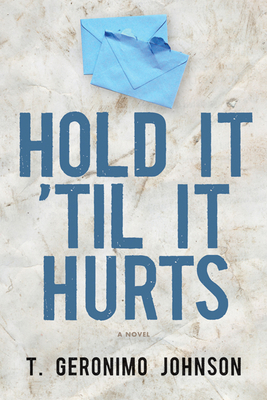 Hold It 'til It Hurts
Publication Date:
August 28th, 2012
Publisher:
Coffee House Press
The Book Tavern
1 on hand, as of Dec 1 11:18pm
(Fiction::African-American )
On Our Shelves Now
Description
Finalist for the 2013 PEN/Faulkner Award
"The magnificence of Hold It 'Til It Hurts is not only in the prose and the story but also in the book's great big beating heart. These complex and compelling characters and the wizardry of Johnson's storytelling will dazzle and move you from first page to last. Novels don't teach us how to live but Hold It 'Til It Hurts will make you hush and wonder."--Anthony Swofford, author of Jarhead
"This rich and sophisticated first novel brings together pleasures rarely found in one book: Hold It 'Til It Hurts is a novel about war that goes in search of passionate love, a dreamy thriller, a sprawling mystery, a classical quest for a lost brother in which the shadowy quarry is clearly the seeker's own self, and a meditation on family and racial identity that makes its forerunners in American fiction look innocent by comparison."--Jaimy Gordon, National Book Award winner for Lord of Misrule
When Achilles Conroy and his brother Troy return from a tour of duty in Afghanistan, their white mother presents them with the key to their past: envelopes containing details about their respective birth parents. After Troy disappears, Achilles--always his brother's keeper--embarks on a harrowing journey in search of Troy, an experience that will change him forever.
Heartbreaking, intimate, and at times disturbing, Hold It 'Til It Hurts is a modern-day odyssey through war, adventure, disaster, and love, and explores how people who do not define themselves by race make sense of a world that does.
T. Geronimo Johnson was born in New Orleans, Louisiana. His fiction and poetry have appeared in Best New American Voices, Indiana Review, Los Angeles Review of Books, and Illuminations, among others. A graduate of the Iowa Writers' Workshop and a former Stegner Fellow at Stanford University, Johnson teaches writing at the University of California-Berkeley. Hold It 'Til It Hurts is his first book.
Praise for Hold It 'til It Hurts
"[A] powerful, stylish debut novel . . . The stark backstory fleshing out Achilles and Troy's arduous combat duty over in 'Goddamnistan' smartly plays off the thorough exploration of modern American attitudes on race, war, and family."Publishers Weekly
"The magnificence of Hold it 'Til it Hurts is not only in the prose and the story but also in the book's great big beating heart. These complex and compelling characters and the wizardry of Johnson's storytelling will dazzle and move you from first page to last. Novels don't teach us how to live but Hold it 'Til It Hurts will make you hush and wonder." Anthony Swofford, author of Jarhead
"Hold It 'Til It Hurts is the kind of impressive debut that marks its author, T. Geronimo Johnson, as a writer with a career that bears watching."Stuart Dybek
"Hold It 'Til It Hurts is a novel about war that goes in search of passionate love, a dreamy thriller, a sprawling mystery, a classical quest for a lost brother in which the shadowy quarry is clearly the seeker's own self, and a meditation on family and racial identity that makes its forerunners in American fiction look innocent by comparison."Jaimy Gordon, National Book Award Winner of Lord of Misrule
"T. Geronimo Johnson's Hold It 'Til It Hurts is a dazzling first novel about the power of pain and the strength of love....This novel raises--and answers--big questions, even as it maps the tough lives of men in cities under harrowing stress."-Gambit
"[T]he novel is an epic in its own right, spanning continents, generations, and social and moral issues. In the end it's about family: the one you're born into; the family you create throughout your lifetime; and the larger family of human beings all living in the same crazy world."-East Bay Express
"Johnson is bringing the news here, rendering beautifully the pleasures (silverware in drawers instead of bins) and pitfalls (guilty liberals at the bar) facing soldiers at home....Johnson tells this story with what must be a tremendously emphatic imagination, one that will serve him well in all his books to come."-The Star Tribune
"Hold It 'Til It Hurts was a brave book to write." -Room 220: New Orleans Book and Literary News
"Even as Johnson takes us on this odyssey through wartime America and an eventually devastated New Orleans, his ability to precisely describe the depths of a young man inoculated against both love and violence shocks us, again and again." ZYZZYVA
"While Johnson's language is consistently stark, straight-forward, and deceptively simple, it manages to deftly capture Achilles a decided anti-hero as well as the modern American psyche and all the conflicts that go with it."KGB Bar Lit Magazine
"There's a lot happening in this novel by a 2004-06 Stegner fellow, and not the least of it a sympathetic (and deliberately Homeric) portrayal of returning soldiers and a clear-eyed look at how race and privilege complicate so much of American experience."STANFORD Magazine