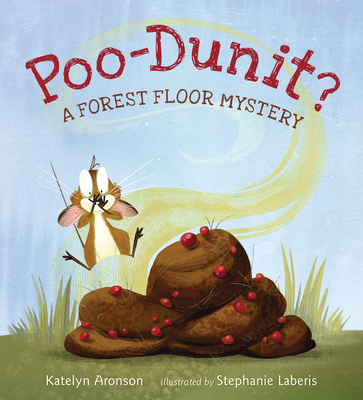 Poo-Dunit?: A Forest Floor Mystery
Publication Date:
June 7th, 2022
The Book Tavern
1 on hand, as of Dec 9 11:18pm
(Children's::Picture Books)
On Our Shelves Now
Description
This rollicking, rhyming tale of animal poo will have children squealing with laughter—even as they learn about forest ecosystems and discover surprising facts about scat.
Sniff, sniff! went Mouse. Whiff, whiff! went Mouse.
"Who left this poo outside my house? I must undo this mystery. Poo-dunit?"
Mouse is dismayed to step outside her house one morning only to discover a giant pile of poo! Who could have done such a dastardly deed? Mouse questions all the animals of the forest, but it's too big to be Squirrel's, too dark to be Coyote's, and too messy to be Deer's. Will Mouse ever track down the culprit—and will she find a way to make the best of this smelly situation? Between giggles at every mention of the word poo, children will learn to identify eight different animals' scat and discover how droppings can help plants to grow, all while enjoying Katelyn Aronson's rhyming text and Stephanie Laberis's expressive animals. Back matter includes a mini "poo-dunit" mystery challenging children to match scat with the correct animal, as well as a note on why poo is precious—and who is responsible for the biggest poo of all.
Praise for Poo-Dunit?: A Forest Floor Mystery
Aronson's rhymed verses will be a treat to read aloud, assuming, that is, they can be heard over audience laughter. . . . should reduce any storytime group to pandemonium.
—The Bulletin of the Center for Children's Books (starred review)
Aronson's story of a scatological stumper will elicit giggles. . . The quiz and the paean to poo at the close add a little fun and science, respectively. Laberis' digitally created cartoon illustrations are worthy of Disney—if Disney did doo-doo. . . Stinky science with a sprinkle of silly.
—Kirkus Reviews
In this deeply silly but impressively informative rhyming mystery tale, young people can learn to be dropping detectives. . . . In addition to a lot of silliness, the book ends with a visual guide to poo of many sorts, and an explanation of the environmental role it plays.
—The Virginian Pilot