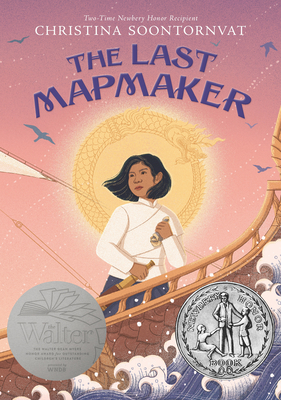 The Last Mapmaker
Publication Date:
April 12th, 2022
The Book Tavern
1 on hand, as of Sep 28 1:18pm
(Children's)
On Our Shelves Now
Sai is a great, relatable heroine. So many strong female characters, both friend and foe — who can she trust? Soontornvat builds a remarkably vivid world and keeps the surprises coming until the end. An incredible middle grade fantasy.
May/June 2022 Kids Indie Next List
Description
A Newbery Honor Book
A Walter Dean Myers Honor Book 
From Christina Soontornvat, the visionary and versatile author of three Newbery Honor Books, comes a high-seas adventure set in a Thai-inspired fantasy world.
In a fantasy adventure every bit as compelling and confident in its world building as her Newbery Honor Book A Wish in the Dark, Christina Soontornvat explores a young woman's struggle to unburden herself of the past and chart her own destiny in a world of secrets. As assistant to Mangkon's most celebrated mapmaker, twelve-year-old Sai plays the part of a well-bred young lady with a glittering future. In reality, her father is a conman—and in a kingdom where the status of one's ancestors dictates their social position, the truth could ruin her. Sai seizes the chance to join an expedition to chart the southern seas, but she isn't the only one aboard with secrets. When Sai learns that the ship might be heading for the fabled Sunderlands—a land of dragons, dangers, and riches beyond imagining—she must weigh the cost of her dreams. Vivid, suspenseful, and thought-provoking, this tale of identity and integrity is as beautiful and intricate as the maps of old.
Praise for The Last Mapmaker
All along, Soontornvat (a Newbery honoree for "A Wish in the Dark") skillfully uses tropes to throw us off. Introduce a young, woebegone heroine questing after a flying monster for glory and the reader can't help chasing the dragon with her.
—The New York Times Book Review
Exploits on the high seas and complex characters combine in a tale full of both excitement and heart. An engrossing adventure with the feeling of a whole world to be explored.
—Kirkus Reviews (starred review)
Soontornvat deftly discusses themes of colonization and "discovery,". . . Employing a presumed Asian cast of well-developed crew members with various skin tones and plenty of emotional depth, this high seas adventure deftly explores complex power dynamics and class hierarchies while maintaining a fast-paced clip.
—Publishers Weekly (starred review)
The spare, evocative prose immediately places readers in the hold of the story, and the Dickensian colorfulness of the characters and Sai's clipped delivery will have kids tearing through pages at an eager pace. Soontornvat brings a naturalness to her worldbuilding in this Thai-inspired landscape that will allow fans of magical realism and high adventure to find a tale worth cherishing. . . . A gripping story with multiple layers, including action, magic, and a ­thought-provoking through line of colonization and the role of manifest destiny, this original novel will leave middle grade readers wanting to journey through this land of dreams and dragons again and again.
—School Library Journal (starred review)
A gutsy young apprentice sails off the edge of the map in this bold, high-stakes fantasy adventure . . . The high action factor and hints at possible dragon appearances makes The Last Mapmaker a solid bet to draw a middle-grade audience, and subtle themes of anti-imperialism and environmental preservation add an appealing social message. . . . This bighearted, moving tale of finding one's place and living by a moral compass is eminently seaworthy and set in a rich, thoughtfully built world.
—Shelf Awareness (starred review)
Class structure, imperial greed, and environmental ravages underpin the narrative arc of this fantastical adventure story, resonating with our own contemporary issues. At the same time, Soontornvat's Thai-inspired culture and geography provide a vivid backdrop. With emphasis on an intricate plot and quick, accessible prose, Soontornvat provides plenty of excitement while bringing questions of expansionism and de-colonization to young readers.
—The Horn Book
Action drives the narrative forward, creating a real page-turner with intriguing characters. . . Blending Age of Sail historical fiction, adventure, and fantasy within a Thai-inspired setting, this original novel will leave readers hoping for sequels.
—Booklist
For a rousing middle grade adventure filled with scrappy young characters taking control of their own destinies, seek out this latest offering from Christina Soontornvat. . . . This title allows readers to practically smell the salty sea air and feel the creak of wood under their feet as they search the unfolding horizon for land alongside Sai. Even the cover is compelling. . . Students will enjoy exploring the themes of family, fate, and redemption through Sai.
—School Library Connection
With action that moves faster than a ship under full sail, The Last Mapmaker is a Thai-inspired fantasy brimming with adventure, surprises and betrayal. . . Soontornvat returns to high fantasy to create the Thai-inspired world of The Last Mapmaker, a standalone tale into which she seamlessly incorporates themes of colonialism and environmentalism.
—BookPage
Urgent and earnest. . . This is a deftly told story with a strong anti-colonialist vibe.
—The Wall Street Journal
Even as it delves into questions about exploration, power and responsibility, 'The Last Mapmaker' offers a twisty, entertaining tale of discovery.
—The Washington Post
Soontornvat's rich world-building and characters help expand our definition of what it means to be a hero.
—The Star Tribune
In this thrilling adventure of a mapmaker's young assistant and their voyage beyond the known world, the versatile Christina Soontornvat again displays the impressive talent for world building that made her 2021 Newbery Honor book "A Wish in the Dark" so compelling. . . . Along with a colorful cast of characters including a female ship captain and a pickpocket/stowaway, Soontornvat offers vivid details of the voyage, fairy tale elements and surprise twists even as it touches on issues of colonialism and environmental exploitation.
—The Buffalo News
A sweeping fantasy tale of one girl's journey on the high seas, past her family's secrets and moving toward dreams of a better world.
—Austin360
Get ready for adventure, drama and danger!
—Book Riot
Here you find yourself in the presence of a master. How is it that [Soontornvat] is capable of completely realistic world building, character development, and descriptive (not to mention beautiful) writing -all within the span of a mere 359 pages? The Last Mapmaker offers readers proof positive that you can write succinctly, sacrificing nothing, while showing your readers absolutely everything.
—A Fuse #8 Production