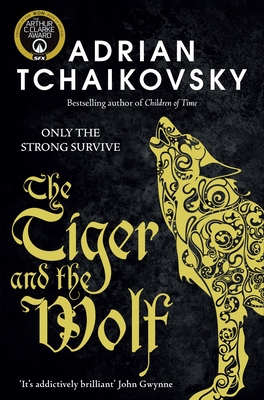 The Tiger and the Wolf (Echoes of the Fall #1)
Publication Date:
November 1st, 2022
The Book Tavern
1 on hand, as of Dec 9 11:18pm
(SciFi/Fantasy)
On Our Shelves Now
Description
The first in the Echoes of the Fall series, The Tiger and the Wolf is an epic fantasy novel by Adrian Tchaikovsky, winner of the Arthur C. Clarke Award and British Fantasy Award for Best Novel.
'One of the most interesting and accomplished writers in speculative fiction' – Christopher Paolini
In the bleak northern crown of the world, war is coming . . .
Maniye's father is the Wolf clan's chieftain, but she's an outcast. Her mother was queen of the Tiger and these tribes have been enemies for generations. Maniye also hides a deadly secret. All can shift into their clan's animal form, but Maniye can take on tiger and wolf shapes. She refuses to disown half her soul so escapes, rescuing a prisoner of the Wolf clan in the process. The killer Broken Axe is set on their trail, to drag them back for retribution.
The Wolf chieftan plots to rule the north and controlling his daughter is crucial to his schemes. However, other tribes also prepare for strife. Strangers from the far south appear too, seeking allies in their own conflict. It's a season for omens as priests foresee danger and a darkness falling across the land. Some say a great war is coming, overshadowing even Wolf ambitions. A time of testing and broken laws is near, but what spark will set the world ablaze?
Continue this sweeping coming-of-age fantasy with The Bear and the Serpent.
Praise for The Tiger and the Wolf (Echoes of the Fall #1)
"It's addictively brilliant! The protagonist is vivid and sympathetic—and I love both the story and the world Adrian has created. It's meticulously thought out and utterly believable." —John Gwynne, author, Ruin   "A classically brilliant fantasy writer, a pusher of boundaries, a great storyteller." —Paul Cornell, Doctor Who screenwriter   A "brilliantly conceived and executed shape-changer Bronze Age saga featuring a heartbreaking heroine." —Publishers Weekly   "Those who enjoy coming-of-age stories, a natural setting, and strong characters will greatly enjoy this story."  —Booklist