Discounted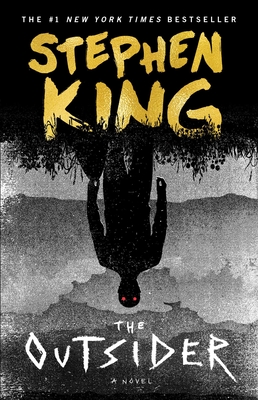 The Outsider: A Novel
Previous price:

$19.99
Current price:

$18.99
Publication Date:
June 4th, 2019
The Book Tavern
1 on hand, as of Dec 8 11:19am
(Horror)
On Our Shelves Now
Description
Now an HBO limited series starring Ben Mendelsohn!​
Evil has many faces…maybe even yours in this #1 New York Times bestseller from master storyteller Stephen King.
An eleven-year-old boy's violated corpse is discovered in a town park. Eyewitnesses and fingerprints point unmistakably to one of Flint City's most popular citizens—Terry Maitland, Little League coach, English teacher, husband, and father of two girls. Detective Ralph Anderson, whose son Maitland once coached, orders a quick and very public arrest. Maitland has an alibi, but Anderson and the district attorney soon have DNA evidence to go with the fingerprints and witnesses. Their case seems ironclad.
As the investigation expands and horrifying details begin to emerge, King's story kicks into high gear, generating strong tension and almost unbearable suspense. Terry Maitland seems like a nice guy, but is he wearing another face? When the answer comes, it will shock you as only Stephen King can.
Praise for The Outsider: A Novel
Praise for The Outsider:
"A juicy tale that plays at the forefront of our current phobias... [The Outsider] will remind readers of King's early novel It."
— Kirkus Reviews 
"What begins as a manhunt for an unlikely doppelgänger takes an uncanny turn into the supernatural. King's skillful use of criminal forensics helps to ground his tale in a believable clinical reality where the horrors stand out in sharp relief."
—Publishers Weekly
"Absolutely riveting. . . another shockingly dark book—perfect for longtime fans, of whom there are, well, zillions."
—Booklist
"There's plenty of shadowy, wormy supernatural goings-on in Stephen King's new novel The Outsider. Yet the most unsettling stuff — that which will leave you uncomfortable when you sit and devour this first-rate read — probes the monstrous side of human nature."
—Brian Truitt, USA Today
"Do yourself a favor and read the book."
—Associated Press
"An It for the Trump era…remarkable and deeply pleasurable."
—Ryan Vlastelica, The AV Club 
"Here's to mutant rats in the basement and Mexican myths; here's to the strange and to Stephen King. Still inspiring."
—Victor LaValle, New York Times Book Review
"King is arguably as much an American icon as the '68 Fastback or a classic red and white Plymouth Fury. All of these glories are on full display in his latest mystery-horror hybrid...you're in for one hell of a ride." 
—Karin Slaughter, The Washington Post
"King appears to be on a hot streak, that he extends with The Outsider. Big, complex and inventive, it's a well-honed continuation of his interest in the intersection of crime and horror fiction, demonstrating his consummate skill with both."
—Michael Berry, The Portland Press Herald
"Every time Stephen King writes another book, I worry. Has he gone to the horror well too often? Will it be as good as It or Dolores Claiborne or Doctor Sleep or any of his 50-plus other titles? Luckily, his scary ideas continue to flow unfettered from his mind to the pages, most recently in The Outsider...masterful."
—Amanda St. Amand, St. Louis Post Dispatch
"The Outsider is yet another outstanding offering from Stephen King, a darkly engaging ride of a read that demonstrates once again that despite a decades-spanning career, he's still performing at the height of his powers."
—The Maine Edge
"The Outsider is, in many ways, an ideal combination of classic King supernatural terror and his more contemporary foray into crime writing, wedding an intricately plotted whodunit with a monster tale that has more than a few shades of It...one of King's strongest books in the past decade; an enjoyable dovetailing of crime and supernatural horror that will please Constant Readers and newcomers alike."
—Emily Burnham, The Bangor Daily News
"[A] fascinating mystery that challenges fans of detective yarns to be on top of their game."
—The Minneapolis Star Tribune
 "A well-researched, finely tuned crime-cum-legal case novel forms a good chunk of the book…it's a genuinely intriguing mystery… the novel visits some very odd places – and I mean that as a compliment…[King]  has always understood that the mystery – the question – is scarier than finding out the truth…The Outsider gives King fans exactly what they want at the same time as cramming in new ideas, proving the least surprising thing of all: that his novels are as strong as they ever were."
—The Guardian
"How could a man so beloved and respected, a man the whole community has trusted with their children, commit such an unthinkable crime? It can't be true. It must be true. That's the situation Stephen King sets up with blazing intensity in the first chapter of his new novel …The Outsider is proof King isn't losing his touch: It's a first-rate example of his signature technique of combining solidly realistic writing and believable characters with disturbingly creepy horror…a horrifying ride that challenges its characters not to succumb to their own darkness."
—Colette Bancroft, The Tampa Bay Tribune