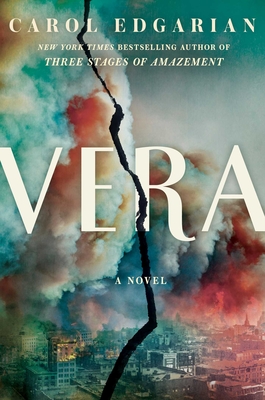 Vera: A Novel
Publication Date:
March 2nd, 2021
The Book Tavern
1 on hand, as of Dec 3 6:18pm
(Fiction)
On Our Shelves Now
Experience the San Francisco earthquake of 1906 like never before — from inside the family of one of the most famous brothel madams. In this story, Edgarian combines lyrical writing and a cast of unforgettable characters, both real and imagined, with themes of love, rejection, graft, and economic disparity, all sprinkled with racism and misogyny. You won't be able to visit the City by the Bay ever again without looking for Rose and her descendants. I couldn't put this down.
March 2021 Indie Next List
Description
New York Times bestselling author Carol Edgarian delivers "an all-encompassing and enthralling" (Oprah Daily) novel featuring an unforgettable heroine coming of age in the aftermath of catastrophe, and her quest for love and reinvention.
Meet Vera Johnson, fifteen-year-old illegitimate daughter of Rose, notorious proprietor of San Francisco's most legendary bordello. Vera has grown up straddling two worlds—the madam's alluring sphere, replete with tickets to the opera, surly henchmen, and scant morality, and the quiet domestic life of the family paid to raise her.
On the morning of the great quake, Vera's worlds collide. As the city burns and looters vie with the injured, orphaned, and starving, Vera and her guileless sister, Pie, are cast adrift. Disregarding societal norms and prejudices, Vera begins to imagine a new kind of life. She collaborates with Tan, her former rival, and forges an unlikely family of survivors, navigating through the disaster together.
"A character-driven novel about family, power, and loyalty, (San Francisco Chronicle), Vera brings to life legendary characters—tenor Enrico Caruso, indicted mayor Eugene Schmitz and boss Abe Ruef, tabloid celebrity Alma Spreckels. This "brilliantly conceived and beautifully realized" (Booklist, starred review) tale of improbable outcomes and alliances takes hold from the first page, with remarkable scenes of devastation, renewal, and joy. Vera celebrates the audacious fortitude of its young heroine, who discovers an unexpected strength in unprecedented times.
Praise for Vera: A Novel
"Edgarian's gritty yet hopeful historical novel doesn't gloss over the countless tragedies rising like the smoke and dust in the 500 devastated city blocks, but Vera personifies the pluck that revived San Francisco... riveting." —Shelf Awareness 
 "Written with distinctive and elegant prose, Edgarian paints a beautiful portrait of devastation… at times reminiscent of Doctorow's Ragtime... a character-driven novel about family, power and loyalty, Vera ultimately asks if it's possible to belong to another person." 
—San Francisco Chronicle
"An all-encompassing and enthralling historical novel, Vera parallels with the current era, and all of its accompanying losses."
—O, The Oprah Magazine
"Vera is a triumph—a story of disaster and healing, power and humility, grit and grace set against the lush, lascivious backdrop of San Francisco during the 1906 earthquake. This book is as whip smart as its heroine and as electric as her city and will haunt me—in the best way—for a long time to come." 
—Anna Solomon, author of The Book of V
"Reading about the sudden destruction of a world right in the middle of our own 21st century crisis helped me understand that the question we're asking now is one we've asked before: where do we go from here?  Vera brings to vivid life a historical moment that defined a city, an era. It's an extraordinary glimpse into the American DNA."  
—Mary Beth Keane, author of Ask Again, Yes
"Immersive. . . . Vera is a reverent ode to the resiliency of San Francisco and her people." —San Francisco Examiner
"Brilliantly conceived and beautifully realized."
—Booklist, STARRED review
"A novel of resilience in the face of disaster, just what we need right now.  Carol Edgarian's tale couldn't have come at a better time." 
—T.C. Boyle 
"Edgarian weaves a wonderful tale of struggle, youth, perseverance, love and the lack of it, and much of what makes us human beings... captures a difficult but evocative time in the life of one of America's great cities. It is well worth a read for this alone, if not for the gripping story of a young girl's struggle and coming to age during the life-shattering events of the earthquake and fires of 1906." —New York Journal of Books
"In Vera, the past is as alive as you are, the brilliantly illuminated characters loving and surviving, breaking and building, destroying and redeeming, in rich detail and true color. Vera's 1906 is a world we see and live in."
—Amy Bloom
"Edgarian's work contends elegantly and meticulously with historical detail, placing us at the center of a fateful event and allowing us to imagine how we'd respond… The star of Vera—sparkling with luxuriance and offering hope in the midst of devastation—is San Francisco, the great civic entity that reinvents itself time and again." —Alta
"The City by the Bay, leveled by the 1906 earthquake and fire, is vividly evoked in Edgarian's engrossing saga… an ingenious Vera navigates a world sharply divided by affluence and poverty that exposes discrimination and injustice, requiring a special resilience to survive." —The National Book Review
"Engaging…memorable…Vera is feisty and chafes at the confines of life in this era; her refusal to conform brings to mind a more street-savvy Scout Finch from To Kill a Mockingbird. She is forced to be stronger than any 15-year-old should have to be."
—BookPage 
"A lovely, constantly surprising novel… this tart-tongued female Huck Finn leads a ragtag gang...  serious research underlies Edgarian's novel... a brand-new California classic."
—Historical Novels Review
"The San Francisco earthquake of 1906 extinguishes all sense of normalcy for 15-year-old Vera Johnson, who must survive by sheer pluck and intelligence in the newly rattled landscape... . The novel shines in painting a vivid picture of early-20th-century San Francisco, including its rowdy politics."
—Kirkus Reviews
"Sisters, mothers, heroines, charlatans, buffoons, scam artists, prostitutes, and the uncontrollable, passionate brawn of a young nation: in Vera we see, taste, smell the marrow of a country intoxicated on hope—all evidence to the contrary. Amazingly, Edgarian has captured a rolling, earnest, perpetual ruin so complex it could just be called life. She's conjured another wonderful novel out of dust, history, love."  
—Rick Bass 
"Though it has a panoramic sweep, Carol Edgarian's Vera is a novel of great immediacy and heart. From the early scene at the opera, to its shocking real-world correlative, this novel exists in the zone – let's call it the world. In so many ways, it sings."   
—Ann Beattie
"The author paints a vivid portrait of a metropolis teeming with sex workers, immigrants, corrupt politicians, and artists... The result makes for a stirring testament to a resilient city that never knew the meaning of the word quit."
—Publishers Weekly
"Vera has always had to be scrappy and resourceful, even as a child. But the great earthquake of 1906 shakes even Vera, who is forced to imagine a new world for herself among an unlikely band of survivors."
—BuzzFeed
"If there's a book that speaks urgently to a time of grief, resilience, wounding loneliness, and collective hope in one of the deadliest pandemics in history, it is Vera—a work to be cherished for what it uncovers in the pages and, possibly, the heart of the reader."
—LA Review of Books
"Set in San Francisco during the great quake and fire of 1906, this wonderfully compelling novel takes us deeply into the heart and mind of an unforgettable fifteen year old girl, one who must find her way alone through a mother's neglect, through bordellos and corrupt politicians, through the debris and ashes of what was once 'The Paris of the West.' Vera is that rare novel that you'll want to buy for loved ones just as soon as you reach its shimmeringly beautiful ending. And its streetwise, resilient protagonist will stay with you for a very long time indeed."
—Andre Dubus III
"A beautifully imagined coming-of-age drama… Vera comes of age explosively, brilliantly and unforgettably. Inventive and poignant, VERA is full of heart-stopping descriptions of catastrophe and tragedy, but equally gorgeous and moving scenes of renewal and reinvention."
—BookReporter
"Vera shines. [Edgarian] does a masterful job of placing the reader in an authentic landscape, a time and era of a young West Coast city coming into its own. . . . a timely story for disaster-prone days, showing us that healing, hope and fortitude make up the true ground beneath us." —Charleston Post Courier