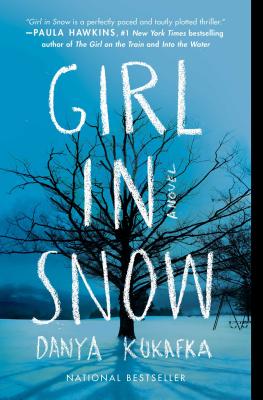 Girl in Snow: A Novel
Publication Date:
April 3rd, 2018
Publisher:
S&S/ Marysue Rucci Books
The Book Tavern
1 on hand, as of Dec 3 7:18pm
(Fiction)
On Our Shelves Now
Perfectly paced and completely compelling, Girl in Snow by newcomer Danya Kukafka immerses you in a chilling small-town tale in which star high-school student Lucinda Hayes is found dead on a school playground. Most clues point to Cameron, an obsessed, window-peeping classmate who often lives in an 'alternate' state of mind. Conflicting clues come from the backstories of classmate Jade, the questionably motivated policeman Russ, and Cameron himself. Readers will be spellbound and remain puzzled as the characters expose the town's secrets. Told in spare, haunting prose, this is a not-to-be-missed story!
August 2017 Indie Next List
High school student Lucinda Hayes was loved, worshipped, and…hated. And now she's dead. But who's responsible? Her hometown is thrown into anguish at the loss of their sparkling hope. And yet those who knew her best have their own stories to tell, and not all of their memories support Lucinda's image. Can Officer Russ Fletcher discover the truth in the midst of his own painful memories? This is an impressive, riveting debut by an author with real talent. We'll see more from her in the future. I can't wait!
Summer 2018 Reading Group Indie Next List
Description
"A perfectly paced and tautly plotted thriller…and an incredibly accomplished debut" (Paula Hawkins, #1 New York Times bestselling author of The Girl on the Train and Into the Water), about a beloved high schooler found murdered in her sleepy Colorado suburb and the secret lives of three people connected to her.
How can you love someone who's done something horribly, horribly wrong? When a beloved high schooler named Lucinda Hayes is found murdered, no one in her community is untouched—not the boy who loved her too much; not the girl who wanted her perfect life; not the officer assigned to investigate her murder. In the aftermath of the tragedy, these three indelible characters—Cameron, Jade, and Russ—must each confront their darkest secrets in an effort to find solace, the truth, or both.
In crystalline prose, Danya Kukafka offers a brilliant exploration of identity and of the razor-sharp line between love and obsession, between watching and seeing, between truth and memory. "A sensational debut—great characters, mysteries within mysteries, and page-turning pace. Highly recommended" (Lee Child, #1 New York Times bestselling author of the Jack Reacher novels). Hailed as "Gillian Flynn of 2017" (Yahoo! Style), compulsively readable and powerfully moving, Girl in Snow is "engagingly told… its endearing characters' struggles linger in memory after this affecting work is done" (The Wall Street Journal).
Praise for Girl in Snow: A Novel
PRAISE FOR GIRL IN SNOWBY DANYA KUKAFKA
***NATIONAL BESTSELLER***
*Best Summer Reads of 2017 Selection by * W Magazine * Marie Claire * Elle * Yahoo! * Refinery29 * PureWow * Domino * InStyle.com * Today.com *
"From its startling opening line right through to its stunning conclusion, Girl in Snow is a perfectly-paced and tautly-plotted thriller. Danya Kukafka's misfit characters are richly drawn, her prose is both elegant and eerie—this is an incredibly accomplished debut."
—Paula Hawkins, #1 New York Times bestselling author of The Girl on the Train and Into the Water 
"A sensational debut—great characters, mysteries within mysteries, and page-turning pace. Highly recommended."
—Lee Child, #1 New York Times bestselling author of the Jack Reacher novels
"An exciting debut from a talented new voice. Girl in Snow is a propulsive mystery set in a suburban community marked by unsettling voyeurism. Danya Kukafka patiently reveals layers of her characters' inner lives—their ugliness and vulnerabilities—in prose that sparkles and wounds. I couldn't put this one down."
—Brit Bennett, New York Times bestselling author of The Mothers
"There is a frightful truth to Danya Kukafka's characterizations, and the mystery at the heart of Girl in Snow is so elegantly constructed. It's an exceptional, unnerving debut novel. I'm already counting the days until her next one."
—Owen King, author of Double Feature and co-author of Sleeping Beauties
"Girl in Snow is a haunting, lyrical novel about love, loss, and terror. Reading it felt like entering another world, where things—and people—were not as they at first appeared. The world Kukafka so masterfully creates is suspenseful and electrifying; I was willing to follow her wherever she took me."
—Anton DiSclafani, New York Times bestselling author of The Yonahlossee Riding Camp for Girls and The After Party
"Elegiac and involving… engagingly told… its endearing characters' struggles linger in memory after this affecting work is done."
—Wall Street Journal
"No AC? No problem—this icy novel brings the chills...With a knack for writing oh-so-real teenage characters and underline-worthy prose, [Kukafka] weaves a tale of voyeurism and obsession that's impossible to put down."
—WMagazine.com, Top Ten New Books to Read in August
"Newcomer Kukafka breathes new life into a common mystery trope...This smart, fast-paced novel is one that readers will be proud to flaunt beachside or elsewhere."
—Library Journal
 
"Kukafka's clever narrative tricks...propel the narrative forward. And while the novel employs a full checklist of teen tropes throughout, from abusive parents to fractured love triangles, there is enough narrative muscle to compel the reader to stick with it until the end."
—Publishers Weekly
"Kukafka attempts to subvert preconceptions, principally of what is expected of the thriller genre, but succeeds more pointedly in destabilizing the biases toward illegal immigration, mental illness, law enforcement, and presentations of sexuality sewn into our country's fabric…Kukafka expertly plays with the idealization of the golden girl, with what it means to be seen as female. One of the more surprising aspects of the book is its audacious dissection of this femininity... By weaving these narrative perspectives together…we gain heightened intimacy and understanding of three unique psychologies and are also forced to reckon with our own preconceived notions of beauty, gender, mental ability, and various manifestations of power…The characters in Girl in Snow often rail against the ways they are perceived, but are nevertheless begging to be seen, asking for an audience; they seek a space to express themselves. This duality, of wanting to exist while not wanting to be categorized or wrongly labeled or objectified, is as much the novel's core as the murder mystery itself. Kukafka is shrewd to remind us that as readers, we too are indulging in the spectacle."
—Guernica
"Combining elements of Bill Clegg's Did You Ever Have a Family with Dennis Lehane's contemporary classic Mystic River, Danya Kukafka's debut novel is an intricate, seductive murder mystery, in which a single awful crime exposes conflicts and traumas in an entire community…Girl in Snow is not just an impressive debut but one of the best literary mysteries to come along in some time."
—Bookpage
"This brooding and intense thriller will plunge readers into a dark world they may not want to enter—but they may be unable to tear themselves free…This unlikely trio of narrators gives readers a different look into the idyllic, small-town life, and how not everything is as it appears on the surface."
—Booklist
"Hard to believe this whodunit is from a fist-time author. Think Gillan Flynn of 2017."
—Yahoo! Style 
"A cool literary mystery to get you through the season's heat."
—Elle.com
"Danya Kukafka makes a compelling case for the next Girl on the Train with a fast-paced thriller about a young girl whose body is found on a school playground in the dead of winter, leaving an obsessive loner, a jealous classmate, and a police officer as the prime suspects."
—InStyle.com, 5 Page-Turning Books You Should Read in August
"If you loved Paula Hawkins' The Girl on the Train, then you shouldn't miss this thriller."
—SouthernLiving.com
"A dark and lyrical literary thriller."
—Largehearted Boy
"Another summer, another great "girl" murder book. "Girl in Snow," by Danya Kukafka, starts with a dead high school student and keeps you glued to your seat right up until the finish."
—Campus Circle
"A must-read debut thriller...GIRL IN SNOW is an unforgettable first novel you won't want to miss!"
—BookPeople's Blog