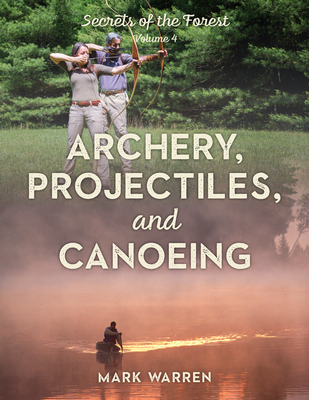 Archery, Projectiles, and Canoeing: Secrets of the Forest
Publication Date:
November 1st, 2020
The Book Tavern
1 on hand, as of Sep 23 10:21pm
(Nature)
On Our Shelves Now
Description
In this fourth volume of the "Secrets of the Forest" series, outdoor educator Mark Warren describes the details of how to make and operate the tools that hurl projectiles toward a target including:
- "firing" techniques of a sling, spear, atl-atl, bow and arrow, throwing knife, tomahawk, and blowgun.
- a comprehensive lesson in the art of archery that includes the direct, lob, and clout shots, as well as shooting at a moving target.
- primitive precision methods of creating your own Cherokee self-bow and rivercane arrows.
- cementing projectile skills through a gamut of games and challenges.
The second half of the book provides lessons on tandem canoeing, beginning on a lake or pond and evolving to whitewater. The pre-education of paddling starts on a creek with a self-made model boat to understand the dynamics of moving water. On the lake, using a full-sized canoe, paddlers learn how to take control of their craft. Once on current, paddlers are introduced to the never-relenting march of moving water, a phenomenon that must figure into every river maneuver, from planning routes by "reading" the water, eddy turns, lateral ferry maneuvers, peel-outs, hovering in place, and running rapids "dry," to river-rescue of capsized boats and "swimmers," and the joy and instruction of slalom. This volume contains more than two hundred original adventures.