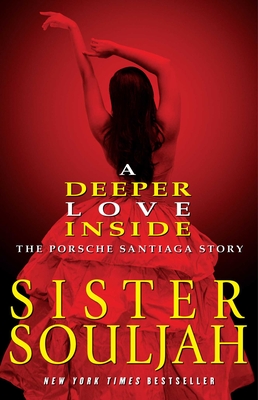 A Deeper Love Inside: The Porsche Santiaga Story
Publication Date:
February 18th, 2014
Publisher:
Atria/Emily Bestler Books
The Book Tavern
1 on hand, as of Dec 9 11:18pm
(Fiction::African-American )
On Our Shelves Now
Description
In the New York Times bestseller from the author of Life After Death, the Santiaga family saga continues, this time told by Porsche Santiaga, Winter's fiery younger sister.
Mega-bestselling author Sister Souljah returns to the Santiaga family in this frighteningly fierce, raw, and completely unpredictable coming-of-age adventure woven with emotional intensity.
A Deeper Love Inside is written in the words of Porsche Santiaga, Winter's sharp-tongued, quick-witted younger sister. Porsche worships Winter. A natural born hustler, Porsche is also cut from the same cloth as her father, the infamous Ricky Santiaga.
Passionate and loyal to the extreme, Porsche refuses to accept her new life in group homes, foster care, and juvenile detention after her wealthy family is torn apart. Porsche—unique, young, and beautiful—cries as much as she fights and uses whatever she has to reclaim her status.
Unselfishly, she pushes to get back everything that ever belonged to her loving family. In A Deeper Love Inside, fans will encounter their favorite characters from The Coldest Winter Ever, including Winter and Midnight. Sister Souljah's soulful writing will again move your heart and open your eyes to a shocking reality.
Praise for A Deeper Love Inside: The Porsche Santiaga Story
"Sister Souljah has taken her talents from the stage to the page."
-- Essence
"The #1 author of the hip-hop generation."
-- Sean "P. Diddy" Combs
"Winter is nasty, spoiled, and almost unbelievably libidinous, and it's ample evidence of the author's talent that she is also deeply sympathetic."
-- The New Yorker
"Winter is precious, babacious, and as tough as a hollow-point bullet."
-- Salon.com
"[Souljah] spread[s] messages that are clear, concise, and true to the game."
-- The Source
"Intriguing....Souljah exhibits a raw and true voice."
-- Publishers Weekly
"It was a great followup and I highly recommend it."
— My Less Three
"Well worth the wait."
— Tiffany Talks Books
"This is one sequel you cannot put down until the end."
— Literary Marie
"Readers can expect another fine story as Sister Souljah writes in a heartfelt manner that will leave readers wanting more."
— The Guardian Express
"Readers are sure to be drawn to this coming-of-age story, told in Sister Souljah's magnificent signature style"
— Blogging With A Purpose
"A thought provoking coming-of-age story that was definitely worth the wait."
— Urban Reviews
"It was a great followup and I highly recommend it."
— My Less Three
"Well worth the wait."
— Tiffany Talks Books
"This is one sequel you cannot put down until the end."
— Literary Marie
"Readers can expect another fine story as Sister Souljah writes in a heartfelt manner that will leave readers wanting more."
— The Guardian Express
"Readers are sure to be drawn to this coming-of-age story, told in Sister Souljah's magnificent signature style"
— Blogging With A Purpose
"A thought provoking coming-of-age story that was definitely worth the wait."
— Urban Reviews