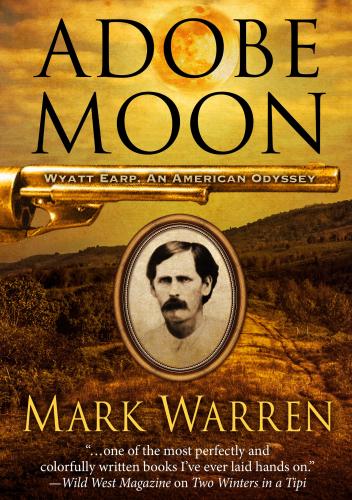 Adobe Moon
Publication Date:
November 15th, 2017
Publisher:
Five Star Publishing
The Book Tavern
1 on hand, as of Dec 9 11:18pm
(Fiction)
On Our Shelves Now
Description
"Adobe Moon," Mark Warren's first book in a trilogy on Wyatt Earp is more than historical fiction. Though it is a period piece of the 19th century, it is a timeless story that relates to all of us.
Regardless of when or where a person lives in time, each of us is faced with a universal plight: How do we become a man or a woman? And how do we find our place in the world?
Do the times shape us? Yes, just as surely as the place and people around us. Family, especially. It has always been this way.
What if you wanted to run away from home to fight in a war . . . but you were too young? What if you were forced to labor over 80 acres of crops by an overbearing father who knew nothing about giving some slack to his sons? And, as a fourteen year old, after accruing the requisite calluses of farming, what aspirations might you consider for your vocation?
This is the story of such a boy who never quite finds all those answers. But because of his physicality, confidence, and a willingness to exercise deliberate courage, he does find his place in a life much admired by his peers. His name will always be spoken anytime that a conversation arises about justice vs. law and order . . . and how those American commodities do not always balance on the scales of a courtroom bench. His name was Wyatt Earp.
Earp was many things–farmer, freight hauler, stage driver, railroad wrangler, husband, constable, wood splitter, accused horse thief, brothel bouncer, buffalo hunter, gambler, and lawman–most of this in the "new" and raw land of America's untapped West. The possibilities seemed endless for Wyatt, but he will be remembered in that last category . . . peace officer, a role he did not want. Instead, it would seem that history wanted it for him. He was that good at it.
Synopsis:
It is 1862. With his older brothers fighting in the war, Wyatt Earp is left to manage the family's Iowa farm under his father's iron rule. These years of labor produce in him an ambition to seek his fortunes by his wits rather than by the sweat of his back. The open territory to the west, he knows, offers that opportunity. On his way to California he meets a beguiling Mexican girl, who tells him of the "adobe moon," a rusty-hued orb that reminds a man: If you do not achieve your dreams, you must settle for what you have. Wyatt rejects this idea, but it haunts him nevertheless, as he takes odd jobs, becomes a constable in a small Missouri town, and ultimately sinks into a depression where the line of ethics blur. Fed up with his self-made squalor, he returns to the West for a second chance at a proper life, and in a Kansas cattle town he comes face to face with his salvation...and his destiny as a lawman with his own iron rule.
From the Author: I got hooked on this story when I was seven years old. I spent the next 63 years sorting legend from fact. Although this is historical fiction, I have written it as close to the truth as I know how. And as usual, the truth is so much more compelling than the myth. Welcome to the real story.
Praise for Adobe Moon
From Gary Roberts: It is plain Mark Warren knows Wyatt Earp's story. He has researched it long enough, deep enough, and well enough to know it in ways that few others do. Adobe Moon is an absorbing read. Understated, direct, yet somehow reflective and even philosophical, it is easy to forget that this is a novel about an American legend. And that makes it all the more satisfying in the end. In the restless ramblings of the young Wyatt Earp, Warren found clues to the man Earp would be. I will be looking forward to the continuing odyssey of the very human Wyatt Earp he is revealing. For now, I have much to ponder as a result of reading Adobe Moon. Dr. Gary Roberts, Emeritus Professor of History, Abraham Baldwin College, author of Doc Holliday, the Life and Legend, Wiley and Sons, 2006.
From Casey Tefertiller: Warren stays close to history, adding the emotion and sensitivities that we can only wish we actually knew. This wonderfully written work makes readers feel almost as if they are sitting next to Wyatt on that brothel barge on the Illinois River, enjoying the treats of the time. Historical fiction can be a delight, and Warren delivers. Casey Tefertiller, author of Wyatt Earp, the Life Behind the Legend, Wiley and Sons, 1997, quoted from Wild West magazine, Oct. 2017
From Peter Brand: Mark Warren captures the essence of Wyatt Earp's formative years in this beautifully crafted narrative. Adobe Moon transports the reader to the early western frontier that shaped the legendary lawman's character and delivers a rollicking tale – entertaining and truly informative. Peter Brand, author of The Story of Texas Jack Vermillion (2012)
From Erik J. Wright: Adobe Moon is no ordinary Western. This one is special. Many fictionalized versions of Wyatt Earp's story have been written . . . most, however, are largely ignored by the historical community . . . (but this one) has proven to be the exception to the rule. Adobe Moon is an engrossing ride with Wyatt Earp. My only criticism is the next book (in the trilogy) isn't out quick enough. Erik J. Wright, Author, Western Historian and Assistant Editor of The Tombstone Epitaph National Edition. Quoted from The Epitaph.