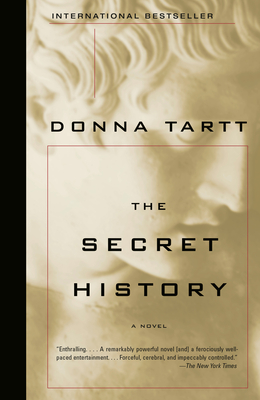 The Secret History (Vintage Contemporaries)
Publication Date:
April 13th, 2004
The Book Tavern
1 on hand, as of Sep 25 11:17pm
(Fiction)
On Our Shelves Now
Description
A READ WITH JENNA BOOK CLUB PICK • INTERNATIONAL BESTSELLER • A contemporary literary classic and "an accomplished psychological thriller ... absolutely chilling" (Village Voice), from the Pulitzer Prize–winning author of The Goldfinch.
Under the influence of a charismatic classics professor, a group of clever, eccentric misfits at a New England college discover a way of thought and life a world away from their banal contemporaries. But their search for the transcendent leads them down a dangerous path, beyond human constructs of morality.
"A remarkably powerful novel [and] a ferociously well-paced entertainment.... Forceful, cerebral, and impeccably controlled." —The New York Times
Praise for The Secret History (Vintage Contemporaries)
"A beautifully written story, well-told, funny, sad, scary, and impossible to leave alone until I finished. . . . What a debut!" —John Grisham

"Powerful . . . Enthralling . . . A ferociously well-paced entertainment." —The New York Times
"An accomplished psychological thriller . . . Absolutely chilling . . . Tartt has a stunning command of the lyrical." —The Village Voice
"A smart, craftsman-like, viscerally compelling novel." —Time
"A thinking-person's thriller . . . Think Lord of the Flies, then The Rules of Attraction. . . . The Secret History combines a bit of both--the unmistakable whiff of evil from William Golding's classic and the mad recklessness of priviledged youth from Bret Easton Ellis's novel of the '80s. . . . As stony and chilling as any Greek tragedian ever plumbed." —New York Newsday
"Tartt's voice is unlike that of any of her contemporaries. Her beautiful language, intricate plotting, fascinating characters, and intellectual energy make her debut by far the most interesting work yet from her generation." —The Boston Globe
"A long tale of friendship, arrogance, and murder knit together with the finesse that many writers will never have . . . Her writing bewitches us . . . The Secret History is a wonderfully beguiling book, a journey backward to the fierce and heady friendships of our school days, when all of us believed in our power to conjure up divinity and to be forgiven any sin." —The Philadelphia Inquirer
"The great pleasure of the novel is the wonderful complexity and the remarkable skill with which this first novelist spins the tale. And a gruesome tale it is. . . . A great, dense, disturbing story, wonderfully told." —Cosmopolitan
"The Secret History implicates the reader in a conspiracy which begins in bucolic enchantment and ends exactly where it must--though a less gifted or fearless writer would never have been able to imagine such a rich skein of consequence. Donna Tartt has written a mesmerizing and powerful novel." —Jay McInerney
"Donna Tartt has invested this simple and suspenseful plot with a considerable amount of atmosphere and philosophical significance. . . . She's a very good writer indeed." —The Washington Post Book World
"A glorious achievement . . . The Secret History is a grand read--an artful blend of intelligence, entertainment, and suspense that quickens the pulse." —The Virginian Pilot & Ledger-Star

"Beautifully written, suspenseful from start to finish." —Vogue
"One of the best American college novels to come along since John Knowles's A Seperate Peace. . . . Immensely entertaining." —Houston Chronicle
"Donna Tartt is clearly a gifted writer. . . . The cadence of her sentences, the authority with which she shaped 500-plus pages of an erudite page-turner indicate she has the ability to leave her literary contemporaries standing in the road. . . . The decision to murder has about it the inevitability of classical Greek tragedy." —The Miami Herald
"Donna Tartt has a real shot at becoming her generation's Edgar Allan Poe. . . . The Secret History pulses like a telltale heart on steroids." —Glamour