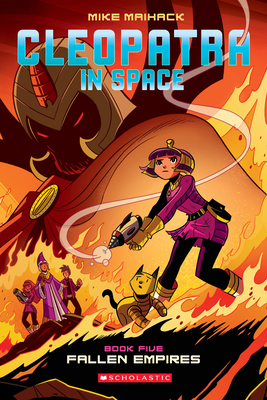 Fallen Empire: A Graphic Novel (Cleopatra in Space #5)
Publication Date:
March 26th, 2019
The Book Tavern
1 on hand, as of Sep 27 8:17pm
(Children's::Graphic Novels)
On Our Shelves Now
Description
The penultimate installment in Mike Maihack's delightful graphic novel series starring a young Cleopatra and her adventures in space. Now an animated TV series streaming on Hulu and Peacock!
Cleo goes into hiding after a mysterious death at Yasiro Academy, and she and her friends set out to uncover the spy who must be working within the school's ranks. Meanwhile, Octavian continues his assault on the galaxy as his complicated origin story, and how he went from being Cleo's best friend to a ruthless dictator, is revealed. In the end, a space battle and dramatic confrontation between Cleo and Octavian will change their lives forever.
Praise for Fallen Empire: A Graphic Novel (Cleopatra in Space #5)
Praise for the Cleopatra in Space series:"Cleo is a fun, fearless heroine -- I'd love to explore the galaxy with her!" -- Raina Telgemeier, #1 New York Times bestselling author of Smile* "Maihack's characters, both human and nonhuman, are diverse, expressive, and visually distinct." -- School Library Journal, starred review"Cleo's easygoing confidence makes her a likable... heroine, but the real star of the graphic novel is Maihack's art. The cinematic paneling during action sequences skillfully conveys Cleo's vivacity and flair." -- Kirkus Reviews"A delight, with its exciting layout of a futuristic Egypt complete with cool pyramid skyscrapers." -- Booklist"Cleopatra smoothly slips into the role of confident, wisecracking, baddie-dispatching hero, and the supporting cast falls neatly into place as well." -- Publishers Weekly
Praise for the Cleopatra in Space series:"Cleo is a fun, fearless heroine -- I'd love to explore the galaxy with her!" -- Raina Telgemeier, #1 New York Times bestselling author of Smile* "Maihack's characters, both human and nonhuman, are diverse, expressive, and visually distinct." -- School Library Journal, starred review"Cleo's easygoing confidence makes her a likable... heroine, but the real star of the graphic novel is Maihack's art. The cinematic paneling during action sequences skillfully conveys Cleo's vivacity and flair." -- Kirkus Reviews"A delight, with its exciting layout of a futuristic Egypt complete with cool pyramid skyscrapers." -- Booklist"Cleopatra smoothly slips into the role of confident, wisecracking, baddie-dispatching hero, and the supporting cast falls neatly into place as well." -- Publishers Weekly