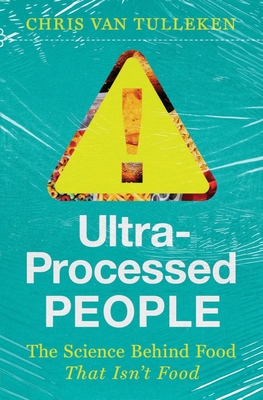 Ultra-Processed People: The Science Behind Food That Isn't Food
Publication Date:
June 27th, 2023
Publisher:
W. W. Norton & Company
The Book Tavern
2 on hand, as of Sep 28 12:22pm
(Health & Medicine)
On Our Shelves Now
Description
New York Times Bestseller
International Bestseller
A manifesto to change how you eat and how you think about the human body.
It's not you, it's the food.
We have entered a new age of eating. For the first time in human history, most of our calories come from an entirely novel set of substances called Ultra-Processed Food. There's a long, formal scientific definition, but it can be boiled down to this: if it's wrapped in plastic and has at least one ingredient that you wouldn't find in your kitchen, it's UPF.
These products are specifically engineered to behave as addictive substances, driving excess consumption. They are now linked to the leading cause of early death globally and the number one cause of environmental destruction. Yet almost all our staple foods are ultra-processed. UPF is our food culture and for many people it is the only available and affordable food.
In this book, Chris van Tulleken, father, scientist, doctor, and award-winning BBC broadcaster, marshals the latest evidence to show how governments, scientists, and doctors have allowed transnational food companies to create a pandemic of diet-related disease. The solutions don't lie in willpower, personal responsibility, or exercise. You'll find no diet plan in this book—but join Chris as he undertakes a powerful self-experiment that made headlines around the world: under the supervision of colleagues at University College London he spent a month eating a diet of 80 percent UPF, typical for many children and adults in the United States. While his body became the subject of scientific scrutiny, he spoke to the world's leading experts from academia, agriculture, and—most important—the food industry itself. But more than teaching him about the experience of the food, the diet switched off Chris's own addiction to UPF.
In a fast-paced and eye-opening narrative he explores the origins, science, and economics of UPF to reveal its catastrophic impact on our bodies and the planet. And he proposes real solutions for doctors, for policy makers, and for all of us who have to eat. A book that won't only upend the way you shop and eat, Ultra-Processed People will open your eyes to the need for action on a global scale.
Praise for Ultra-Processed People: The Science Behind Food That Isn't Food
[Ultra-Processed People] is persuasive and scary. . . . As van Tulleken rightly insists, there is simply something creepy about eating things whose composition we can't comprehend.
— Adam Gopnik - The New Yorker
Ultra-Processed People makes the case that corporate interests have given rise to highly addictive ultra-processed foods. . . . A brisk and engaging read, though it might piss you off. That's kind of the point.
— Ashwin Rodrigues - GQ
Before reading van Tulleken's work, I felt pretty confident that junk food was bad. That didn't stop me from eating it, however. Learning about UPF is a different experience—you begin to realize that some of this stuff is barely food at all.
— Helen Lewis - Atlantic
In Ultra-Processed People, a persuasive mix of analysis and commentary, [Chris van Tulleken] shows how [ultra-processed] foods affect our bodies and how their popularity stems in part from shady marketing and slanted science.
— Matthew Rees - Wall Street Journal
There is much to cheer about calories being cheap and abundant, when for most of human history they were neither. But as Chris van Tulleken's new book, Ultra-Processed People, explains, that cheapness and abundance come at a cost.
— Economist
Van Tulleken is at his best when using his own scientific expertise to help readers through otherwise unnavigable science, data and history, explaining with precision what we are actually eating.
— Jacob E. Gersen - New York Times
An unsettling examination of the food we eat [and] a fascinating, but frankly horrifying, investigation into our industrialised food system.
— Ben Spencer - Sunday Times
Ultra-Processed People [is] a fearless investigation into how we have become hooked on ultra-processed food . . [It] is more than just a great science book: it breaks down a complex issue of cultural, social, economic and political importance with clarity and sensitivity but without moralising; it competently evaluates the scientific literature; and it roams the globe in search of answers.
— Anjana Ahuja - Financial Times
Deeply researched and persuasive.
— Sophie McBain - New Statesman
If Super Size Me were an introduction, Chris van Tulleken's book is the Ph.D. course . . . [Ultra-Processed People] is highly readable and van Tulleken writes with the confidence of a doctor who has a reassuring bedside manner.
— Dave Hage - Minneapolis Star Tribune
Eye-opening . . . Ultra-Processed People is a tremendously important book that will help readers choose less processed, better food.
— Vincent Lam - Toronto Star
The book is 'scholarly' . . . Yet it's also witty, pacy and (despite a lot of academic stuff) approachable.
— Adam Leyland - The Grocer
An engrossing, infuriating read! UPF makes most fictional villains look quaint. You've got a diabolical product that scientists and capitalists have literally got into our bodies (even mine?!) profoundly affecting our health and even our thoughts. Chris van Tulleken has written an astonishingly well-researched book on a plague that most of us aren't even thinking about, but one whose architects are most certainly thinking about us, with ill intent. Read it and fight back!
— Rob Delaney, comedian, actor, and author of A Heart That Works
If you only read one diet or nutrition book in your life, make it this one. It will not only change the way you eat but the way you think about food. And it does all this without a hint of finger-wagging or body shaming. I came away feeling so much better informed about every aspect of ultra-processed food, from the way it affects the microbes in our gut to why it is so profitable to produce to why it's so hard to eat only a single bowl of Coco Pops to why any food that is marketed as 'better for you' is almost certainly not.
— Bee Wilson, author of Consider the Fork and The Secret of Cooking
A devastating, witty, and scholarly destruction of the food we eat and why.
— Adam Rutherford, author of Control and co-author of The Complete Guide to Absolutely Everything* (*Abridged)
Packed with "I never knew that" moments, Ultra-Processed People is a wonderfully playful book that changed forever how I think about what I eat and why.
— Hannah Fry, author of Hello World and co-author of The Complete Guide to Absolutely Everything* (*Abridged)
A wonderful and fascinating exposé of ultra-processed food, edible substances with strange sounding ingredients which are manufactured by some of the wealthiest companies on the planet and which, worryingly, form an increasing part of our diet. As Chris shows, not only have these foods been formulated to ensure that we eat them constantly and without thought, but they hijack our ability to regulate what we eat, primarily by affecting our brains. And he backs up his claims with a powerful self-experiment, along with lots of rigorous and often shocking research. Reading this book will make you question what you eat and how it was produced.
— Dr. Michael Mosley, BBC presenter and bestselling author of The Fast Diet
Everyone needs to know this stuff.
— Tim Spector, author of Spoon Fed and Food for Life
Incendiary and infuriating, this book is a diet grenade; the bold and brutal truth about how we are fed deadly delights by very greedy evil giants.
— Chris Packham, television presenter, naturalist, and author of Amazing Animal Journeys
The past 10 years has seen an inflection point in human history, where more people in the world are now dying of eating too much, than of eating too little. This urgent and captivating read digs deep into one of the huge reasons, the rise and rise of ultra-processed food.
— Giles Yeo, author of Gene Eating and Why Calories Don't Count
Mindblowing. You'll never see food—or your body—the same way again.
— Alice Roberts, author of Anatomical Oddities
A fascinating, forensically researched and ultimately terrifying expose of the food we consume. Van Tulleken leaves no stone unturned, shining his spotlight into the dark corners of what masquerades as nutrition these days. Read it; your diet will never be the same again!
— Mariella Frostrup, co-author of Cracking the Menopause
A scathing takedown . . . This impassioned polemic will make readers think twice about what they eat.
— Publishers Weekly
A painfully eye-opening study of food and health.
— Kirkus