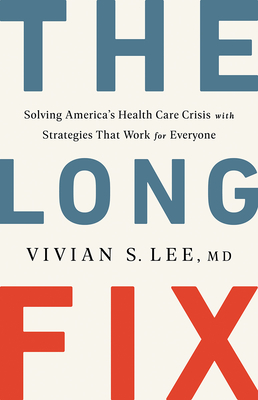 The Long Fix: Solving America's Health Care Crisis with Strategies that Work for Everyone
Publication Date:
May 26th, 2020
Publisher:
W. W. Norton & Company
The Book Tavern
1 on hand, as of Dec 9 11:18pm
(Health & Medicine)
On Our Shelves Now
Description
It may not be a quick fix, but this concrete action plan for reform can create a less costly and healthier system for all.
Beyond the outrageous expense, the quality of care varies wildly, and millions of Americans can't get care when they need it. This is bad for patients, bad for doctors, and bad for business.
In The Long Fix, physician and health care CEO Vivian S. Lee, MD, cuts to the heart of the health care crisis. The problem with the way medicine is practiced, she explains, is not so much who's paying, it's what we are paying for. Insurers, employers, the government, and individuals pay for every procedure, prescription, and lab test, whether or not it makes us better—and that is both backward and dangerous.
Dr. Lee proposes turning the way we receive care completely inside out. When doctors, hospitals, and pharmaceutical companies are paid to keep people healthy, care improves and costs decrease. Lee shares inspiring examples of how this has been done, from physicians' practices that prioritize preventative care, to hospitals that adapt lessons from manufacturing plants to make them safer, to health care organizations that share online how much care costs and how well each physician is caring for patients.
Using clear and compelling language, Dr. Lee paints a picture that is both realistic and optimistic. It may not be a quick fix, but her concrete action plan for reform—for employers and other payers, patients, clinicians, and policy makers—can reinvent health care, and create a less costly, more efficient, and healthier system for all.
Praise for The Long Fix: Solving America's Health Care Crisis with Strategies that Work for Everyone
In The Long Fix, Vivian Lee M.D. crisply diagnoses the imperative to repair America's health care system and offers understandable principles as a guide. She lights a path forward by applying lessons and observations from her unique experiences as a physician, health system leader, and now technology executive. This book matters to patients and their families. It matters to Americans who care about the economic future of our nation. It especially matters to government leaders and health care executives we depend on to find strategies that work for everyone.
— Michael O. Leavitt, former governor of Utah and former Secretary of Health and Human Services
This is a well-researched and thoughtful book from one of our nation's leaders in healthcare reform. Dr. Lee has written a practical guide with actionable solutions for policymakers, healthcare providers, and patients—a must-read!
— Dr. Leana S. Wen, visiting professor at George Washington University, former president and CEO of Planned Parenthood, and former Baltimore city health commissioner
Deeply researched, clearly written, and with a wealth of examples and colorful anecdotes, The Long Fix is necessary reading for anyone seeking to understand—and, more importantly, repair—our ailing healthcare system. Few people have the breadth and depth of Vivian Lee's experience, and her pragmatic, results-oriented approach offers a compelling and convincing blueprint for doctors, health care professionals, patients, and legislators, on both sides of the aisle.
— Eric Schmidt, former CEO of Google
Dr. Lee has drawn upon her extensive experience and a wide range of physician and administrator colleagues to provide a deep understanding of the ailments plaguing the US health care system, accompanied with practical suggestions for how to remedy them. An excellent overview of the problems and potential solutions.
— Robert S. Kaplan, Senior Fellow, Marvin Bower Professor of Leadership Development, emeritus, Harvard Business School
Dr. Lee's book is an insightful diagnostic look at what is not working in American medicine, and why, that is made compelling by her succinct, practical recommendations for what each of us—policy-maker, consumer, physician/health professional, and payer—can do now to realize the person-centered, high value health care system we all so long for.
— Karen DeSalvo, chief health officer, Google Health and former US national coordinator for health information technology
A health professional turns an experienced eye toward sensible, ground-level actions to make medical care better and cheaper.
— Kirkus
Lee speaks with authority.... Especially in light of the coronavirus emergency, Lee's call for everyone to play a role in 'the Long Fix' rings true.
— Booklist
Relevant to all who provide or receive health care in America.
— Library Journal