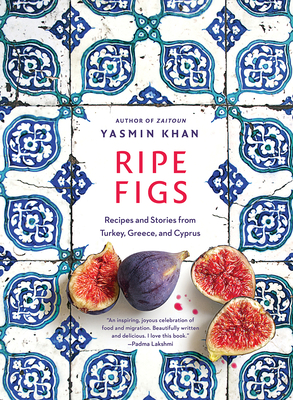 Ripe Figs: Recipes and Stories from Turkey, Greece, and Cyprus
Publication Date:
May 4th, 2021
Publisher:
W. W. Norton & Company
The Book Tavern
1 on hand, as of Oct 2 11:18pm
(Cooking)
On Our Shelves Now
Description
A Finalist for the 2022 James Beard Foundation Cookbook Award and the 2022 IACP Award (International)
Longlisted for the 2022 Art of Eating Prize
A New York Times Best Cookbook of 2021 • A Guardian Best Food Book of 2021 • A Simply Recipes Favorite Cookbook of 2021 • A WBUR Here & Now Favorite Cookbook of 2021
The acclaimed author of Zaitoun returns with vibrant recipes and powerful stories from the islands that bridge the Mediterranean and the Middle East.
For thousands of years, the eastern Mediterranean has stood as a meeting point between East and West, bringing cultures and cuisines through trade, commerce, and migration. Traveling by boat and land, Yasmin Khan traces the ingredients that have spread through the region from the time of Ottoman rule to the influence of recent refugee communities.
At the kitchen table, she explores what borders, identity, and migration mean in an interconnected world, and her recipes unite around thickets of dill and bunches of oregano, zesty citrus and sweet dates, thick tahini and soothing cardamom. Khan includes healthy, seasonal, vegetable-focused recipes, such as hot yogurt soups, zucchini and feta fritters, pomegranate and sumac chicken, and candied pumpkin with tahini and date syrup.
Fully accessible for the home cook, with stunning food and location photography, Ripe Figs is a dazzling collection of recipes and stories that celebrate an ever-diversifying region and imagine a world without borders.
Praise for Ripe Figs: Recipes and Stories from Turkey, Greece, and Cyprus
Food writing at its best: Yasmin Khan brings the people and stories behind these recipes to life, paying due respect to the hardships as well as the joy in what is a moving and beautiful book.
— Nigella Lawson, author of Cook, Eat, Repeat
A brilliant cookbook that reveals the often-overlooked plight of refugees and immigrants. Yasmin is a masterful storyteller who reminds us to keep an open heart and mind.
— Nik Sharma, author of The Flavor Equation
Once again, Yasmin Khan invites her readers to the table for both the dishes she serves and the stories she tells. The two must always go hand-in-hand, of course, for behind every dish there is a person, a family, a journey, a narrative: a story of movement, change and migration. Yasmin also manages to strike a tough balance: between serving food which is delicious and celebratory at the same time as telling hard-hitting (but also hopeful) stories.
— Yotam Ottolenghi, author of Flavor
Khan is a big-hearted food writer who understands the Middle East in a way that few writers, food or otherwise, seldom do... [she] writes movingly about the eastern Mediterranean's border politics, and how it plays out on plates across the region... Out of all of Khan's books, Ripe Figs is probably the most accessible: the meals are simple and delicious, and most of them have fewer than six or seven ingredients.
— Sirin Kale - Vice
An inspiring, joyous celebration of food and migration. Beautifully written and delicious. I love this book.
— Padma Lakshmi
Here is what Yasmin Khan does better than almost anyone: dive deep into the cuisine of a specific region of the world to create a compendium of recipes, stories, interviews, and stunning photos that transport you (with all five senses engaged) to that place. I know that sounds like a tall order—and even a little bit cliche—but somehow Khan manages to pull it off again and again, with depth, generosity, and a palpable love of listening and learning.
— Kendra Vaculin - Epicurious
[Ripe Figs] read[s] like an inspiring walk through a local market, with an (engaging!) history lesson along the way. The book is a real celebration of the region, and her closing index, with recommended menus, and notes about vegetarian, vegan, and dairy-free offerings, invites everyone to join in.
— K.Y. - Food and Wine
Reading Ripe Figs, Yasmin Khan's moving and beautiful follow-up to her acclaimed cookbook Zaitoun, conjures images of clear skies, turquoise seas, and meze-laden tables filled with marinated olives, charred flatbreads, and grilled fish doused in lemon. It also pushes you to think deeper about the ever-diversifying Eastern Mediterranean, specifically Greece, Turkey, and Cyprus, where millions of refugees have arrived since armed conflicts drove them from their homes in 2015.
— Eater
Khan, who first fell in love with the region on a family trip as a kid, is a travel writer at heart, and every recipe is rooted in a real sense of place…In a year without travel, it's hard not to pore over the photography that breaks up the standard recipe shots: sunlit bushels of spices, olives, grapes, pomegranates spilling over at markets; streetscapes in Istanbul and Athens; and small towns set against the dramatic blue Mediterranean.
— Jenny Rosenstrach - New York Times Book Review
Although many of the stories in Ripe Figs are heartbreaking, the recipe collection speaks to warmer days... The salad chapter is particularly compelling: from a crunchy winter slaw with turnips, carrots, cabbage and cilantro to a sweet potato, chickpea and tahini salad, to a beet, fennel and pomegranate salad. Later this winter, I look forward to trying the pumpkin and cardamom soup, mushroom moussaka and citrus cake.
— Kathy Gunst - WBUR
Ripe Figs has a political heartbeat.
— Kim Severson - New York Times
Yasmin Khan's beautiful book is like a love letter to the people that feed us and to the stories told over dinners shared and celebrated both near and far... If you want a book that goes beyond recipes and gets to the heart of why we eat—this is it.
— Ariel Knutson - Simply Recipes
Rarely am I so eager to try almost every recipe — her use of the language makes each dish very compelling and transparent — I can taste how the dish works. I am captivated.
— Art of Eating