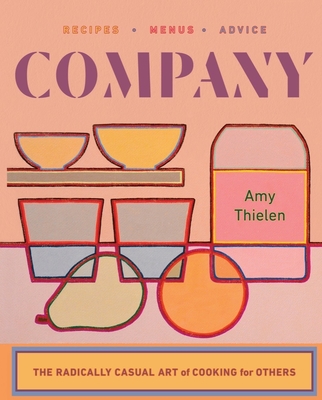 Company: The Radically Casual Art of Cooking for Others
Publication Date:
August 29th, 2023
Publisher:
W. W. Norton & Company
The Book Tavern
1 on hand, as of Oct 2 11:18pm
(Cooking)
On Our Shelves Now
Description
One of Food & Wine's Best Cookbooks of Fall 2023
From beloved writer and cook Amy Thielen comes a year of inventive recipes and twenty menus for the "let's do it at my house" set—and those who aspire to it.
In her much-anticipated follow-up to The New Midwestern Table, Amy writes, "no one will ever care about the food as much as you and I do." Company will have you rethinking the way you entertain, throwing dinner parties that are less formal, more frequent, and as fun for the cook as for the guests. Preaching leniency, not-guilty pleasures, and the art of making it in advance, Amy soothes the most common party anxieties one by one. Her reflections on writing menus, produce shopping, and how to time a meal are novel but timeless. Not afraid of meat (but obsessed with vegetables), these 125 loyal recipes are arranged in menu form—from intimate dinner parties to larger holiday feasts to parties that serve up to twenty.
With a feast of gorgeous photography and plenty of down-in-the-pan cooking nerdery, Company encourages a return to the habit, and the joy, of cooking for family and friends.
Praise for Company: The Radically Casual Art of Cooking for Others
Though the concept of feeding a group of six, 12, or perhaps even 20 can spark anxiety in the heart of even the most confident home cook, Amy Thielen . . . and her new book will empower you to do just that—casually! . . . . Thielen's humor and candor, along with the reminiscent-of-a-family-album photography, make the book approachable and fun.
— Vanessa Pamela Friedman - Vogue
[Company] has a no-nonsense-yet-kind voice that captures the joy one can get from cooking for friends and family, Thielen's helpful hand ensuring that every dish sings.
— Jackie Varriano - Seattle Times
Your best dinner party menus of 2023 will come from this new cookbook. . . . Reading each of Thielen's warm descriptions feels like opening the door of her cabin and going inside, finding the buffet table and piling your plate high.
— Maggie Hoffman - Epicurious
Rethink the way you entertain with Amy's clever recipe and menu ideas.
— Better Homes & Gardens
We've long been fans of Amy Thielen's cooking. Her recipes bring styled-out flourishes to the kitchen repertoire. And then there's her writing: with Thielen's first cookbook, The New Midwestern Table, she became our generation's Laurie Colwin, dramatizing the all-five-senses thrills of cooking with a nurturing voice that made readers feel: I got this. Company broadens the scope, torquing up the ambition to menu-based parties like a Friday-night Fish Fry for eight or an Argentinian-Style Asado for twenty or more. Packed with real-life tips, hacks, and kitchen inspiration, every sentence of this book will make you a better, happier cook!
— Matt Lee and Ted Lee, authors of The Lee Bros. Charleston Kitchen
An exuberant, irreverent love letter to abundance in all its forms: friendship, care, pleasure, and beautiful food that brings them all together.
— Chelsey Johnson, author of Stray City
Amy Thielen's recipes and writing capture the true rhythms of the kitchen, from the glamour and glee of an overloaded table to the welcome quiet of a dish-stacked sink. This book is a practical and economical guide to cooking for a crowd. It's also fancy and funny and fun. Reading and cooking with Company feels like being invited to the sort of party I crave—and it makes me want to throw my own blowout feast as soon as humanly possible.
— Kate Lebo, author of The Book of Difficult Fruit
A treasure—after spending time with Amy Thielen's intimate, spirited, and often funny writing in Company, you'll want to have her at your party, too.
— Mayukh Sen, author of Taste Makers
The most gorgeous and useful cookbook I've seen in a long time. Amy Thielen's recipes are always foolproof, and company-pleasers for sure. This book inspires what we need more than ever right now, community. I will be cooking from it for a long time.
— Jeni Britton-Bauer, entrepreneur and author of Jeni's Splendid Ice Cream Desserts
Amy has written a beautiful guide to ease our worries and provides us with 125 well-tested, no fail recipes – arranged in menu form. From small dinner parties to larger holiday feasts that serve up to twenty (and even a section on holiday baking!), everything is laid out for the cook whether said cook be a novice or experienced player in the kitchen. Packed with stunning photography, Company encourages us to return to the joy of cooking for family and friends without all the fuss and muss.
— Jenny Hartin - Eat Your Books
Thielen delivers again with warm, encouraging, and delicious menus that will have readers excited to plan their next crowd-pleasing event.
— Sarah Tansley - Library Journal
Double-dipped fried chicken and the single-origin chocolate cake don't need to be saved for a big event. Those appreciative of hearty Midwest cooking and entertaining large crowds will find inspiration here.
— Jessica S. Levy - Booklist