Staff Pick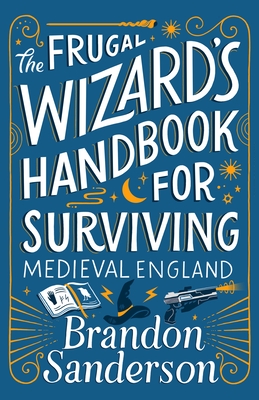 The Frugal Wizard's Handbook for Surviving Medieval England (Secret Projects)
Publication Date:
June 27th, 2023
The Book Tavern
4 on hand, as of Sep 25 11:17pm
(SciFi/Fantasy)
On Our Shelves Now
Staff Reviews
A fun and unique take on the multi-verse blending science fiction and fantasy effortlessly. This is the second of four novels Sanderson wrote and funded through a Kickstarter campaign of premium editions simultaneously releasing in trade publications. If you missed the first, Tress of the Emerald Sea, it was equally enjoyable (and quite moving) and has the advantage of being in the Cosmere. Both are available at the store now and the final two are available to pre-order!
— David
Description
From #1 New York Times bestselling author Brandon Sanderson—creator of The Stormlight Archive, the Mistborn Saga, and countless bestselling works of science fiction and fantasy—comes this captivating standalone adventure that meshes Jason Bourne, epic fantasy, and time travel.
A man awakes in a clearing in what appears to be medieval England with no memory of who he is, where he came from, or why he is there. Chased by a group from his own time, his sole hope for survival lies in regaining his missing memories, making allies among the locals, and perhaps even trusting in their superstitious boasts. His only help from the "real world" should have been a guidebook entitled The Frugal Wizard's Handbook for Surviving Medieval England, except his copy exploded during transit. The few fragments he managed to save provide clues to his situation, but can he figure them out in time to survive?
Other Tor books by Brandon Sanderson
The Cosmere
The Stormlight Archive
The Way of Kings
Words of Radiance
Edgedancer (novella)
Oathbringer
Dawnshard (novella)
Rhythm of War
The Mistborn Saga
The Original Trilogy
Mistborn
The Well of Ascension
The Hero of Ages
Wax and Wayne
The Alloy of Law
Shadows of Self
The Bands of Mourning
The Lost Metal
Other Cosmere novels
Elantris
Warbreaker
Tress of the Emerald Sea
Yumi and the Nightmare Painter
The Sunlit Man
Collection
Arcanum Unbounded: The Cosmere Collection
The Alcatraz vs. the Evil Librarians series
Alcatraz vs. the Evil Librarians
The Scrivener's Bones
The Knights of Crystallia
The Shattered Lens
The Dark Talent
Bastille vs. the Evil Librarians (with Janci Patterson)
Other novels
The Rithmatist
Legion: The Many Lives of Stephen Leeds
The Frugal Wizard's Handbook for Surviving Medieval England
Other books by Brandon Sanderson
The Reckoners
Steelheart
Firefight
Calamity
Skyward
Skyward
Starsight
Cytonic
Skyward Flight (with Janci Patterson)
Defiant
Praise for The Frugal Wizard's Handbook for Surviving Medieval England (Secret Projects)
Praise for Brandon Sanderson
"Epic in every sense." —The Guardian on The Way of Kings
"Brandon Sanderson's reputation is finally as big as his novels." —The New York Times on Words of Radiance
"If you're a fan of fantasy and haven't read the Mistborn trilogy yet, you have no excuses." —Forbes on Mistborn
"A fresh view of how a world can grow, building new dimensions into the best of the old. Sanderson continues to show that he is one of the best authors in the genre." —Library Journal (starred review) on The Alloy of Law
"Sanderson's fresh ideas on the source and employment of magic are both arresting and original […] Think brisk. Think fun. Enjoy." —Kirkus on The Alloy of Law
"Mystery, magic, romance, political wrangling, religious conflict, fights for equality, sharp writing and wonderful, robust characters…Sanderson is a writer to watch." —Publishers Weekly (starred review) on Elantris