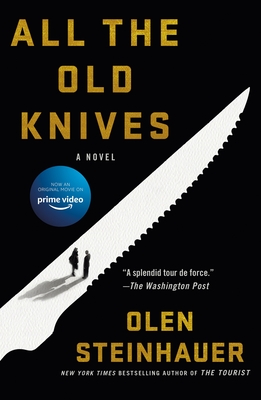 All the Old Knives: A Novel
Publication Date:
March 22nd, 2022
Publisher:
Minotaur Books
The Book Tavern
1 on hand, as of Dec 1 2:19pm
(Fiction)
On Our Shelves Now
Description
From Olen Steinhauer, the author of New York Times bestseller The Tourist, comes his intimate, most cerebral, and most shocking novel to date, All the Old Knives—now a Major Motion Picture Starring Chris Pine and Thandiwe Newton.
Six years ago in Vienna, terrorists took over a hundred hostages, and the rescue attempt went terribly wrong. The CIA's Vienna station was witness to this tragedy, gathering intel from its sources during those tense hours, assimilating facts from the ground and from an agent on the inside. So when it all went wrong, the question had to be asked: Had their agent been compromised, and how?
Two of the CIA's case officers in Vienna, Henry Pelham and Celia Harrison, were lovers at the time, and on the night of the hostage crisis Celia decided she'd had enough. She left the agency, married and had children, and is now living an ordinary life in the idyllic town of Carmel-by-the-Sea. Henry is still a case officer in Vienna, and has traveled to California to see her one more time, to relive the past, maybe, or to put it behind him once and for all.
But neither of them can forget that long-ago question: Had their agent been compromised? If so, how? Each also wonders what role tonight's dinner companion might have played in the way the tragedy unfolded six years ago.
Praise for All the Old Knives: A Novel
"A sneaky little gem... Steinhauer sustains the difficult balancing act of melding a heart-racing espionage plot with a credible dinner table conversation." —The New York Times
"A splendid tour de force...without neglecting the turmoil of the geopolitical landscape, the novel focuses more intensely on the equally treacherous landscapes of the human heart." —The Washington Post
"It's not news that Olen Steinhauer is among the best contemporary espionage writers, and All the Old Knives confirms it. If you're a fan of intelligent spy novels that don't need much bang-bang, details about ordnance, or people who save the world single-handedly, this one's for you." —Seattle Times
"Most of All the Old Knives revolves around Pelham and Favreau's dinner, and the fact that the book moves so swiftly and alluringly is a testament to Steinhauer's skills as an entertainer. He stretches considerable tension across an entire book, rather than a handful of swift scenes, and it's gratifying to watch him do something so daringly retro and contrary to what we've come to expect in a thriller." —The Richmond Times-Dispatch
"Terrific standalone thriller...There's great narrative energy in the thrust and counterthrust of the dinner conversation, as well as in the re-creation of the Viennese events; Steinhauer is a very fine writer and an excellent observer of human nature, shrewd about the pleasures and perils of spying." —Publishers Weekly (starred review)
"Masterfully plotted and suspenseful stand-alone...Steinhauer expertly shifts perspectives between the two spies in both their present and past lives, when Henry was a rough-and-tumble field agent and Celia wielded power behind a desk. It's an understatement to say that nothing is as it seems, but even readers well-versed in espionage fiction will be pleasantly surprised by Steinhauer's plot twists and double backs." —Kirkus Reviews (starred review)
"A compelling spy story that takes place at a restaurant table...It delivers intrigue, suspense, and a heart-stopping finale. In his acknowledgments, Steinhauer tells us he wrote it in one month. You'll devour it in one night." —Booklist (starred review)
"This genre-bending spy novel takes Hitchcockian suspense to new heights. Over the course of a meal with flashbacks, the eternal questions of trust, loyalty, and authentic love are deftly dissected. Readers drawn to the story of a loving couple trapped in a terrible embrace will be thrilled to follow Henry and Celia's tortured pas de deux." —Library Journal (starred review)