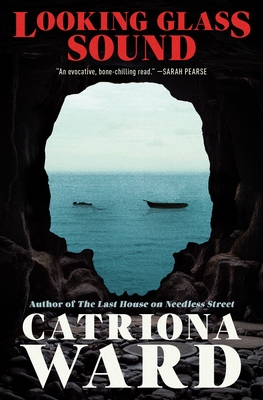 Looking Glass Sound
Publication Date:
August 8th, 2023
The Book Tavern
1 on hand, as of Dec 8 11:19am
(Horror)
On Our Shelves Now
A mind-bending plot mixed with overall unease, with secrets that will keep you guessing until the very end.Looking Glass Soundis no exception to what we have come to expect of a Catriona Ward thriller—simply excellent.
August 2023 Indie Next List
Description
A USA TODAY BESTSELLER • A Best Book of the Year (Vulture) • A Best Horror Book of the Year (Esquire) • An Indie Next Pick • A LibraryReads Hall of Fame Pick!
The author of The Last House on Needless Street, Catriona Ward, delivers a masterful story about friendship and betrayal, dark obsessions, and the impossibility of escaping your own story. "Here's your next obsession." (Kelly Link, author of Get In Trouble)
In a cottage overlooking the windswept Maine coast, Wilder Harlow has begun the last book he will ever write.
It is the story about the sun-drenched summer days of his youth in Whistler Bay, and the blood-stained path of the killer that stalked his small vacation town. About the terrible secret he and his companions, Nat and Harper, discovered entombed in the coves off the bay. And how the pact they swore that day echoed down the decades, forever shaping their lives.
But the more Wilder writes, the less he trusts himself and his memory. He starts to see things that can't be real – notes hidden in the cabin, from an old friend now dead; a woman with dark hair drowning in the icy waters below, calling for help; entire chapters he doesn't recall typing, appearing overnight. Who, or what, is haunting Wilder?
No longer able to trust his own eyes, Wilder begins to fear that this will not only be his last book, but the last thing he ever does.
"An origami puzzle of a book, the mystery so beautifully crafted you don't see the folds, with edges sharp as a paper cut."—Lauren Beukes, author of The Shining Girls
Praise for Looking Glass Sound
"Looking Glass Sound is my favorite Ward novel yet, which is saying something. There are twists and turns here that even the most jaded reader will find hard to predict. If you love the novels of Shirley Jackson, Patricia Highsmith, and Tana French, here's your next obsession."
—Kelly Link, author of White Cat, Black Dog

"Mind-bending, gasp-inducing, and impossible to put down, Looking Glass Sound is horror-thriller superstar Ward's best work yet."
—Emily Hughes, Vulture
"There is no way to convey the brilliance or intricacy of Ward's latest novel … If there is any justice in this world, Looking Glass Sound will enter the canon of the classic American macabre. It should be read and studied for decades."
—Neil McRobert, Esquire
"An evocative, bone-chilling read, exploring grief, storytelling, and the dark forces of obsession. Ward's writing is complex, challenging, and beautiful in equal measure. A tale to savor."
—Sarah Pearse, New York Times bestselling author of The Sanatorium
"I loved every word...an irresistible, beautifully written story powered by dread and fascination with the unknown."
—A. J. Finn, #1 New York Times bestselling author of The Woman in the Window
"Ward's latest may be her scariest yet."
—Booklist (STARRED review)
"The prose is lyrically metaphorical, taking readers into the story as if they're shadows of the characters. This is a book about a book, inside a book—an intricate plot with changing perspectives. Reading it is like walking through a maze of wrong turns and misdirection."
—Library Journal (STARRED review)
"Nearly every sentence is faultless, gutting and precise. Come for the family secrets but stay for the humanity, tenderness, and empathy that are so central to Ward's storytelling. This book will truly haunt you long after you read it."
—Olivie Blake, New York Times bestselling author of The Atlas Six

"In the right hands, narrative can be a kaleidoscope, fracturing into more and more wondrous configurations. I think maybe Catriona Ward spilled a little blood into her kaleidoscope with this one."
—Stephen Graham Jones, New York Times bestselling author of The Only Good Indians

"With prose of poetic clarity, Looking Glass Sound reveals secret after secret in a structure as intricate and insidiously enmeshing as a cobweb. Haunting, disturbing and beautiful, it's a truly extraordinary book. I think it may well be a masterpiece."
—Ramsey Campbell
"Devastatingly beautiful, bone-chilling and enchanting. Looking Glass Sound is further proof that no one writes like Ward. No one conjures such heartbreak from such raw fear. An alchemist of storytelling."
—Chris Whitaker, New York Times bestselling author of We Begin At the End

"A frightening nesting doll of a novel about ghosts and monsters, trauma and loss, and the specific aching intensity of teenage friendships. Perhaps most of all, it's a book about stories--and their ability to save or destroy the teller. You'll stay up all night wandering the labyrinth Ward has deftly constructed."
—Katie Gutierrez, bestselling author of More Than You'll Ever Know
"This twisted tale of ghosts and murderers, derailed lives and childhood traumas is a vertical labyrinth that will take you straight down into the heart of darkness. Enthralling and heartbreaking."
—M. R. Carey, author of The Girl with All the Gifts
"I couldn't tear myself away. Looking Glass Sound is slyly addictive. Falling into a Catriona Ward book means knowing you'll be caught and never let go. Unconventional, imaginative, and brazenly twisted."
—Hailey Piper, Bram Stoker Award-winning author of No Gods for Drowning
"Ward is a master of tugging at the strings of a deeply personal story until she's woven them into an epic, terrifying, multi-generational web. Looking Glass Sound is haunting and immersive. I loved getting caught up in it."
—Chuck Tingle, USA Today bestselling author of Camp Damascus

"You've read nothing like it before.... Impossibly compelling, brilliantly plotted, and incredibly moving all at once. I think at this point we can all just agree to follow Ward wherever she takes us."
—Virginia Feito, author of Mrs. March
"The dread rises like a saltwater tide in a claustrophobic cave. Looking Glass Sound is a mesmerizing and haunting performance of a novel."
—Lavie Tidhar, author of By Force Alone
"Ward dazzles with her ability to deliver satisfying narrative surprises at nearly every turn."
—Publishers Weekly
"Ward is an inspired spider and Looking Glass Sound is her most masterful web yet. And we, dear readers, are nothing more than mere flies happily trapped within the pages of this brilliantly intricate novel."
—Clay McLeod Chapman, author of Ghost Eaters
"Readers will question every word as Ward expertly weaves together an enigmatic story of friendship, young love, obsession, and horror."
—Polygon

"A blisteringly smart portrait of the tortuous ways a story can take on its own life. Surprising, moving, and sophisticated."
—Megan Shepherd, New York Times bestselling author of Malice House
"An origami puzzle of a book, the mystery so beautifully crafted you don't see the folds, with edges sharp as a paper cut. I loved it."
—Lauren Beukes, author of The Shining Girls
"Looking Glass Sound is a wonderful piece of Gothic sleight-of-hand. A beautifully sinister tale of perception and identity that had me enthralled from the first page."
—Joanne Harris, author of Chocolat
"Unbelievably good.... so clever, so haunting and melancholic. It's so beautiful, so dark, and so vivid."
—Jennifer Saint, author of Ariadne
"Totally stunning. ...At its heart a book about the madness of story telling, possession and grief. I loved it!"
—Araminta Hall, author of Imperfect Women
"Put simply, Looking Glass Sound is a multilayered masterpiece of speculative fiction and proof that a horror novel can reach the greatest of literary heights."
—Grimdark Magazine
"So, so brilliant. Absolutely Ward's best yet. Her characters, the way she weaves together all the storylines, the reveals - all of them top notch, brilliantly done, and all while my heart was literally banging out of my chest."
—Lisa Hall, author of The Perfect Couple

Also by Catriona Ward:
The Last House on Needless Street
Sundial
Little Eve