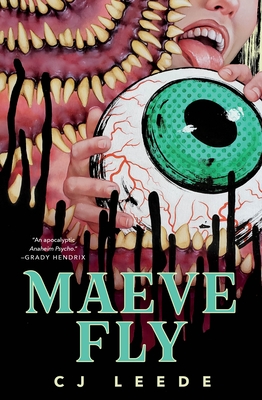 Maeve Fly
Publication Date:
June 6th, 2023
The Book Tavern
2 on hand, as of Sep 26 6:21pm
(Horror)
On Our Shelves Now
Such a wonderful, bizarre read. Maeve loves hard, asserts her place in the world, and takes on the spirit of Old Hollywood to wow at Halloween parties. It's a funky, gory, sexy thrill; I was disturbed, shattered, and totally in love.
June 2023 Indie Next List
Description
"This is gory and brutal and beautiful and painful and terrifying and a pure delight." —Stephen Graham Jones, New York Times bestselling author

A provocative and unforgettable debut that is both a blood-soaked love letter to Los Angeles and a gleeful send-up to iconic horror villains, Maeve Fly will thrill fans of My Heart is a Chainsaw and Caroline Kepnes' You series.
By day, Maeve Fly works at the happiest place in the world as every child's favorite ice princess.
By the neon night glow of the Sunset Strip, Maeve haunts the dive bars with a drink in one hand and a book in the other, imitating her misanthropic literary heroes.
But when Gideon Green - her best friend's brother - moves to town, he awakens something dangerous within her, and the world she knows suddenly shifts beneath her feet.
Untethered, Maeve ditches her discontented act and tries on a new persona. A bolder, bloodier one, inspired by the pages of American Psycho. Step aside Patrick Bateman, it's Maeve's turn with the knife.
"An apocalyptic Anaheim Psycho." —Grady Hendrix, New York Times bestselling author of How to Sell a Haunted House
Praise for Maeve Fly
"A firecracker of a book that explodes in your hand before you realize you've lit it." —May Cobb, author of My Summer Darlings
"Leede's bloody and gory debut will make readers clutch their metaphorical pearls in the best way possible. Horror fans who enjoy villain-origin stories, social commentary, terrifying female characters, and unreliable narrators will devour each deliciously morbid and shocking page." —Booklist, STARRED review
"An apocalyptic Anaheim Psycho, a guidebook to the dead spaces of Los Angeles, a Hollywood black mass, an occult ritual that cracks the earth, Maeve Fly oozes enough anguish, alienation, and angst to drown the world." —Grady Hendrix, New York Times bestselling author of How To Sell a Haunted House
"This is gory and brutal and beautiful and painful and terrifying and a pure delight. Child of God has nothing on Maeve Fly. But I think they might be cousins. Just, let's not let them Mickey and Mallory across the world, ok?" —Stephen Graham Jones, New York Times bestselling author of My Heart is a Chainsaw

"Maeve Fly is a revelation. It hurt to turn these pages, but I couldn't stop. Maeve is every beautiful nightmare you've ever dared to dream. An unforgettable read."—Richard Chizmar, New York Times bestselling author of Chasing the Boogeyman
"[E]qual parts trenchant insight and pitch-black humor. The result is a gore-soaked love letter to Los Angeles that fans of American Psycho and Samantha Kolesnik's True Crime won't want to miss." —Publishers Weekly
"Maeve Fly by CJ Leede is so damn good. Follow Maeve on a mad dash through an alluring LA that's both seductive and soaked in blood. Highly recommended." —Richard Kadrey, New York Times bestselling author
"I can't tell if I devoured this book or it devoured me. Either way, it was delicious. A dark, disturbing, devilishly funny peek inside the mind of a murderer that also dares us to examine the darkness behind those bright L.A. lights. I loved every blood-soaked minute of it." —Josh Winning, author of Burn the Negative
"Full of glamour and gore, this genre-rejecting debut is unlike any I've ever read." —Jean Kyoung Frazier, Lambda Literary Award Finalist and author of Pizza Girl
"Leede presents us with a delicious anti-heroine. Her biting commentary on modern day life will suck you in immediately. Keep an eye on this rising feminist voice." —Tori Amos, Grammy Award-winning singer-songwriter
"[C]ynically fun tribute to perverse literature, Halloween, music, and bizarro Los Angeles ... You can see [Maeve's] pain and stand aghast at her behavior all at once, making for that moralistic head trip every horror fan craves." —Fangoria
"Leede is actively working every angle to disgust and disturb her readers, balancing extreme scenes with obvious dark humor and Maeve's engaging narration. Obvious comparisons will be made to American Psycho, but this illicitly alluring tale pairs even better with current voices in the extreme-horror subgenre, such as Michael J. Seidlinger, Eric LaRocca, and Hailey Piper." —Library Journal
"Thoughtful, wild, frightening, and fun. Leede's anti-heroine makes for a heroically refreshing read." —Rivka Galchen, author of Everyone Knows Your Mother is a Witch
"A shocking, wild, and sinister addition to LA literature." —Liska Jacobs, author of The Pink Hotel
"Maeve Fly is one of those books that is many things at once: sensual, brutal, sly, joyfully unnerving, and a blood-soaked love letter to LA. But at its core it's a horror novel, and it scared the hell out of me." —Keith Rosson, author of Fever House
"Our collective Hollywood fantasy gets the chainsaw autopsy it deserves in this deliriously indecent feminist slasher." —Daniel Kraus, co-author of The Living Dead
"Sexy and gory all at once, Maeve Fly is a feminist masterpiece." —Mina Seckin, author of The Four Humors
"Maeve Fly is a real trip of a book, and definitely not for the squeamish—but if you're able to put on your big girl pants and look the nastiness of life in the face, you'll find something special and sparkling here." —Tor.com