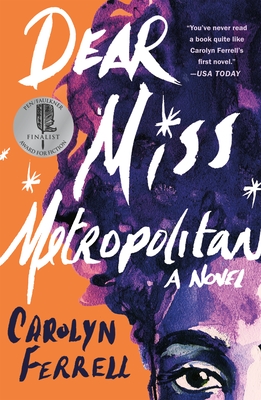 Dear Miss Metropolitan: A Novel
Publication Date:
July 12th, 2022
Publisher:
Holt Paperbacks
The Book Tavern
1 on hand, as of Dec 10 11:18pm
(Fiction::African-American )
On Our Shelves Now
This novel is, in a word, heartbreaking. Dear Miss Metropolitan is going right to the top of my recommendation list for 2021.
July 2021 Indie Next List
Description
A finalist for the 2022 PEN/Faulkner Award for Fiction
A finalist for the 2022 PEN/Hemingway Award for Debut Novel
Introducing an extraordinary and original writer in Carolyn Ferrell whose first novel Dear Miss Metropolitan explores the intersections of grief and rage, personal strength and healing--and what we owe one another.
Fern seeks refuge from her mother's pill-popping and boyfriends via Soul Train; Gwin finds salvation in the music of Prince much to her congregation's dismay and Jesenia, miles ahead of her classmates at her gifted and talented high school, is a brainy and precocious enigma. None of this matters to Boss Man, the monster who abducts them and holds them captive in a dilapidated house in Queens.
On the night they are finally rescued, throngs line the block gawking and claiming ignorance. Among them is lifetime resident Miss Metropolitan, advice columnist for the local weekly, but how could anyone who fancies herself a "newspaperwoman" have missed a horror story unfolding right across the street? And why is it that only two of the three girls—now women—were found? The mystery haunts the two remaining "victim girls" who are subjected to the further trauma of becoming symbols as they continuously adapt to their present and their unrelenting past.
Like Colson Whitehead's The Nickel Boys, Carolyn Ferrell's Dear Miss Metropolitan gives voice to characters surviving unimaginable tragedy. The story is inventively revealed before, during, and after the ordeal in this singular and urgent novel.
Praise for Dear Miss Metropolitan: A Novel
Publishers Weekly's Best Book of 2021
NPR's Books We Love 2021
A July Indie Next Pick
Crime Reads: Best Debut Novels of 2021
Bookforum Get Lit: Writers on their favorite books of 2021: Chosen by Elias Rodriques
"The novel is not easy, but how could it be? . . . Dear Miss Metropolitan is devastating, but it shouldn't be summed up as such. This is a blistering contribution to the cohort of contemporary literature focused on sexual violence. It is a novel that reads like a labyrinth, as complex as the trauma it depicts."
—Kate Elizabeth Russell, New York Times
"[A] vivid maker of sentences with a flair for casual surrealisms . . . Ferrell is navigating American trauma writ large, as well as her characters' own."
—Dwight Garner, New York Times
"I really did think, when I finished, 'This is a brilliant book.'. . . The book reminded me of Colson Whitehead's Underground Railroad in that Ms. Ferrell also uses fantastical elements to talk about spans of experience that have more drama than we can stand."
—Joan Silber, The Wall Street Journal's "Who Read What: Writers Share Their Favorite Books of 2021"
"I can guarantee, though, that you've never read a book quite like Carolyn Ferrell's first novel . . . Not every mansion Ferrell visits yields secret troves of treasure, but she ensures they are all worth exploring."
—USA Today
"Entering into this book is like leaping into a pool either a little too hot or a little too cold—it's bracing at first, but then you adapt and cannot imagine any other pool. . . . Throughout, Ferrell plucks like a guitar string the ostensible line that separates fiction from nonfiction. . . . Ferrell's prose has a patter and a pulse, which is to say it is language that has been truly composed."
—The Brooklyn Rail
"This tale of pain and healing will keep readers fully engaged and discussion groups talking for a long time."
—Library Journal starred review
"You have not heard the last from Carolyn Ferrell. Her talent is too stunning to ignore."
—Book Reporter

"A gorgeous and essential work that earns its comparisons to Ivy Pochoda's These Women and Emma Donoghue's Room"
—Crime Reads
"Such a beautifully rendered and provocative novel. Ferrell has given me a world I could never have imagined filled with so many people I feel like I've always known. A stunner."
—Jacqueline Woodson, bestselling author of Red at the Bone, Another Brooklyn and National Book Award winner Brown Girl Dreaming
"Sometimes, to write about a horrifying trauma and its resounding effects, you have to write toward the heart of the matter in unexpected ways. Carolyn Ferrell does just that in her remarkable, challenging debut novel Dear Miss Metropolitan. This is the story of three girls stolen from their lives by a sadistic man, but it is also about a community that failed each of the girls and what it can be like to emerge from a very dark, damaged place on fragile footing. Dear Miss Metropolitan is a story told in brilliant, jagged fragments. It is a story that will make you uncomfortable and it will make you ache and make you rage. Ferrell's novel is a monumental provocation and heralds great things to come from an immensely talented writer."
—Roxane Gay, author of Difficult Women and Hunger
"Dear Miss Metropolitan is heart-wreck of a story of how pain and suffering fracture lives, but also a hopeful one that testifies of the human will to survive. While the nexus of the book is unimaginable trauma and its aftermath, Carolyn Ferrell has wrung from it, wondrous beauty. Believeyoume, it's the kind of book that begs at least two reads: one for the drama propelling you page to page, and another for its inimitable style—the music of its language, the masterful handling of narration, the daring inventiveness. This novel is nothing short of an artistic feat."
—Mitchell S. Jackson, author of The Residue Years
"Dear Miss Metropolitan showcases Carolyn Ferrell's dazzlingly original vision, her ability to blend current events and razor-sharp social observation with age-old archetypes, to create dark contemporary mythic narrative—and above all to express, sometimes in single voices, sometimes in chorus, the deepest truths of women's souls. By turns heartbreaking, comical, chilling, and hauntingly beautiful, Dear Miss Metropolitan leads the reader on an unforgettable epic journey through the shadowy recesses of human transgression, a trip that at surprising moments breaks through into the light."
—Andrea Lee, author of Red Island House
"You think you're ready for this novel, but you're not ready. Carolyn Ferrell has shaped a story made of diamonds and broken glass; it's going to cut you deep. Dear Miss Metropolitan is a triumph of storytelling in all its forms, a collage of styles and sympathies. A stunner."
—Victor LaValle, author of The Changeling
"A daring and powerful first novel. Carolyn Ferrell is masterful in delivering us into the depth of her characters' dark worlds so that we emerge with the light of understanding and the inspiration to take actions. I am changed after reading this book."
—Nguyen Phan Que Mai, bestselling author of The Mountains Sing and winner of BookBrowse's Best Debut Award for 2020
"I think this is really a brilliant book. No one is better than Carolyn Ferrell at capturing the vitality of human voices, and here they blaze out a portrait of the unthinkable, three young women kidnapped for more than a decade. It's a page-turner genius of a book, astute about the details that sustain, the traps that spring, and what it means to be a girl."
—Joan Silber, author of Improvement
"A brilliant novel, and a stunning feat of sympathetic imagination. It's an amazing accomplishment, to write a book that is so terribly, indelibly sad and also so funny."
—Brian Morton, author of Starting Out in the Evening and Florence Gordon
"The "victim girls" in Carolyn Ferrell's novel Dear Miss Metropolitan are some of the most original, rich, memorable characters I've read. Dear Miss Metropolitan is an astonishing, innovative novel of trauma and connection and survival, and Carolyn Ferrell is a brilliant writer."
—Karen E. Bender, National Book Award finalist for Refund
"Ferrell astounds with the complex and formally inventive story of three young women who are kidnapped and held captive at a house in Queens, N.Y., and of their discovery a decade later. . . . It's a powerful examination of collective trauma."
—Publishers Weekly starred review