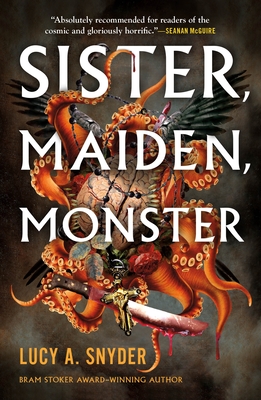 Sister, Maiden, Monster
Publication Date:
February 21st, 2023
The Book Tavern
1 on hand, as of Dec 10 11:18pm
(Horror)
On Our Shelves Now
Description
"Absolutely recommended for readers of the cosmic and gloriously horrific." ―Seanan McGuire, New York TImes bestselling author
Sister, Maiden, Monster is a visceral story set in the aftermath of our planet's disastrous transformation and told through the eyes of three women trying to survive the nightmare, from Bram Stoker Award-winning author Lucy A. Snyder.
A virus tears across the globe, transforming its victims in nightmarish ways. As the world collapses, dark forces pull a small group of women together.
Erin, once quiet and closeted, acquires an appetite for a woman and her brain. Why does forbidden fruit taste so good?
Savannah, a professional BDSM switch, discovers a new turn-on: committing brutal murders for her eldritch masters.
Mareva, plagued with chronic tumors, is too horrified to acknowledge her divine role in the coming apocalypse, and as her growths multiply, so too does her desperation.
Inspired by her Bram Stoker Award-winning story "Magdala Amygdala," Lucy A. Snyder delivers a cosmic tale about the planet's disastrous transformation ... and what we become after.
Praise for Sister, Maiden, Monster
"Absolutely recommended for readers of the cosmic and gloriously horrific." —Seanan McGuire, New York Times bestselling author
"A hideously gory, kink-fueled, feminist cosmic horror apocalypse novel that should be on the top of everyone's reading list." —Christopher Golden, New York Times bestselling author of Ararat and Road of Bones
"Snyder's bold and succinct descriptions create a visceral aura of terror and desperation. Readers will feel dread as they're pulled along on this thrilling ride." —Publishers Weekly

"This is a book for horror aficionados to exult in. It's seamlessly constructed, frequently funny, joyfully queer, and unapologetically gross, with plot twists that feel both wholly unexpected and inevitable."—Booklist (starred review)
"Unflinchingly gory, fast-paced and full of disasters both expected and unexpected ... you have never read another cosmic horror like this. It's impossible to look away." —Premee Mohamed, Nebula award-winning author of the Beneath the Rising series
"Snyder... [sets] a new standard for readers looking to try cosmic horror. Fans of this subgenre will be delighted, awestruck, and terrified in equal measure." —Library Journal
"On every charged page, Snyder sets to work catching and devouring the grimmest of social ills. Sister, Maiden, Monster is a gory treat of rich monster science and near-decadent body horror. Delicious and devious." —Hailey Piper, Bram Stoker Award-winning author of Queen of Teeth
"Synder weaves a feminist body-, cosmic-, and science fiction-apocalyptic fever dream. Sister, Maiden, Monster is beautiful, brutal, and grotesque." —Cynthia Pelayo, Bram Stoker Award-nominated author of Children of Chicago
"Sister, Maiden, Monster is the feminist Cronenberg I didn't know I needed. Gleeful, gory, and unrelenting." —Sarah Langan, author of Good Neighbors
"Timely, sharp, sexy, and gory…this might just be Snyder's best, and that's saying a lot." —Gabino Iglesias, author of The Devil Takes You Home
"A mutant hybrid of weird science and cosmic horror, Sister, Maiden, Monster is deliciously cerebral and unflinchingly feminist. Violently beautiful, this novel is a tale for our times. Resounding." —Lee Murray, Bram Stoker Award-winner and author of Grotesque: Monster Stories
"Sensuous, sinister, and sinewy; a blood-and-brains splattered shotgun-blast romp through the apocalypse that will simultaneously excite and disgust readers with equal pleasure." —Philip Fracassi, author of Boys in the Valley
"A plague dream for our uncertain times. Compelling and terrifying. Mapping the pandemic planet with words as white as bone, as black at night, as red as blood." —Angela Slatter, award-winning author of The Path of Thorns
"Compulsive, masterfully wrought combinations of horror –body, plague, and cosmic. I was glued to Sister, Maiden, Monster way past lights-out." —Laird Barron, author of Swift to Chase and Blood Standard
"This is such a weird but delightful read; a must for feminist horror fans." —BuzzFeed News
"[A] horror story of cosmic proportions, a smart deconstruction of pandemic mayhem, and a timely narrative that delves deep into what happens when we collectively face something new, dangerous, and scary, Sister, Maiden, Monster is a mosaic novel that shows a five-time Bram Stoker Award-winning author at the top of her game....Synder is a keen observer, a sharp chronicler, and a great storyteller, and all of that is evident in this book." —Locus
"Unsettling and unexpectedly timely, Sister, Maiden, Monster is horror at its best. Snyder pulls out all the stops with this powerful and unflinching novel, dealing with the fallout of a pandemic and the omnipresent, creeping terror that can only come from your own body turning against you. Put this book at the top of your reading list immediately." —Gwendolyn Kiste, Bram Stoker Award-winning author of The Rust Maidens and Reluctant Immortals
"With Sister, Maiden, Monster, we see that there's not only beauty in the abyss, but equal doses terror and wonder." —Maurice Broaddus, author of Breath of Oblivion
"Grotesque body horror and apocalyptic pandemonium as only Snyder can deliver. Reader beware: Sister, Maiden, Monster is not for the faint of heart!" —Nicholas Kaufmann, bestselling author of The Hungry Earth and The Stone Serpent