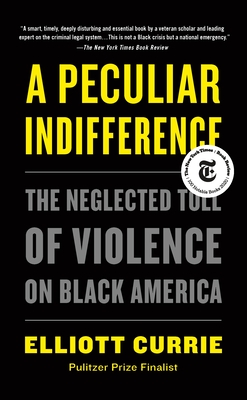 A Peculiar Indifference: The Neglected Toll of Violence on Black America
Publication Date:
January 18th, 2022
Publisher:
Metropolitan Books
The Book Tavern
1 on hand, as of Oct 2 11:18pm
(Politics & Society)
On Our Shelves Now
Description
Named a best book of 2020 by the New York Times and Kirkus Reviews
"A smart, timely, deeply disturbing and essential book by a veteran scholar and leading expert on the criminal legal system. . . . This is not a Black crisis but a national emergency." —The New York Times Book Review
About 170,000 Black Americans have died in homicides just since the year 2000. Violence takes more years of life from Black men than cancer, stroke, and diabetes combined; a young Black man in the United States has a fifteen times greater chance of dying from violence than his white counterpart. Even Black women suffer violent death at a higher rate than white men, despite homicide's usual gender patterns. Yet while the country has been rightly outraged by the recent spate of police killings of Black Americans, the shocking amount of "everyday" violence that plagues African American communities receives far less attention, and has nearly disappeared as a target of public policy.
As the acclaimed criminologist Elliott Currie makes clear, this pervasive violence is a direct result of the continuing social and economic marginalization of many Black communities in America. Those conditions help perpetuate a level of preventable trauma and needless suffering that has no counterpart anywhere in the developed world. Compelling and accessible, drawing on a rich array of both classic and contemporary research, A Peculiar Indifference describes the dimensions and consequences of this enduring emergency, explains its causes, and offers an urgent plea for long-overdue social action to end it.
Praise for A Peculiar Indifference: The Neglected Toll of Violence on Black America
"A smart, timely, deeply disturbing and essential book by a veteran scholar and leading expert on the criminal legal system... Currie's book is the first comprehensive study to present a meta-analysis of peer-reviewed research – a study of studies – showing how anti-Black racism in the form of state and private violence upholds 'an essentially exploitative and discriminatory social order.'... This is not a Black crisis but a national emergency."
—Khalil Gibran Muhammad, The New York Times Book Review
"Jaw-dropping... The most powerful takeaway from A Peculiar Indifference is that to prove once and for all that Black lives matter, Americans must stop ignoring the violence devastating Black communities."
—The Progressive
"A damning examination of violence in black America and a call for intervention that is long overdue... Meticulously researched and densely packed with stats and studies, Currie's book paints a heartbreaking picture, but it also makes an urgent case for bold measures to turn the tide in black communities."
—Kirkus Reviews (starred review)
"An infuriatingly necessary read . . . What Currie's numbers show is a crisis with no signs of abating. Especially as long as the country turns a blind eye to it."
—PopMatters
"For too many Americans, reports of lethal violence in black communities evoke momentary concern but then are quickly dismissed as incidents that occur in 'those neighborhoods.' Elliott Currie boldly confronts this peculiar indifference, conveying tragic stories of unjust suffering and stunning statistics about the high cost of living in fear. Most important, he debunks any excuses for inaction, presenting ambitious but practical ways to make black lives matter. A distinguished scholar long concerned about crime and racial inequality, Currie has written a compelling book that reflects both his brilliant mind and compassionate heart. Simply put, A Peculiar Indifference is a contemporary classic."
—Francis T. Cullen, past president of the American Society of Criminology
"Elliott Currie writes like James Baldwin and embraces the public morality of William Barber. A Peculiar Indifference brilliantly reminds America of the many economic, education, public health, and criminal justice reforms needed—and proven—to reduce violence, inequality, poverty, and racial injustice. It enjoins the citizenry to seize the day, reframe the public discourse, rewrite the social contract, and acknowledge that 'normal' is the problem."
—Alan Curtis, president of the Eisenhower Foundation