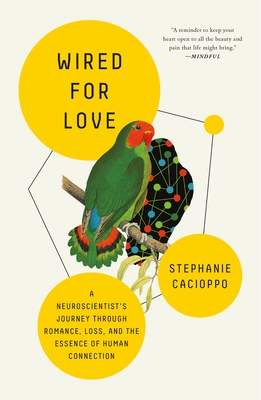 Wired for Love: A Neuroscientist's Journey Through Romance, Loss, and the Essence of Human Connection
Publication Date:
January 31st, 2023
Publisher:
Flatiron Books
The Book Tavern
2 on hand, as of Dec 9 11:18pm
(Science & Math)
On Our Shelves Now
Description
From the world's foremost neuroscientist of romantic love comes a personal story of connection and heartbreak that brings new understanding to an old truth: better to have loved and lost than never to have loved at all.
At thirty-seven, Dr. Stephanie Cacioppo was content to be single. She was fulfilled by her work on the neuroscience of romantic love—how finding and growing with a partner literally reshapes our brains. That was, until she met the foremost neuroscientist of loneliness. A whirlwind romance led to marriage and to sharing an office at the University of Chicago. After seven years of being inseparable at work and at home, Stephanie lost her beloved husband, John, following his intense battle with cancer.
In Wired for Love, Stephanie tells not just a science story but also a love story. She shares revelatory insights into how and why we fall in love, what makes love last, and how we process love lost—all grounded in cutting-edge findings in brain chemistry and behavioral science. Woven through it all is her moving personal story, from astonishment to unbreakable bond to grief and healing. Her experience and her work enrich each other, creating a singular blend of science and lyricism that's essential reading for anyone looking for connection.
Praise for Wired for Love: A Neuroscientist's Journey Through Romance, Loss, and the Essence of Human Connection
"Cacioppo blends memoir and science in her debut, an enlightening testament to love's ability to enhance one's life... Readers will be both fascinated and moved." —Publishers Weekly

"Cacioppo's writing becomes more intimate as her life story stitches closer to her research. Her conclusion is enchanting and uplifting... A beautiful testament to romantic love, scientific passion, and the endless possibility of connection." —Kirkus

"...an engaging guide through the scientific portions of the book, and her own experiences of connection and loss enrich the narrative. Together, these intertwined strands of science and personal narrative make for a sprightly, illuminating book." —BookPage
"Filled with a little something for everyone, Wired for Love is a unique take on a memoir that will take you on a journey of grief and healing with a reminder to keep your heart open to all the beauty and pain that life might bring." —Mindful Magazine
"When John and Steph met it was electric, consuming, forever. One might even say 'wacky' from the start. But then their love grew to be inseparable, collaborative, joyous, and infinitely inventive. And while their scholarship and devotion to science hit new levels, it was their bond in love that was a joy to know. THIS BOOK CAPTURES THAT JOY." —Michael Gazzaniga, author of The Consciousness Instinct
"This meditation on love is deep in every sense: in scientific richness, in human insight, and in moving personal involvement." —Steven Pinker, author of How the Mind Works