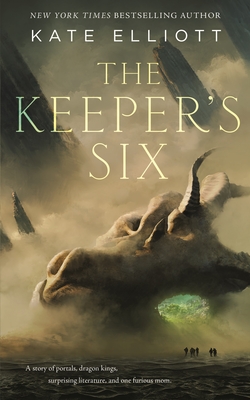 The Keeper's Six
Publication Date:
January 17th, 2023
Usually Ships in 2 to 14 Days
Description
You never stop worrying about your kids, even when they're adults. Kate Elliott's action-packed The Keeper's Six features a world-hopping, bad-ass, spell-slinging mother who sets out to rescue her kidnapped adult son from a dragon lord with everything to lose.
It's been a year since Esther set foot in the Beyond, the alien landscape stretching between worlds, crossing boundaries of space and time. She and her magical traveling party—her Hex—haven't spoken since the Concilium banned them from the Beyond for a decade. But when she wakes in the middle of the night to her grown son's cry for help, the members of her Hex are the only ones she can trust to help her bring him back from wherever he has been taken.
Esther will have to risk everything to find him. Undercover and hidden from the Concilium, she and her Hex will be tested by false dragon lords, a darkness so dense it can suffocate, and the bones of an old crime come back to haunt her.
There are terrors that dwell in the space between worlds.
Also Available by Kate Elliott:
The Crossroads Series
1. Spirit Gate
2. Shadow Gate
3. Traitors' Gate
Unconquerable Sun

Servant Mage

Furious Heaven
Praise for The Keeper's Six
"A short and satisfying romp with a fully developed world and tightly designed magic system. …A definite recommend: light fantasy for the more discerning reader." —Wall Street Journal

"Treacherous terrain and even more treacherous trading partners ramp up the stakes of this masterful contemporary fantasy from Elliott. …Readers are sure to be impressed." —Publishers Weekly, starred review
"The Keeper's Six is as unusual as its hero. Many pieces will be familiar to fantasy readers, and the arrangement is distinct—it contrasts the recognisable and the novel in a way that makes for compelling reading." —Aurealis
Praise for Servant Mage:

"[This] is an absolute gem of a story, a peek into a fascinating, fully realized world that manages to explore issues of power, consent, class and destiny before turning over some of fantasy's tropes completely on their head. I loved it." —S. A. Chakraborty
"I would follow [Fellion] anywhere... I highly recommend this. I stayed up way too late finishing it and am still thinking about it a week later." —Mary Robinette Kowal
"A rich and atmospheric lacework of worldbuilding, politics and magic—and of one woman's journey to find her place in the wake of a revolution. Mesmerising, relentless and sharp." —Aliette de Bodard
"Elliott uses a relatable main character and a complex and intriguing setting to dive into the consequences of revolution with an eye toward class and power dynamics; readers will be left wanting more." —Booklist