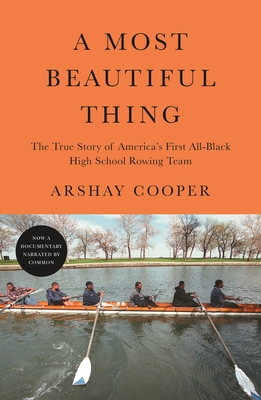 A Most Beautiful Thing: The True Story of America's First All-Black High School Rowing Team
Publication Date:
February 23rd, 2021
Publisher:
Flatiron Books
The Book Tavern
2 on hand, as of Dec 10 11:18pm
(Sports::Water)
On Our Shelves Now
Description
REGIONAL BESTSELLER
Now a documentary narrated by Common, produced by Grant Hill, Dwyane Wade, and 9th Wonder, from filmmaker Mary Mazzio
The moving true story of a group of young men growing up on Chicago's West side who form the first all-Black high school rowing team in the nation, and in doing so not only transform a sport, but their lives.
Growing up on Chicago's Westside in the 90's, Arshay Cooper knows the harder side of life. The street corners are full of gangs, the hallways of his apartment complex are haunted by drug addicts he calls "zombies" with strung out arms, clutching at him as he passes by. His mother is a recovering addict, and his three siblings all sleep in a one room apartment, a small infantry against the war zone on the street below.
Arshay keeps to himself, preferring to write poetry about the girl he has a crush on, and spends his school days in the home-ec kitchen dreaming of becoming a chef. And then one day as he's walking out of school he notices a boat in the school lunchroom, and a poster that reads "Join the Crew Team".
Having no idea what the sport of crew is, Arshay decides to take a chance. This decision to join is one that will forever change his life, and those of his fellow teammates. As Arshay and his teammates begin to come together to learn how to row--many never having been in water before--the sport takes them from the mean streets of Chicago, to the hallowed halls of the Ivy League. But Arshay and his teammates face adversity at every turn, from racism, gang violence, and a sport that has never seen anyone like them before.
A Most Beautiful Thing is the inspiring true story about the most unlikely band of brothers that form a family, and forever change a sport and their lives for the better.
Praise for A Most Beautiful Thing: The True Story of America's First All-Black High School Rowing Team
USA Today "5 Books Not to Miss"
"Uplifting and always enlightening.... [A Most Beautiful Thing] is a coming-of-age story told with the benefit of adult insights and mature hindsight.... This book is less about this specific sport than how that sport becomes transformative, empowering some kids, giving others a direction."
—Chicago Tribune
"Cooper details how he and his teammates experienced racism and discrimination in the community around the boathouses the team traveled to and how they took a risk in trying a mostly all-white sport that had never seen anyone like them before—and how it ultimately transformed his life."
—Sports Illustrated

"Spirited... memorable... Engrossing a sports memoir but also relevant to any conversation about privilege and race."
—Kirkus
"Here's all you need to know: "A Most Beautiful Thing" lives up to its name....Cooper masterly makes you feel a part of the team.... take their losses to heart. Be proud of the changes they've made... This is the feel-goodest of feel-good books, and you should have it now." —The Bookworm
"I was immediately captivated. Arshay's writing evokes the emotional angst of teens growing up in the inner city of Chicago. It is a triumphant tale of overcoming odds, with the sport of rowing-—not the conventional football or basketball—as a catalyst to his and his crew's salvation. I wholeheartedly recommend Arshay's work and look forward to his future projects."
—Ron Stallworth, #1 New York Times bestselling author of Black Klansman
"Arshay's remarkable story reminds us of the life-changing power of will over hopelessness, of belief over despair, and shows us what it looks like when we stop listening to demons and start honoring our own potential. This is the story of rising from the ashes stronger, faster, and focused — not in spite of the circumstances of birth but because of them. Arshay's refusal to let his life story be written for him is a testament to the resilience and beauty of the human spirit, and his eagerness to succeed, on the water and in life, is an inspiration."
—Elizabeth Gilbert, New York Times bestselling author of Eat, Pray, Love and Big Magic

"One of the great strengths of the book is Cooper's voice; we get the prose of the grown-up Cooper, almost perfectly channeling the actions, thoughts and emotions of Cooper the teenager, juvenalia and all. Cooper is excellent in capturing the yearning of his younger self for something greater, and the process of living the effort and striving of getting there."
—row2k
"The sport made intense demands on the young men, requiring them to train hard, learn how to swim, and make countless sacrifices – including not reacting to the racist jeers from competitors and spectators. The experience turned a team of strangers into brothers and unleashed their potential. The book is as uplifting as its title suggests, and sections detailing the races are downright heart-pounding."
—The Christian Science Monitor