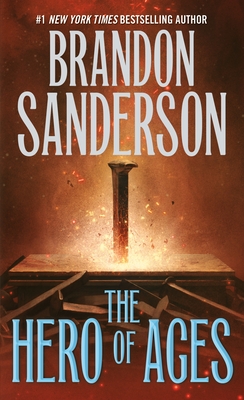 The Hero of Ages: Book Three of Mistborn (The Mistborn Saga #3)
Publication Date:
November 26th, 2019
Usually Ships in 2 to 14 Days
This spectacular conclusion to the Mistborn trilogy -- in which emperor Elend Venture and his wife, the assassin Vin, try to forge critical alliances -- will keep any reader entranced and shocked when the end finally reveals itself. The series is unique and far from the formulaic structure of most modern fantasy.
December 2008 Indie Next List
Description
Now with over 10 million copies sold, The Mistborn Series has the thrills of a heist story, the twistiness of political intrigue, and the epic scale of a landmark fantasy saga.
Who is the Hero of Ages?
To end the Final Empire and restore freedom, Vin killed the Lord Ruler. But as a result, the Deepness--the lethal form of the ubiquitous mists--is back, along with increasingly heavy ashfalls and ever more powerful earthquakes. Humanity appears to be doomed.
Having escaped death at the climax of The Well of Ascension only by becoming a Mistborn himself, Emperor Elend Venture hopes to find clues left behind by the Lord Ruler that will allow him to save the world. Vin is consumed with guilt at having been tricked into releasing the mystic force known as Ruin from the Well. Ruin wants to end the world, and its near omniscience and ability to warp reality make stopping it seem impossible. She can't even discuss it with Elend lest Ruin learn their plans!
Other Tor books by Brandon Sanderson
The Cosmere

The Stormlight Archive
The Way of Kings
Words of Radiance
Edgedancer (Novella)
Oathbringer
The Mistborn trilogy
Mistborn: The Final Empire
The Well of Ascension
The Hero of Ages
Mistborn: The Wax and Wayne series
Alloy of Law
Shadows of Self
Bands of Mourning
Collection
Arcanum Unbounded
Other Cosmere novels
Elantris
Warbreaker
The Alcatraz vs. the Evil Librarians series
Alcatraz vs. the Evil Librarians
The Scrivener's Bones
The Knights of Crystallia
The Shattered Lens
The Dark Talent
The Rithmatist series
The Rithmatist
Other books by Brandon Sanderson
The Reckoners
Steelheart
Firefight
Calamity
Praise for The Hero of Ages: Book Three of Mistborn (The Mistborn Saga #3)
"This adventure brings the Mistborn epic fantasy trilogy to a dramatic and surprising climax. . . . Sanderson's saga of consequences offers complex characters and a compelling plot, asking hard questions about loyalty, faith and responsibility." —Publishers Weekly on The Hero of Ages
"Transcendent!" —Romantic Times BOOKreviews on The Hero of Ages
"Elantris is the finest novel of fantasy to be written in many years. Brandon Sanderson has created a truly original world of magic and intrigue, and with the rigor of the best science fiction writers he has made it real at every level." —Orson Scott Card
"Elantris . . . is marked by vivid and strongly drawn characters (including a memorable female character) and ingenious plot twists that will keep the reader turning pages. Don't miss it!" —Katherine Kurtz, New York Times bestselling author of the Deryni series
"Sanderson's outstanding fantasy debut . . offers something for everyone: mystery, magic, romance, political wrangling, religious conflict, fights for equality, sharp writing and wonderful, robust characters. . . . The intrigue and excitement grow steadily in this smoothly written, perfectly balanced narrative; by the end readers won't want to put it down. . . . Sanderson is a writer to watch." —Publishers Weekly, (starred review)