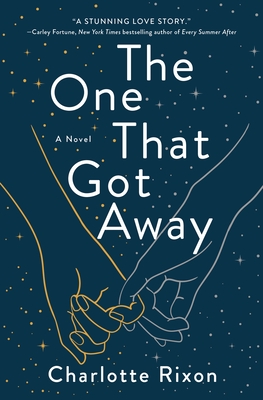 The One That Got Away: A Novel
Publication Date:
August 15th, 2023
Publisher:
St. Martin's Press
The Book Tavern
1 on hand, as of Dec 9 11:18pm
(Fiction::Romance)
On Our Shelves Now
Description
"A stunning love story that had my heart racing from the first chapter and tears streaming down my face by the end. An instant favorite." ––Carley Fortune, #1 New York Times bestselling author of Meet Me at the Lake
Two years together.
Twenty years apart.
One day to change their story.
2000. Benjamin's world is turned upside down the night he meets Clara. Instinctively, he knows that they are meant for each other, but a devastating mistake on their last night at university will take their lives in very different directions.
20 years later, Clara has a high-profile job and a handsome husband. But despite the trappings of success, she isn't happy, and she knows that a piece of her heart still belongs to Benjamin, the boy she fell in love with years earlier. The boy whose life she fears she ruined.
When a bombing is reported in the city where they first met, Clara is pulled back to a place she tries not to remember and the first love she could never forget. Searching for Benjamin, Clara is forced to confront the events that tore them apart. But is it too late to put right what went wrong?
Across the miles and spanning decades, Charlotte Rixon's The One That Got Away is a sweeping, poignant story about growing up, growing apart, the people who first steal our hearts, and the surprising, winding roads that love can take us on, for readers of Jill Santopolo, Rosie Walsh, and Colleen Hoover.
Praise for The One That Got Away: A Novel
"This is not your typical romance novel––it will break your heart and then put it back together." ––Brad Thor, The Today Show
"A sweeping love story." ––PopSugar
"Heart-wrenching romance, anyone? Fans of Jojo Moyes and Jill Santopolo will be all over this first love story that spans two decades." ––TheSkimm
"A poignant and gripping second chance romance...this evocative portrait of first love reunited tugs at the heartstrings." ––Publishers Weekly
"Charlotte Rixon's The One That Got Away is the kind of book I'm always searching for. It's a stunning love story that had my heart racing from the first chapter and tears streaming down my face by the end. An instant favorite." ––Carley Fortune, #1 New York Times bestselling author of Meet Me at the Lake
"Utterly mesmerizing. This achingly real and beautiful story of first love is absolutely riveting." ––Kristan Higgins, New York Times bestselling author of Out of the Clear Blue Sky
"A poignant story filled with powerful life lessons, The One That Got Away is a testament to the staying power of first love. This is one heartwarming read."
––Tracey Garvis Graves, New York Times bestselling author of Heard It in a Love Song
"Twisty and poignant and beautifully written, The One That Got Away will stay with you long after the final page. Captures the enormity of first love and how our pasts shape our futures, and how early relationships cast long shadows. Emotional, thoughtful and satisfying—excellent."
––Caroline Hulse, author of The Adults
"I fell completely in love with Benjamin and Clara and was absolutely desperate for them to get back together by the end of the story. The book is so evocative and beautifully written. Poignant and moving, I defy anyone who has experienced the heartbreak of first love not to cry when they read it."
––Nikki Smith, author of The Beach Party
"Poignant and real, this is a story you'll carry with you for long after you finish. The One That Got Away will resonate with anyone who remembers the rush of first love and the heartbreak that follows. I couldn't put it down. Packed full of depth, character and realism."
––L.C. North, author of The Ugly Truth
"In The One That Got Away, Rixon captures masterfully the magic and devastation of first love, as well as the all-consuming aftermath of heartbreak...a powerful exploration of the relationships that shape us, this is a nostalgic, fierce and utterly spellbinding read."
––Holly Miller, author of What Might Have Been
"The One That Got Away is a powerful page-turner that perfectly portrays the destruction and jealousy of a relationship between two damaged young people, too inexperienced to deal with the intensity of their feelings. A tense, gripping read—I loved it."
––Sarah Stovell, author of Other Parents
"So poignant. I really enjoyed immersing myself in Clara and Benjamin's story of love and loss. Wonderfully written. A definite five star read." ––Karen Hamilton, author of The Ex-Husband
"Rixon writes poignantly––and so searingly––about the visceral intensity of first love. Clara and Benjamin come alive on the page, all their faults and follies palpably believable. You root for them. You want to shake them. You can't tear your eyes away from them." ––Lizzy Barber, author of Out of Her Depth