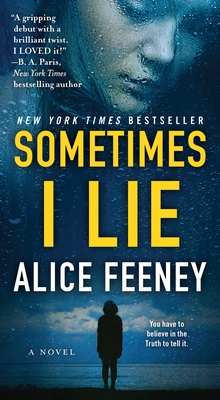 Sometimes I Lie: A Novel
Publication Date:
February 26th, 2019
Publisher:
Flatiron Books
I feel messed up after finishing this, which is what I look for in a thriller. The twists and turns are dizzying, leading to an ending you won't see coming. Amber is recovering from a car crash, and since she's not quite out of her coma, we get to see flashbacks of her life and the events that brought her to where she is today. Everything - her radio job, her writer husband, and her perfect sister, Claire - is not what it seems. But then, neither is Amber. A perfect thriller to discuss and deconstruct with your book club!
March 2018 Indie Next List
Description
ALICE FEENEY'S NEW YORK TIMES AND INTERNATIONAL BESTSELLER
"Boldly plotted, tightly knotted—a provocative true-or-false thriller that deepens and darkens to its ink-black finale. Marvelous." —AJ Finn, author of The Woman in the Window
My name is Amber Reynolds. There are three things you should know about me:
1. I'm in a coma.
2. My husband doesn't love me anymore.
3. Sometimes I lie.
Amber wakes up in a hospital. She can't move. She can't speak. She can't open her eyes. She can hear everyone around her, but they have no idea. Amber doesn't remember what happened, but she has a suspicion her husband had something to do with it. Alternating between her paralyzed present, the week before her accident, and a series of childhood diaries from twenty years ago, this brilliant psychological thriller asks: Is something really a lie if you believe it's the truth?
Praise for Sometimes I Lie: A Novel
2018 Goodreads Choice Awards Finalist: Best Mystery & Thriller
Indie Next Pick for March and November 2018
LibraryReads March 2018
LitHub: The Most Anticipated Crime, Mystery, and Thriller Titles of 2018
USA Today: 5 New Books Not to Miss
Bustle: The 13 New Thrillers Goodreads Users Are Most Excited About This Spring
Entertainment Weekly: 10 Best New Thrillers
"If you're looking for a Gone Girl–esque fix, then this is the book for you." —Cosmopolitan
"A spine-tingling psychological thriller…the joy (and the stress) of this thriller is separating fact from fiction. The creepy feeling at the back of your neck is 100 percent real." —People
"[An] insanely twisty thriller." —Entertainment Weekly
"The twists pile up…visceral and haunting." —Oprah.com
"Alice Feeney's twisty psychological thriller, Sometimes I Lie, her debut novel, slides neatly into the company of Gillian Flynn's Gone Girl and Paula Hawkins's The Girl on the Train. With its various plot twists, it's a dizzying, disturbing read that becomes hard to put down once Amber tells us, 'I'm back now and I remember everything.'" —The Minneapolis Star Tribune
"This brilliant psychological thriller kept me guessing until the very last page." —Jessica Knoll, New York Times bestselling author of Luckiest Girl Alive and The Favorite Sister
"A gripping debut with a brilliant twist, I LOVED it!" —BA Paris, New York Times bestselling author of Behind Closed Doors
"Faster and more twisted than a roller coaster with an ending that'll make your stomach drop, Alice Feeney's Sometimes I Lie is not to be missed. I loved it!" —Mary Kubica, New York Times bestselling author of The Good Girl and Every Last Lie
"Propulsive and absorbing. Such a compelling, provocative narrator!" —Flynn Berry, author of Under the Harrow
"Fans of the psychological thriller will enjoy this ambitious debut." —Kirkus Reviews
"The ending is jaw-dropping." —AARP's The Girlfriend
"A serpentine tale of betrayal, madness, and murder.... Feeney is definitely a writer to watch." —Publishers Weekly
"I read this in one compulsive gulp in one day. It's SO fiendishly clever—an absolute masterclass in plotting and narrative design." —Richard Skinner, author of The Mirror
"A bold and original voice—I loved this book." —Clare Mackintosh, New York Times bestselling author of I Let You Go and I See You
"Tightly plotted, superbly written, this is a thriller that grabs you and holds you in its thrall. This story of a woman in a coma recalling the violence in her life gave me just enough information to remain entirely gripped yet sufficiently little that I didn't know where I'd find the answers, or even the questions at times. I was led—completely willingly—in various different directions and until the final few pages I was baffled yet engrossed. And then, suddenly, at the very end, everything became clear. A brilliantly assured debut and a real achievement." —Nicholas Searle, author of international bestseller The Good Liar
"Exceptional in plotting…Expect perfectly embedded twists and sharply drawn characters. A brilliant thriller." —Ali Land, author of Good Me Bad Me