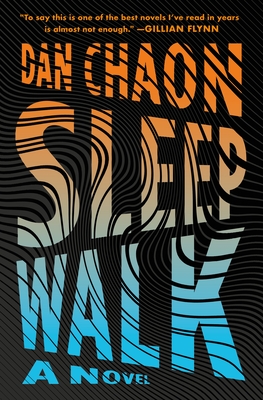 Sleepwalk: A Novel
Publication Date:
May 24th, 2022
Publisher:
Henry Holt and Co.
The Book Tavern
1 on hand, as of Dec 9 11:18pm
(Fiction)
On Our Shelves Now
Sleepwalkis an addictive and wholly original novel. Despite how deeply, deeply weird the near-future America ofSleepwalkis, this is a hopeful and timeless story of lost people seeking the connection and healing that we all need!
June 2022 Indie Next List
Description
Sleepwalk is a high speed and darkly comic road trip through a near future America with a big-hearted mercenary, from beloved and acclaimed award-winning novelist Dan Chaon.
"[Chaon] does madcap well and likes his characters, even the killers—especially the killers."—The New York Times Book Review
A New York Times Book Review Editors' Choice
An NPR "Book of the Day"
A USA Today "Must Read"
Sleepwalk's hero, Will Bear, is a man with so many aliases that he simply thinks of himself as the Barely Blur. At fifty years old, he's been living off the grid for over half his life. He's never had a real job, never paid taxes, never been in a committed relationship. A good-natured henchman with a complicated and lonely past and a passion for LSD microdosing, he spends his time hopscotching across state lines in his beloved camper van, running sometimes shady often dangerous errands for a powerful and ruthless operation he's never troubled himself to learn too much about. He has lots of connections, but no true ties. His longest relationships are with an old rescue dog that has post-traumatic stress and a childhood friend as deeply entrenched in the underworld as he is, who, lately, he's less and less sure he can trust.
Out of the blue, one of Will's many burner phones heralds a call from a twenty-year-old woman claiming to be his biological daughter. She says she's the product of one of his long-ago sperm donations; he's half certain she's AI. She needs his help. She's entrenched in a widespread and nefarious plot involving Will's employers, and for Will to continue to have any contact with her increasingly fuzzes the line between the people he is working for and the people he's running from.
With his signature blend of haunting emotional realism and fast-paced intrigue, Dan Chaon populates his fractured America with characters who ring all too true. Gazing both back to the past and forward to an inevitable-enough-seeming future, Sleepwalk examines where we've been and where we're going and the connections that bind us, no matter how far we travel to dodge them or how cleverly we hide.
Praise for Sleepwalk: A Novel
An Indie Next pick for June 2022
Named a Best Book of Spring by Esquire
Named a Best Book of Summer by The Chicago Tribune
Named a Best Book of May by The Philadelphia Inquirer
Named one of the "27 Books We Can't Wait to Read This Winter" by Thrillist
"Chaon creates a daring irony in the disconnect between the road warrior's self-deceit and the reader's skepticism. The mystery, the moral audacity, the sense that anything is possible in these early pages refreshes not only the hit-man trope but also the world itself...What prevails above the plot is the voice, which is consistently winning and — odd for so bloody a tale — unfailingly warm."
—Joshua Ferris, The New York Times Book Review
"Wild and entertaining."
—Sam Sacks, The Wall Street Journal
"Chaon's exuberant new novel draws on an array of genres and narratives, but it's also a visionary work...Chaon balances rage, tenderness, and gallows humor as his Everydude seeks intimacy from a daughter who may or may not be real. A polished performance by a writer in command of his gifts."
—Oprah Daily
"Chaon, the visionary author of Await Your Reply and Among the Missing, returns with another standout literary thriller...Sleepwalk is Chaon at the height of his powers."
—Esquire
"Dan Chaon's brash, exuberant new novel Sleepwalk [is] a Tarantino vibe in book form with nods to Pynchon-paranoia and Kerouac-style road epic, Greek myths and dystopian fiction. Sleepwalk draws on an array of genres and narratives, but it's also a visionary work, a preview of a nation just minutes away... Sleepwalk is no act of dull somnambulism but rather a vigorous, polished performance by a writer in command of his gifts."
—Hamilton Cain, Minneapolis Star Tribune
"Sleepwalk is a total mind bend of a story that takes this complicated character on a zigzag across the country, encountering a cast of memorable personas on the way. Though the novel departs from some of Chaon's previous work, it maintains his focus on the gritty realities recognizable in modern America, as shown in previous character-driven novels Await Your Reply, Ill Will and You Remind Me of Me."
—Cleveland.com/The Plain Dealer
"Dan Chaon's latest novel has a plot with intrigue in spades as his latest protagonist abandons life off the grid for a high-octane, country-wide expedition."
—Thrillist
"In prize-worthy prose, Dan Chaon has fathered a protagonist worthy of respect, affection, and loyalty."
—Washington Independent Review of Books
"There's plenty of heart and humor in Chaon's slyly dystopian thriller."
—The Philadelphia Inquirer
"Thoroughly engaging, a rollicking trip from one misadventure to another, populated by an eccentric cast."
—New York Journal of Books
"[A] mind-bending experience...There are surprises on every page of Dan Chaon's terrific, darkly funny new novel."
—Akron Beacon Journal
"Sleepwalk is a literary picaresque full of dark wit and quirky observations set in an alternate America. Mixed in with the purely imagined are characters, technologies, and events that are real, and taken together, demonstrate just how close we are to things getting really weird."
—Electric Lit
"Sleepwalk is a wild ride. It's an unputdownable novel that is never dull and so beautifully written that it is a simple pleasure just to get lost in the prose and a frightening new world that could resemble ours in the future."
—BookReporter
"A fast-paced dystopian thriller and a touching exploration of the power of familial love."
—BookPage (starred review)
"This strange and compelling plot features Chaon's signature imaginative flair and brilliant pacing to create an ominous tension infused with sly wit . . . A consummate storyteller, Chaon imbues the darkly comic with colossal heart."
—Booklist (starred review)
"As ever, Chaon expertly fuses the dystopian nightmares of technology and crime with fascinating characters who cross a hellscape to find each other. This is his best one yet."
—Publishers Weekly (starred review)
"To say this is one of the best novels I've read in years is almost not enough. Dan Chaon's Sleepwalk is a thrilling and often hilarious road trip across America in the very near future, told by a winning and murderous narrator. But beneath the zigzag adventure tale is a poignant reminder of the fragile nature of our humanity, an appreciation of the tricky balancing act of living. It's a beautiful, unsettling, and thoughtful novel — told by one of America's great storytellers."
—Gillian Flynn, author of Gone Girl
"Sleepwalk is an addictive dystopian picaresque, by turns darkly funny, deeply harrowing, and surprisingly poignant. Dan Chaon's vision of our future will give you chills of dread and recognition."
—Tom Perrotta, author of The Leftovers
"How to describe this excellent novel? Slapstick of the sinister might capture something of its peculiar, bighearted and epic scope, but Dan Chaon's books are always hard to sum up. Anyway, I loved it."
—Kelly Link, author of Get in Trouble
"Dan Chaon has given us one of the most intriguing, original, and fully-realized characters in recent memory; that he's the center of an absolute page-turner is the icing on the cake. Sleepwalk is riveting, propulsive, chilling, and (no shocker) pure genius."
—Rebecca Makkai, author of The Great Believers
"Sleepwalk is a deeply satisfying thriller. Though Dan Chaon's novels are never quite what they seem, this book still surprises—it's a frightening indictment of corporate power and the surveillance state, as well as a tender story about the depth of parental love. What an absolute marvel."
—Rumaan Alam, author of Leave the World Behind
"Dan Chaon's future America may be truly wrecked but it's also familiar and perhaps quintessential. Out of this wreckage Chaon has constructed a gloriously entertaining page-turner of a novel. Bravo!"
—Gary Shteyngart, author of Our Country Friends
"Filled with brilliantly bleak humor, unflinchingly raw emotional insight, and an unforgettable journeyman mercenary, Sleepwalk takes us on a riveting road trip through a county past the point of no return. A marvel in the offing."
—Ivy Pochoda, author of Wonder Valley
"Dan Chaon just keeps getting better, stranger, and harder to predict. Sleepwalk is an amiable apocalyptic epic, narrated by the sweetest, most charming deadly itinerant mercenary I've encountered in fiction, and it never fails to surprise and delight. To every pandemic survivor haunting the earth with their phone at 3 percent, this creepy, weirdly optimistic campfire tale is for you."
—J. Robert Lennon, author of Subdivision
"Set in troublingly probable future and full of heartbreak, Dan Chaon's Sleepwalk is nevertheless an achievement of humor, tenderness, and human connection."
—Smith Henderson, author of Fourth of July Creek

Past Praise for Dan Chaon

"In his haunting, strikingly original new novel [Ill Will], Chaon takes formidable risks, dismantling his timeline like a film editor."
—The New York Times Book Review
"Chaon is one of America's best and most dependable writers..."
—Los Angeles Times
"Following writers like Richard Matheson and Shirley Jackson, Dan Chaon writes in the spooky tradition of suburban gothic. . . . [His] writing is cool and precise, but his story is thrillingly unstable."
—The Wall Street Journal
"[Chaon] is the modern day John Cheever."
—Boston Sunday Globe