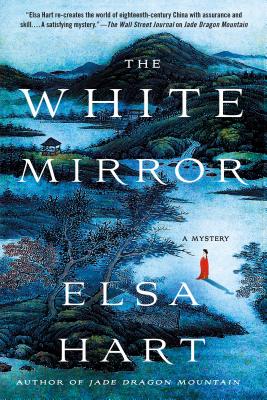 The White Mirror: A Mystery (Li Du Novels #2)
This product is not returnable.
Publication Date:
July 18th, 2017
Publisher:
Minotaur Books
The Book Tavern
1 on hand, as of Dec 9 11:18pm
(Fiction::Mystery)
On Our Shelves Now
Description
In The White Mirror, the follow-up to Elsa Hart's critically acclaimed debut, Jade Dragon Mountain, Li Du, an imperial librarian and former exile in 18th century China, is now an independent traveler. He is journeying with a trade caravan bound for Lhasa when a detour brings them to a valley hidden between mountain passes. On the icy planks of a wooden bridge, a monk sits in contemplation. Closer inspection reveals that the monk is dead, apparently of a self-inflicted wound. His robes are rent, revealing a strange symbol painted on his chest.
When the rain turns to snow, the caravan is forced to seek hospitality from the local lord while they wait for the storm to pass. The dead monk, Li Du soon learns, was a reclusive painter. According to the family, his bizarre suicide is not surprising, given his obsession with the demon world. But Li Du is convinced that all is not as it seems. Why did the caravan leader detour to this particular valley? Why does the lord's heir sleep in the barn like a servant? And who is the mysterious woman traveling through the mountain wilds?
Trapped in the snow, surrounded by secrets and an unexplained grief that haunts the manor, Li Du cannot distract himself from memories he's tried to leave behind. As he discovers irrefutable evidence of the painter's murder and pieces together the dark circumstances of his death, Li Du must face the reason he will not go home and, ultimately, the reason why he must.
Praise for The White Mirror: A Mystery (Li Du Novels #2)
Praise for Jade Dragon Mountain:
"[A] measured, intelligent, first-class debut…The book augurs a brilliant career for Hart: the careful characterization, the beautifully detailed research (minced yak tongue, anyone?), and an innate feel for the enigmatic meanings of murder."—USA Today
"First-time novelist Elsa Hart recreates the world of 18th-century China with assurance and skill."—The Wall Street Journal
"This debut historical mystery deftly combines ingenious plotting and suspense with a subtle understanding of China, its culture, and its people. The protagonist, Li Du, a librarian and intellectual, is well worth keeping an eye on."—Donna Leon
"Jade Dragon Mountain delivers a compelling look at Chinese politics, culture and religion, delivering the complexities of each with a character-rich story…One of the year's most engrossing debuts."—Associated Press
"Part mystery, part exploration of a culture fading into history's shadows, Hart's novel is a fascinating, intelligent debut…Think Agatha Christie writing Shogun…Captivating."—Kirkus Reviews
"Elsa Hart's debut novel demands attention. Elegantly written, tightly controlled, and sweeping, Jade Dragon Mountain will leave its readers thinking as much about the nature of storytelling and memory as the vivid recreation of a poignant period in the history of China."—Matthew Pearl
"Political and religious intrigue drives Hart's compelling debut set in 18th-century China…Hart's sure command of historical complexities, conflicts between cultures, and plot twists leads to a satisfying conclusion."—Publishers Weekly (starred review)