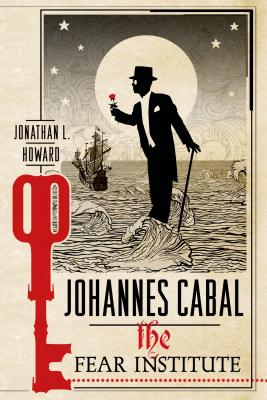 Johannes Cabal: The Fear Institute (Johannes Cabal Novels #3)
This product is not returnable.
Publication Date:
September 16th, 2014
Publisher:
St. Martin's Griffin
The Book Tavern
1 on hand, as of Dec 1 3:18pm
(Horror)
On Our Shelves Now
Description
"Howard's characters, relentless imagination, twisting plotlines, and use of language make the Johannes Cabal series a real pleasure to read, and The Fear Institute is the best Cabal yet." —Richard Kadrey, author of the Sandman Slim series
Beyond the wall of sleep lies the Dreamlands. For countless millennia, they have been explored only by those philosophers, mystics, and poets with a certain detachment from mundane reality. Well, those halcyon days are over, beatniks.
Johannes Cabal is coming.
Cabal, a necromancer of some little infamy, is employed by the mysterious Fear Institute to lead an expedition into the Dreamlands to hunt and destroy the dread Phobic Animus, the very source of all the world's fear. Along the way, they will encounter witches, vile abominations, and far too many zebras.
And, when they finally come close to their goal, Cabal will have to face his own nightmares. But for a man who communes easily with devils and the dead, surely there is nothing left to fear. . . .
Praise for Johannes Cabal: The Fear Institute (Johannes Cabal Novels #3)
"Howard's affectionate, witty homage to Lovecraft's dream stories, complete with early-20th-century setting and language, is an enjoyably macabre comic adventure, and his antihero Cabal is, for all his overweening self-confidence, an engaging protagonist whose heart is not quite as hard as he would like to pretend." —Publishers Weekly
"Howard's characters, relentless imagination, twisting plotlines, and use of language make the Johannes Cabal series a real pleasure to read, and The Fear Institute is the best Cabal yet." —Richard Kadrey, author of the Sandman Slim novels
"Comedy meets high-concept fantasy in Howard's latest Johannes Cabal outing. … Genre fans will appreciate Howard's attention to world building, while more general readers will simply enjoy all the horrific fun." —Booklist
"Cabal, the detective and necromancer, is full of charismatic amorality, making him both a classical and refreshing antihero." —TimeOut (Chicago)
"Cross Susannah Clarke's Jonathan Strange & Mr. Norrell with Gregory Maguire's Wicked, and you have this witty and sometimes touching debut novel in the Faustian tradition." —Library Journal
"Howard's ear for witty banter and his skill at rendering black comedy bode well for the future." —Publishers Weekly
"Amusing and clever." —The Freelance Star
"Populated with some of the most creative, and odd, characters to be found . . . hysterical and fascinating." —Bookgeeks
"Definitely entertaining, a cut above many books out there." —Free Lance-Star
"Silly, erudite, and part a playful modern variant of the locked door murder mystery." —The Huffington Post
"A delightfully wicked and inventive story." —Keith Donohue, author of The Stolen Child
"That ole black magic has never been more fun than it is in this deft and quirky Faustian take. A diabolical romp." —Elle Newmark, author of The Book of Unholy Mischief
"Johannes Cabal would kill me for saying this, but he's my favorite Zeppelin-hopping detective. The fellow has got all the charm of Bond and the smarts of Holmes--without the pesky morality." —Daniel H. Wilson, New York Times bestselling author of How to Survive a Robot Uprising
"The spot-on work of a talented writer." —The Denver Post
"Howard makes it look easy to paint a soul-stealing murdering necromancer as a sympathetic character; that, folks, is worth the price of admission." —The San Diego Union-Tribune
"The language is clever and rich with literary allusions and cunning humour... For anyone whose taste edges toward the intelligent and macabre, this book is a gift." —Fangoria
"A swashbuckling mystery set in a steampunk world." —Denver Post
"Witty, inventive, and thoroughly entertaining, this rollicking Faustian adventure grabs the reader and holds him until the very last page." —Tucson Citizen
"Every word of every page is carefully crafted and utterly precise and the whole thing is beautiful to read but, above all, it's so very, very funny. … Jonathan L. Howard is a supremely talented writer and the Johannes Cabal series makes for superb reading. It would be easy at this point to say if you like Rankin or Fforde or Pratchett or Holt then you will love these books, but while it may well be true it would be doing Howard a disservice." —Sci-Fi-London
"Readers, rejoice; Johannes Cabal is back... Howard's Dreamlands will thrill fans of H.P. Lovecraft, but Cabal leaves a permanent mark on even the most fluid of landscapes, and Howard's writing shines, sketching out a personality both fascinating and heartbreaking, on an adventure that reverberates from Dreamlands to the waking world, with a future that every reader must hope involves many more stories to come." —Bookgeeks
"There are thrills. Laughter. Tears. I am almost inclined to say this is the best Johannes Cabal book yet. Until the next one, I suspect. Read it. You'll be hooked." —Dracula Society Newsletter
"In Johannes Cabal he has created a thoroughly unpleasant lead character who somehow the reader is rooting for - a real achievement." —Fortean Times
"A thoroughly entertaining and hugely fun book populated by great characters . . . intelligently written and very funny." —Sci-Fi-London
"Johannes is one of the most interesting fictional characters of our still-new century." —The Huffington Post
"A charmingly gothic, fiendishly funny Faustian tale." —GoodReads
"Not only does Howard deliver a devilish mystery but he also wraps it all up in a gorgeous 'steampunk noir' atmosphere." —Graemes Fantasy Book Review
"Just as fast and funny as its predecessor. I loved it, and hope another one comes along 'as fast as a rabbit from a trebuchet' as the author so prettily puts it." —Tina Rath, The Dracula Society
"I had no reason to expect this sequel to be even better than that steamalicious first book. Yet it is." —Warpcore