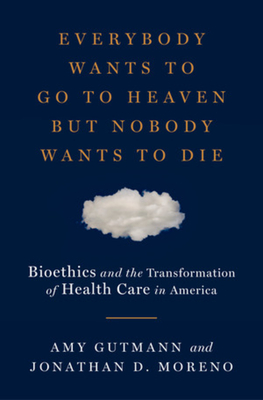 Everybody Wants to Go to Heaven but Nobody Wants to Die: Bioethics and the Transformation of Health Care in America
Publication Date:
August 27th, 2019
The Book Tavern
1 on hand, as of Dec 9 11:18pm
(Health & Medicine)
On Our Shelves Now
Description
An incisive examination of bioethics and American healthcare, and their profound affects on American culture over the last sixty years, from two eminent scholars.
An eye-opening look at the inevitable moral choices that come along with tremendous medical progress, Everybody Wants to Go to Heaven but Nobody Wants to Die is a primer for all Americans to talk more honestly about health care. Beginning in the 1950s when doctors still paid house calls but regularly withheld the truth from their patients, Amy Gutmann and Jonathan D. Moreno explore an unprecedented revolution in health care and explain the problem with America's wanting everything that medical science has to offer without debating its merits and its limits. The result: Americans today pay far more for health care while having among the lowest life expectancies and highest infant mortality of any affluent nation.
Gutmann and Moreno—"incisive, influential, and pragmatic thinkers" (Arthur Caplan)—demonstrate that the stakes have never been higher for prolonging and improving life. From health care reform and death-with-dignity to child vaccinations and gene editing, they explain how bioethics came to dominate the national spotlight, leading and responding to a revolution in doctor-patient relations, a burgeoning world of organ transplants, and new reproductive technologies that benefit millions but create a host of legal and ethical challenges.
With striking examples, the authors show how breakthroughs in cancer research, infectious disease, and drug development provide Americans with exciting new alternatives, yet often painful choices. They address head-on the most fundamental challenges in American health care: Why do we pay so much for health care while still lacking universal coverage? How can medical studies adequately protect individuals who volunteer for them? What's fair when it comes to allocating organs for transplants in truly life-and-death situations?
A lucid and provocative blend of history and public policy, this urgent work exposes the American paradox of wanting to have it all without paying the price.
Praise for Everybody Wants to Go to Heaven but Nobody Wants to Die: Bioethics and the Transformation of Health Care in America
Astute…. illuminating…. Gutmann and Moreno lucidly outline the differences between earlier eras in medicine, when a doctor's 'implicit permission to mislead, if not to lie outright' was openly accepted, and contemporary medicine, where healthier food 'choice architecture' and mental health system reforms are just two examples of the radical shift in perception and patient self-empowerment. The authors are unafraid to address more disputable, 'slippery slope' issues, many of which remain targeted by polarized political systems.
— Kirkus Reviews
Targeting a general audience, this title provides a clear and compassionate presentation of complicated topics and how important it is to confront them.
— Library Journal
[Gutmann and Moreno] vividly explore the complexity of the ethical principles underlying scientific advances and emerging medical treatments.... Part cultural history, part philosophical enquiry, and part gentle polemic, this valuable survey should become prescribed reading for America's healthcare practitioners.
— Publishers Weekly
Well done.
— Booklist
The age-old debate about health care—what we owe each other as we all become sick—has rarely been able to transcend the superficial and frustratingly binary arguments of the politics that has held a meaningful discussion hostage. This superb book is a refreshing departure.
— Ken Burns, filmmaker
A remarkable, highly readable journey through the development of modern thinking about bioethics, from syphilis experiments on black men in Tuskegee, and Brittany Maynard's desire to die rather than live with uncurable cancer, to wondrous medical advances that pose excruciating trade-offs.
— Judy Woodruff, anchor of PBS NewsHour
Amy Gutmann and Jonathan Moreno's groundbreaking Everybody Wants to Go to Heaven But Nobody Wants to Die should be required reading for anyone with a heartbeat who wants to understand the ethical and practical contradictions of our cultural obsession with prolonging life at all costs.
— Andrea Mitchell, anchor of NBC News
A tour de force. Readable and understandable to lay audiences, sophisticated and comprehensive for all, fair-minded in approach but also taking positions, this book gives a thorough history, with important examples, of all the areas of research and action that raise serious ethical questions. Everybody will face some of the challenges raised in this book. And everyone would benefit immensely from reading it.
— Norman Ornstein, resident scholar at the American Enterprise Institute