Discounted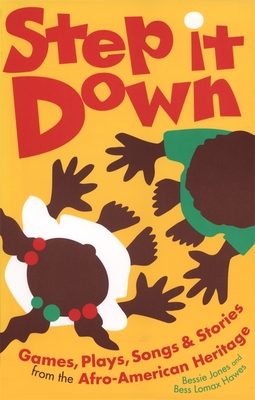 Step It Down: Games, Plays, Songs, and Stories from the Afro-American Heritage (Brown Thrasher Books)
Previous price:

$24.95
Current price:

$22.95
Publication Date:
September 1st, 1987
Publisher:
University of Georgia Press
The Book Tavern
1 on hand, as of Sep 23 11:17pm
(History::American)
On Our Shelves Now
Description
Growing up in the rural South, Bessie Jones sang her way through long hours of field work and child tending, entertaining her young companions with chants and riddles or joining them for a rousing evening of ring dances and singing plays. These songs and games, recorded in Step It Down by folklorist Bess Lomax Hawes, capture the shape and color of the crowded, impoverished, life-demanding, and life-loving days of the black family of sixty years ago, revealing the strength and vitality of African and slave traditions in black American life.
The power of music and motion to transform a world of scarcity and hardship into one of laughter and joy echoes throughout Bessie Jones's words:
"And the other childrens and I would go in the bottom and have a frolic, instead of going to bed. I was just up for that singing, and I remembered they used to say . . . 'Come on, Lizzie ' and we'd go down a way and we'd have a dance. Oh it was pretty. . . . You know, it was just as good as the blues--better, better in a way. When the old folks would go to work or go off or something, we'd put on them long dresses and, boy, we'd have a time."
Step It Down weaves together the lyrics, music, and description of traditional Afro-American children's songs as well as Jones's comments on their meaning and "feel." Whether reciting "Tom, Tom, Greedy Gut" or demonstrating the more complex steps of "Ranky Tank" and "Buzzard's Lope," Bessie Jones always viewed the amusements of the young as preparation for adult roles and relationships, and as a teacher, she developed her own philosophy of how a black child is socialized into the larger community. Grounded in the values of black society, her songs taught children about cooperative interaction and mutual concern, not about competition and individual achievement, showing them how to create fun out of nothing more than their hands, feet, voices, and imaginations.
Praise for Step It Down: Games, Plays, Songs, and Stories from the Afro-American Heritage (Brown Thrasher Books)
"A delightful collection . . . The book is an ideal collaboration. Hawes offers poignant historical and functional analysis, wonderfully complemented by Jones' illuminating recollections and charming commentary."--Atlanta History
"Weaving together lyrics, music, and descriptions of these songs and games, folklorist Bess Lomax Hawes captures the joy and laughter that Jones brought to her teaching, as well as her individual philosophy of childhood development and education."--Lincoln Journal
"The book is more than a manual of games for parents and teachers—it is a record of a distinctive cultural heritage, grounded in the values of the black community: cooperation, affirmation and social concern, and illustrating the experience of childhood in the black communities of the southern U.S."--Sage Race Relations Abstracts
"It is a powerful document for anyone who seeks to understand the nature of the Black American musical experience, for anyone who wants a complete picture of American dances and games, and for anyone who teaches children."--Sonneck Society Bulletin