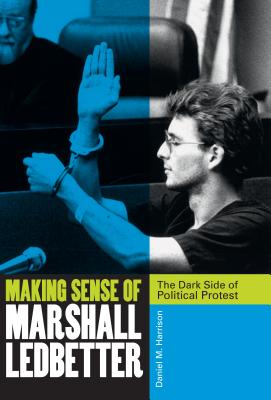 Making Sense of Marshall Ledbetter: The Dark Side of Political Protest
Publication Date:
November 11th, 2014
Publisher:
University Press of Florida
The Book Tavern
1 on hand, as of Dec 10 11:18pm
(Politics & Society)
On Our Shelves Now
Description
"I could not put down this book. It's a must-read for anyone interested in psychology, drug and alcohol addiction, the complicated chemistry of the human body, and--oddly--local politics."--George Singleton, author of Between Wrecks
"Was this a courageous act of protest or a sad act of madness? This fascinating book explores the line between inspiration and insanity. The case of Marshall Ledbetter is humorous, chilling, and an important story to tell."--Gary Alan Fine, coauthor of Whispers on the Color Line
"A compelling look at a significant but little-known incident in Florida history, one that turned out to be a precursor to the Occupy movement."--Craig Pittman, author of The Scent of Scandal
"Going beyond the pat answers of mental illness, drug abuse, or youthful pranksterism, Harrison shows that these elements were far from the whole story."--Chad Alan Goldberg, author of Citizens and Paupers
"This is a taut, captivating account of a personal tragedy that could strike any family: a bright young man with infinite promise loses his mind and personality under the influence of alcohol and hallucinogens. His 'takeover' of a state capitol while armed only with an empty whiskey bottle reads like a comic opera, but it's a sad overture to the brief remainder of his life."--Martin A. Dyckman, author of Reubin O'D. Askew and the Golden Age of Florida Politics
"The complex and nuanced story of Marshall Ledbetter is simultaneously interesting, touching, troubling and thought-provoking. Although there are many ways in which young people, especially men, mentally ill or not, fail to find a comfortable place in society, Marshall's failure was more conspicuous and ultimately tragic than most."--Walter R. Tschinkel, author of The Fire Ants
"Harrison does a superb job of placing Marshall Ledbetter in the context of his times when, as a student at Florida State University, he carried on the traditions of the rebellious, irreverent, anti-establishment, drug-fueled madness of the 1960s, thirty years later. And then paid the price."-- Jeff Kunerth, author of Trout: A True Story of Murder, Teens, and the Death Penalty
Early one morning in June 1991, after a long night of heavy drinking, Florida State University dropout Marshall Ledbetter used an empty whiskey bottle wrapped in a towel to break through the glass doors of the Florida State Capitol. Much to his amazement, the alarm system wasn't triggered. So he left a note near the entrance signed "Smoking Raven in the Eye of the Great Storm," called 911, poured himself a glass of bourbon, lit a cigar, and waited for the police to arrive. While his goal was to garner media attention for his protest of poverty, homelessness, and cuts to higher education, Ledbetter's invasion of the capitol is forever remembered as the biggest security breach of the building's history.
After an eight-hour standoff, Ledbetter discovered he had been betrayed by the very media he thought would tell his story. His demands were not broadcast on CNN as he had been promised but streamed into the office on closed-circuit TV, and he would never have the chance to formally address the media in a press conference as he had requested. Although he left the building peacefully and never intended to hurt anybody, the SWAT team wasted no time handcuffing and subduing the skinny young man wearing only a T-shirt and boxer shorts--a confused intellectual just looking for a way to tell the world that he wanted it to be better.
The ensuing trial, his trips in and out of the state's mental health institutions over the following decade, and his eventual suicide in 2003 speak to how difficult it is to untangle addiction, isolation, brilliance, and deviance. This fast-paced narrative of the Ledbetter saga is about more than one misguided young man's breaking and entering into the state's most secure building. Making Sense of Marshall Ledbetter thoughtfully and honestly explores the ways society manages deviant people in real-world situations and whether or not our law enforcement and justice systems are adequately equipped to handle mental illness.