Discounted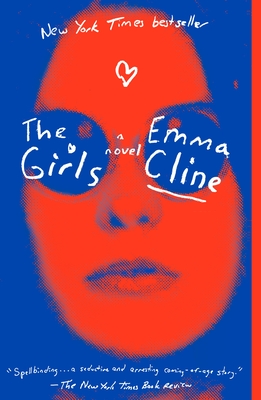 The Girls: A Novel
Previous price:

$19.00
Current price:

$18.00
Publication Date:
May 9th, 2017
Publisher:
Random House Trade Paperbacks
The Book Tavern
1 on hand, as of Dec 1 3:18pm
(Fiction)
On Our Shelves Now
Evie Boyd is a lonely 14-year-old adjusting to her parents' recent divorce and an emotional break with her childhood best friend. She encounters a wild and enchanting group of girls and is immediately drawn into their world of reckless abandon. Seduced by their thrilling, cult-like family hidden in the California hills, Evie finds herself pulled into events that will lead to unspeakable violence. Cline's captivating prose strips bare the deep desires and vulnerability of teenage Evie as she struggles for acceptance. The Girls is an enthralling and haunting novel that will linger with readers long after the last page.
June 2016 Indie Next List
Description
THE INSTANT BESTSELLER • An indelible portrait of girls, the women they become, and that moment in life when everything can go horribly wrong
ONE OF THE BEST BOOKS OF THE YEAR: The Washington Post, NPR, The Guardian, Entertainment Weekly, San Francisco Chronicle, Financial Times, Esquire, Newsweek, Vogue, Glamour, People, The Huffington Post, Elle, Harper's Bazaar, Time Out, BookPage, Publishers Weekly, Slate
Northern California, during the violent end of the 1960s. At the start of summer, a lonely and thoughtful teenager, Evie Boyd, sees a group of girls in the park, and is immediately caught by their freedom, their careless dress, their dangerous aura of abandon. Soon, Evie is in thrall to Suzanne, a mesmerizing older girl, and is drawn into the circle of a soon-to-be infamous cult and the man who is its charismatic leader. Hidden in the hills, their sprawling ranch is eerie and run down, but to Evie, it is exotic, thrilling, charged—a place where she feels desperate to be accepted. As she spends more time away from her mother and the rhythms of her daily life, and as her obsession with Suzanne intensifies, Evie does not realize she is coming closer and closer to unthinkable violence.
Finalist for the Los Angeles Times Book Prize • Finalist for the National Book Critics Circle John Leonard Award • Shortlisted for The Center for Fiction First Novel Prize • The New York Times Book Review Editors' Choice • Emma Cline—One of Granta's Best of Young American Novelists
Praise for The Girls
"Spellbinding . . . a seductive and arresting coming-of-age story."—The New York Times Book Review
"Extraordinary . . . Debut novels like this are rare, indeed."—The Washington Post
"Hypnotic."—The Wall Street Journal
"Gorgeous."—Los Angeles Times
"Savage."—The Guardian
"Astonishing."—The Boston Globe
"Superbly written."—James Wood, The New Yorker
"Intensely consuming."—Richard Ford
"A spectacular achievement."—Lucy Atkins, The Times
"Thrilling."—Jennifer Egan
"Compelling and startling."—The Economist
Praise for The Girls: A Novel
"Spellbinding . . . A seductive and arresting coming-of-age story hinged on Charles Manson, told in sentences at times so finely wrought they could almost be worn as jewelry . . . [Emma] Cline gorgeously maps the topography of one loneliness-ravaged adolescent heart. She gives us the fictional truth of a girl chasing danger beyond her comprehension, in a Summer of Longing and Loss."—The New York Times Book Review
"[The Girls reimagines] the American novel . . . Like Mary Gaitskill's Veronica or Lorrie Moore's Who Will Run the Frog Hospital?, The Girls captures a defining friendship in its full humanity with a touch of rock-memoir, tell-it-like-it-really-was attitude."—Vogue
"Debut novels like this are rare, indeed. . . . The most remarkable quality of this novel is Cline's ability to articulate the anxieties of adolescence in language that's gorgeously poetic without mangling the authenticity of a teenager's consciousness. The adult's melancholy reflection and the girl's swelling impetuousness are flawlessly braided together. . . . For a story that traffics in the lurid notoriety of the Manson murders, The Girls is an extraordinary act of restraint. With the maturity of a writer twice her age, Cline has written a wise novel that's never showy: a quiet, seething confession of yearning and terror."—The Washington Post
"Outstanding . . . Cline's novel is an astonishing work of imagination—remarkably atmospheric, preternaturally intelligent, and brutally feminist. . . . Cline painstakingly destroys the separation between art and faithful representation to create something new, wonderful, and disorienting."—The Boston Globe
"Finely intelligent, often superbly written, with flashingly brilliant sentences, . . . Cline's first novel, The Girls, is a song of innocence and experience. . . . In another way, though, Cline's novel is itself a complicated mixture of freshness and worldly sophistication. . . . At her frequent best, Cline sees the world exactly and generously. On every other page, it seems, there is something remarkable—an immaculate phrase, a boldly modifying adverb, a metaphor or simile that makes a sudden, electric connection between its poles. . . . Much of this has to do with Cline's ability to look again, like a painter, and see (or sense) things better than most of us do."—The New Yorker
"Breathtaking . . . So accomplished that it's hard to believe it's a debut. Cline's powerful characters linger long after the final page."—Entertainment Weekly (Summer Must List)
"A mesmerizing and sympathetic portrait of teen girls."—People (Summer's Best Books)
"The Girls isn't a Wikipedia novel, it's not one of those historical novels that congratulates the present on its improvements over the past, and it doesn't impose today's ideas on the old days. As the smartphone-era frame around Evie's story implies, Cline is interested in the Manson chapter for the way it amplifies the novel's traditional concerns. Pastoral, marriage plot, crime story—the novel of the cult has it all."—New York Magazine