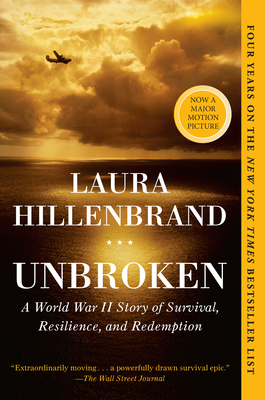 Unbroken: A World War II Story of Survival, Resilience, and Redemption
Publication Date:
July 29th, 2014
Publisher:
Random House Trade Paperbacks
The Book Tavern
1 on hand, as of Sep 23 11:17pm
(History::WWII)
On Our Shelves Now
Unbroken is a vivid story of Louis Zamperini who, as an athlete, ran in the 1936 Berlin Olympics and then became an airman when World War II broke out. When his plane crashed into the Pacific Ocean, he and two other crew members floated in a tiny raft across thousands of miles of ocean only to be rescued by the Japanese and placed in a POW camp. This book is about survival, emotional and physical endurance, hope, humor, and determination. An absolutely mesmerizing and incredible story.
December 2010 Indie Next List
Description
#1 NEW YORK TIMES BESTSELLER • NOW A MAJOR MOTION PICTURE • Look for special features inside. Join the Random House Reader's Circle for author chats and more.

In boyhood, Louis Zamperini was an incorrigible delinquent. As a teenager, he channeled his defiance into running, discovering a prodigious talent that had carried him to the Berlin Olympics. But when World War II began, the athlete became an airman, embarking on a journey that led to a doomed flight on a May afternoon in 1943. When his Army Air Forces bomber crashed into the Pacific Ocean, against all odds, Zamperini survived, adrift on a foundering life raft. Ahead of Zamperini lay thousands of miles of open ocean, leaping sharks, thirst and starvation, enemy aircraft, and, beyond, a trial even greater. Driven to the limits of endurance, Zamperini would answer desperation with ingenuity; suffering with hope, resolve, and humor; brutality with rebellion. His fate, whether triumph or tragedy, would be suspended on the fraying wire of his will.
 
Appearing in paperback for the first time—with twenty arresting new photos and an extensive Q&A with the author—Unbroken is an unforgettable testament to the resilience of the human mind, body, and spirit, brought vividly to life by Seabiscuit author Laura Hillenbrand.
Hailed as the top nonfiction book of the year by Time magazine • Winner of the Los Angeles Times Book Prize for biography and the Indies Choice Adult Nonfiction Book of the Year award
 
"Extraordinarily moving . . . a powerfully drawn survival epic."—The Wall Street Journal
 
"[A] one-in-a-billion story . . . designed to wrench from self-respecting critics all the blurby adjectives we normally try to avoid: It is amazing, unforgettable, gripping, harrowing, chilling, and inspiring."—New York
 
"Staggering . . . mesmerizing . . . Hillenbrand's writing is so ferociously cinematic, the events she describes so incredible, you don't dare take your eyes off the page."—People
 
"A meticulous, soaring and beautifully written account of an extraordinary life."—The Washington Post
 
"Ambitious and powerful . . . a startling narrative and an inspirational book."—The New York Times Book Review
 
"Magnificent . . . incredible . . . [Hillenbrand] has crafted another masterful blend of sports, history and overcoming terrific odds; this is biography taken to the nth degree, a chronicle of a remarkable life lived through extraordinary times."—The Dallas Morning News
 
"An astonishing testament to the superhuman power of tenacity."—Entertainment Weekly
 
"A tale of triumph and redemption . . . astonishingly detailed."—O: The Oprah Magazine
 
"[A] masterfully told true story . . . nothing less than a marvel."—Washingtonian
 
"[Hillenbrand tells this] story with cool elegance but at a thrilling sprinter's pace."—Time
 
"Hillenbrand [is] one of our best writers of narrative history. You don't have to be a sports fan or a war-history buff to devour this book—you just have to love great storytelling."—Rebecca Skloot, author of The Immortal Life of Henrietta Lacks

Praise for Unbroken: A World War II Story of Survival, Resilience, and Redemption
"Extraordinarily moving . . . a powerfully drawn survival epic."—The Wall Street Journal
 
"[A] one-in-a-billion story . . . designed to wrench from self-respecting critics all the blurby adjectives we normally try to avoid: It is amazing, unforgettable, gripping, harrowing, chilling, and inspiring."—New York
 
"Staggering . . . mesmerizing . . . Hillenbrand's writing is so ferociously cinematic, the events she describes so incredible, you don't dare take your eyes off the page."—People

"A meticulous, soaring and beautifully written account of an extraordinary life."—The Washington Post
 
"Ambitious and powerful . . . a startling narrative and an inspirational book."—The New York Times Book Review
 
"Marvelous . . . Unbroken is wonderful twice over, for the tale it tells and for the way it's told. . . . It manages maximum velocity with no loss of subtlety."—Newsweek
 
"Moving and, yes, inspirational . . . [Laura] Hillenbrand's unforgettable book . . . deserve[s] pride of place alongside the best works of literature that chart the complications and the hard-won triumphs of so-called ordinary Americans and their extraordinary time."—Maureen Corrigan, Fresh Air
 
"Hillenbrand . . . tells [this] story with cool elegance but at a thrilling sprinter's pace."—Time
 
"Unbroken is too much book to hope for: a hellride of a story in the grip of the one writer who can handle it. . . . When it comes to courage, charisma, and impossible adventure, few will ever match 'the boy terror of Torrance,' and few but the author of Seabiscuit could tell his tale with such humanity and dexterity. Hillenbrand has given us a new national treasure."—Christopher McDougall, author of Born to Run
 
"Riveting . . . an exceptional portrait . . . So haunting and so beautifully written, those who fall under its spell will never again feel the same way about World War II and one of its previously unsung heroes."—The Columbus Dispatch
 
"Magnificent . . . incredible . . . [Hillenbrand] has crafted another masterful blend of sports, history and overcoming terrific odds; this is biography taken to the nth degree, a chronicle of a remarkable life lived through extraordinary times."—The Dallas Morning News
 
"No other author of narrative nonfiction chooses her subjects with greater discrimination or renders them with more discipline and commitment. If storytelling were an Olympic event, [Hillenbrand would] medal for sure."—Salon
"A celebration of gargantuan fortitude . . . full of unforgettable characters, multi-hanky moments and wild turns . . . Hillenbrand is a muscular, dynamic storyteller."—The New York Times
"[A] masterfully told true story . . . nothing less than a marvel."—Washingtonian
"Zamperini's story is certainly one of the most remarkable survival tales ever recorded. What happened after that is equally remarkable."—Graydon Carter, Vanity Fair

"Irresistible . . . Hillenbrand demonstrates a dazzling ability—one Seabiscuit only hinted at—to make the tale leap off the page."—Elle
"A tale of triumph and redemption . . . astonishingly detailed."—O: The Oprah Magazine
"An astonishing testament to the superhuman power of tenacity."—Entertainment Weekly
"Intense . . . You better hold onto the reins."—The Boston Globe
"Incredible . . . Zamperini's life is one of courage, heroism, humility and unflagging endurance."—St. Louis Post Dispatch
"Hillenbrand has once again brought to life the true story of a forgotten hero, and reminded us how lucky we are to have her, one of our best writers of narrative history. You don't have to be a sports fan or a war-history buff to devour this book—you just have to love great storytelling."—Rebecca Skloot, author of The Immortal Life of Henrietta Lacks