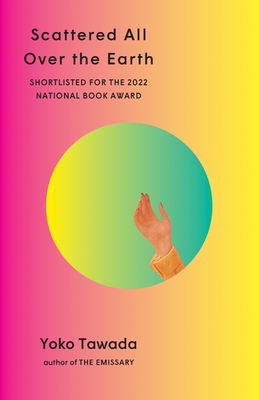 Scattered All Over the Earth
Publication Date:
March 1st, 2022
Publisher:
New Directions
The Book Tavern
1 on hand, as of Dec 7 11:18pm
(Fiction)
On Our Shelves Now
Description
A mind-expanding, cheerfully dystopian new novel by Yoko Tawada, winner of the 2022 National Book Award
Welcome to the not-too-distant future: Japan, having vanished from the face of the earth, is now remembered as "the land of sushi." Hiruko, its former citizen and a climate refugee herself, has a job teaching immigrant children in Denmark with her invented language Panska (Pan-Scandinavian): "homemade language. no country to stay in. three countries I experienced. insufficient space in brain. so made new language. homemade language."
As she searches for anyone who can still speak her mother tongue, Hiruko soon makes new friends. Her troupe travels to France, encountering an umami cooking competition; a dead whale; an ultra-nationalist named Breivik; unrequited love; Kakuzo robots; red herrings; uranium; an Andalusian matador. Episodic and mesmerizing scenes flash vividly along, and soon they're all next off to Stockholm.
With its intrepid band of companions, Scattered All Over the Earth (the first novel of a trilogy) may bring to mind Alice's Adventures in Wonderland or a surreal Wind in the Willows, but really is just another sui generis Yoko Tawada masterwork.
Praise for Scattered All Over the Earth
Magnificently strange. Tawada is reminiscent of Nikolai Gogol, for whom the natural situation for a ghost story was a minor government employee saving up to buy a fancy coat, the natural destiny of a nose to haunt its owner as an overbearing nobleman.
— Rivka Galchen - New York Times Magazine
What is true of Hiruko, Tawada suggests, is true of everyone from the harmless Nanook to an ultranationalist called Breivik: Our national identities are at bottom simulacra, copies of originals that no longer exist, if they ever did.
— Ryan Ruby - The New York Times
Wonderful—what is truly affecting is Tawada's language, which jumps off the page and practically sings.
— Juan Vidal - NPR
Threats abound—a changing climate, terrorism, and hostile political structures create danger and uncertainty—but these characters carry within themselves the seeds of a possible new world. Yoko Tawada's Scattered All Over the Earth is a cheerful dystopian novel that celebrates inventiveness, possibilities, and human connections.
— Foreword Reviews
Tawada expands upon the themes of language, immigration, globalization, and authenticity which underpin this slyly humorous first installment of a planned trilogy.
— Kirkus, Starred Review
Tawada slyly interrogates shifting (disappearing) borders and populations, native (invented) identities, assumptions, and adaptations. Her most frequent translator, Mitsutani, brilliantly ciphers Tawada's magnificently inventive wordplay.
— Booklist
Playful and deeply inventive.
— Julian Lucas - The New Yorker
"Monet's colors change with each brushstroke, yet his landscapes appear as a whole," Knut reflects, and Ms. Tawada's characters are similarly impressionistic: mobile, protean and evanescent, whirled together in a manner that can seem insubstantial but combines to form a vision of beauty and calm.
— Sam Sacks - The Wall Street Journal
Reading Yoko Tawada is a marvel…Scattered All Over the Earth is a reflection on language, migration and identity that manages to be entirely unpredictable.
— Declan Fry - ABC (Australia)
For a book about the end of the world as we know it, Yoko Tawada's Scattered All Over the Earth is awfully cheery… [I]t's possible to not understand someone even when you speak the same language, and to use different words but still recognize each other well.
— Eve Sneider - Wired
Tawada's satirical tone and flirtation with sci-fi are intensely original.
— Julia Kornberg - Bookforum
This dystopian novel is riveting, bizarre as can be, and like nothing else I've ever read. I'm terrified not enough people will read it. 
— Kamil Ahsan - NPR
Reading Tawada you feel her subtle authorial presence, simultaneously guiding the reader ashore and casting us out to sea; paradoxically, both lead to a single destination. Where do we—along with Hiruko, Knut, Akash, Tenzo, Nora and Susanoo—end up? It can only be described as somewhere soft and strange and new.
— Matthew Janney - Financial Times
The world is close to our own, suggesting that soon our boundaries will radically change. Tawada reminds us that we, too, might become refugees from lands that no longer exist—obliterated by nuclear mishaps, rising water levels, or arbitrary lines drawn in history textbooks.
— Emma Heath - Cleveland Review
With Japan obliterated from the map in a postapocalyptic near future, a refugee builds a new life in Denmark, where her interest in languages draws her into a ragtag group of linguists. It turns into a wondrously complex story of cultures colliding, languages morphing, and hidden narratives. Once opened, it's hard to pull away from.
— Publishers Weekly
Tawada is immune to the seduction of ideal worlds. Even when speculative, her fiction still manages to operate in the world that we actually inhabit: one characterized by slippages, ambiguity, and a history of territorial entanglements that began long before twentieth-century globalism—entanglements that, in fact, go back so far that they might be one of the few things coterminous with being human.
— Reed McConnell - The Baffler
As she encounters people from all over the globe, Tawada's carefully built story probes the concept of homeland and the meaning of language.
— Mahita Gajanan - Time Magazine
Tawada builds from many points of view and moves fluidly between characters who express themselves in Danish, English, German, and Japanese, for a resulting work that must have been a puzzle to translate. Indeed, the resulting insights on language and cultural meaning leave me with the pleasant feeling that new neurons are connecting in my brain. She leaves some major ambiguities for her readers, but I feel content closing the book to ponder them.
— Emma Brown - The International Examiner
Like Panska itself, the state of the world is veiled in strangeness. Tawada's words are easy to understand—in this novel more than ever—and her dystopia is Day-Glo bright. 
— Natasha Wimmer - The New York Review of Books