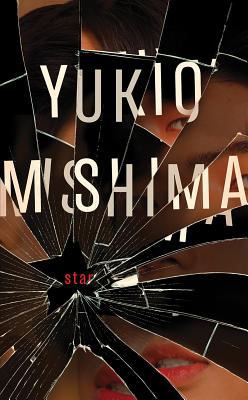 Star
Publication Date:
April 30th, 2019
Publisher:
New Directions
Usually Ships in 2 to 14 Days
Description
For the first time in English, a glittering novella about stardom from "one of the greatest avant-garde Japanese writers of the twentieth century" (Judith Thurman, The New Yorker)
Winner of the Japan-U.S. Friendship Commission Prize for the Translation of Japanese Literature
All eyes are on Rikio. And he likes it, mostly. His fans cheer, screaming and yelling to attract his attention—they would kill for a moment alone with him. Finally the director sets up the shot, the camera begins to roll, someone yells "action"; Rikio, for a moment, transforms into another being, a hardened young yakuza, but as soon as the shot is finished, he slumps back into his own anxieties and obsessions. Being a star, constantly performing, being watched and scrutinized as if under a microscope, is often a drag. But so is life. Written shortly after Yukio Mishima himself had acted in the film "Afraid to Die," this novella is a rich and unflinching psychological portrait of a celebrity coming apart at the seams. With exquisite, vivid prose, Star begs the question: is there any escape from how we are seen by others?
Praise for Star
Mishima is famous both for writing and for dying. Or, strictly, for attempting hara-kiri. Perhaps surprising, then, is that Star is about shooting a blockbuster: not an Ozu or a Mizoguchi but a cheap Yakuza flick. Mishima himself starred in Afraid to Die, Yukoku, Black Lizard, and Hitokiri and knew first-hand his subject the vapidity of fame. Startling, is its lack of artifice: yielding grace from pulp.
— Oscar Mardell - 3:AM Magazine
This 1961 novel is finally getting the translation it has so long deserved. The psychologically complex story of Rikio Mizuno, young star of a series of gangster films, is based in part on Mishima's own experiences as an actor. This is a landmark novel of 20th century Japan, and you no longer have to learn Japanese to read it.
— Jeff Somers - Barnes and Noble
Mishima nicely captures the alter-world of stardom—a sharp little novella.
— Complete Review
This little novella gives a bang-filled rush, reflecting on the empty deceit of fame and the psychology of celebrity. Once you're on top of the world, can you ever escape it?
— Literary Hub
An exquisite contemplation of existence and death, and Mishima's prose is extremely powerful and the translation finely executed.
— Los Angeles Review of Books
A startlingly modern, hypervisual jewel.
— Patti Smith - New York Times Book Review
Mishima's glitzy melange of playboy paranoia and heartthrob ennui cracks the proverbial 15 minutes wide open, spilling all the juicy details regarding fawning sycophants, monotonous re-shoots, and the anesthetizing effect of prolonged exposure to the limelight. Death-haunted and contemptuous, Star is a sneering "up yours" to celebrity and fanaticism depicted in panoramic decadence — though, notably, nowhere is its critique more biting than when gazing at its own fractured reflection. A rain-slick melodrama dripping with bored excess, this is a pocket guide for the sexy and disaffected.
— Powell's Books
Mishima's ethereal 1961 novel, published for the first time in English, showcases the strains of fame on a young movie star. Mishima is a master of the psychological: this nimble novella about the costs and delusions of constant public attention will resonate with readers.
— Publishers Weekly
Enormously relevant
— Spectrum Culture
Written shortly after Mishima himself starred in the yakuza-centered Afraid to Die, his slim novella—smoothly translated into English for the first time by prize-winning Sam Bett—is a raw, scathing examination of fame.
— Terry Hong - The Booklist Reader
Mishima is like Stendhal in his precise psychological analyses, like Dostoevsky in his explorations of darkly destructive personalities.
— The Christian Science Monitor
A short but intense psychological ride. Sam Bett has given the book a colloquial translation that powerfully evokes a mood of Hollywood's Golden Age.
— Kiri Falls - The Japan News
Star isn't merely a treat for completists, but a happy reunion with a genius.
— The Japan Times
Mishima was one of literature's great romantics.
— Jay McInerney - The New York Times
Star, the novella Mishima published in 1960, is now open to rediscovery thanks to an adroit, colloquial translation into American English by Sam Bett. It offers us a snapshot of a twenty-three-year-old, up-and-coming movie star, Rikio Mizuno. In Star, the world of film is, it seems, all artifice, both on and off screen, a world where everyone dons masks as a service to public tastes and desires while peering into mirrors of narcissistic self-regard. Literary genius
— Damian Flanagan - The Times Literary Supplement (London)
Star, translated from Japanese by Sam Bett, is a strange, avant-garde novella following a young actor who [receives] the kind of attention that could drive any person slowly insane.
— Thrillist "Best Books of 2019"
This pitch-perfect novella from Yukio Mishima tells the story of a young film star disenchanted with the trappings of fame. Drawing on his own experiences as an actor, Mishima's Star is a stunning addition to the oeuvre of one of postwar Japan's greatest storytellers.
— Thomas Gebremedhin - WSJ Magazine
There may be no writer more autobiographical than Yukio Mishima. He resembles Ce´line and Genet, writers who were not political writers but who were working out the crisis of being alive, the crisis of experience itself. That's precisely the way it is transcendent—it goes beyond the visible world into a world in which being alive makes sense.
— Philip Glass