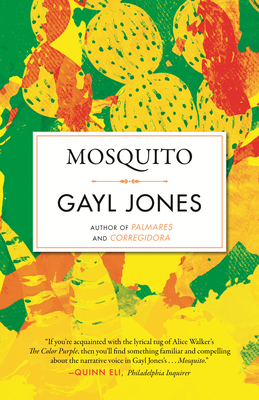 Mosquito (Celebrating Black Women Writers #6)
Publication Date:
March 8th, 2022
The Book Tavern
1 on hand, as of Dec 9 11:18pm
(Fiction::African-American )
On Our Shelves Now
Description
From the highly acclaimed author of Corregidora and The Healing—a rare and unforgettable journey set along the US–Mexico border about identity, immigration, and "the new underground railroad."
"Jones's great achievement is to reckon with both history and interiority, and to collapse the boundary between them."—Anna Wiener, The New Yorker
First discovered and edited by Toni Morrison, Gayl Jones has been described as one of the great literary writers of the 20th century. In Mosquito, she examines the US–Mexico border crisis through the eyes of Sojourner Nadine Jane Johnson, an African American truck driver known as Mosquito. Her journey beings after discovering a stowaway who nearly gives birth in the back of her truck, sparking her accidental and yet growing involvement in "the new underground railroad," a sanctuary movement for Mexican immigrants.
As Mosquito's understanding of the immigrants's need to forge new lives and identities deepens, so too does Mosquito's romance with Ray, a gentle revolutionary, philosopher, and, perhaps, a priest. Along the road, Mosquito introduces us to Delgadina, a Chicana bartender who fries cactus, writes haunting stories, and studies to become a detective; Monkey Bread, a childhood pal who is, improbably, assistant to a blonde star in Hollywood; Maria, the stowaway who names her baby Journal, a misspelled tribute to her unwitting benefactor Sojourner; and many more.
Praise for Mosquito (Celebrating Black Women Writers #6)
"Undoubtedly a literary tour de force."
—James A. Miller, The Boston Globe
"A major voice in American letters."
—Adrienne Westenfeld, Esquire
"Mosquito's voice is melodic, direct, and so conversational that it hooks us immediately and makes us surrender fully to the narrative. . . . To be sure, these observations crackle with wit and a joyful, almost child-like candor."
—Quinn Eli, Philadelphia Inquirer
"Gayl Jones is the Black writer we all want to be when we grow up. . . . Mosquito is Gayl Jones unbound, but certainly not untethered, not without her still prodigious storehouses of language, craft, and storytelling prowess."
—Greg Tate, Voice Literary Supplement
"Mosquito will amuse and confuse and instruct and pique and exhaust you. Sometimes the anecdotes are so good you call up friends to share them. There are a hundred times you want to shout, 'Right on!'"
—Sandra Scofield, Chicago Tribune
"Most apparent, and most surprising, is Jones&rssquo;s sense of humor . . . Her sly, subversive wit echoes Ishmael Reed at his most sarcastic."
—Jabari Asim, The Washington Post Book World
"One of literature's finest."
—Karla Strand, Ms.
"Reading [Gayl Jones's] inventive prose and earthy dialogue is its own reward."
—Valerie Boyd, The Washington Post