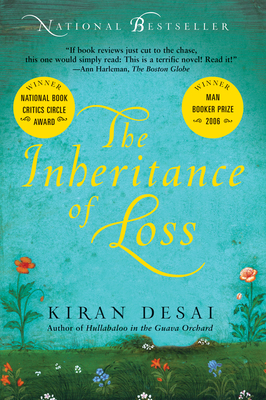 The Inheritance of Loss
Publication Date:
August 29th, 2006
Usually Ships in 2 to 14 Days
Description
In a crumbling, isolated house at the foot of Mount Kanchenjunga in the Himalayas lives an embittered judge who wants only to retire in peace, when his orphaned granddaughter, Sai, arrives on his doorstep. The judge's cook watches over her distractedly, for his thoughts are often on his son, Biju, who is hopscotching from one gritty New York restaurant to another. Kiran Desai's brilliant novel, published to huge acclaim, is a story of joy and despair. Her characters face numerous choices that majestically illuminate the consequences of colonialism as it collides with the modern world.
Praise for The Inheritance of Loss
Winner of the Man Booker Prize 2006
If book reviews just cut to the chase, this one would simply read: This is a terrific novel! Read it!" Ann Harleman, The Boston Globe
One of the most impressive novels in English of the past year, and I predict you'll read itwith your heart in your chest, inside the narrative, and the narrative inside you." Alan Cheuse, Chicago Tribune
[An] extraordinary new novellit by a moral intelligence at once fierce and tender." Pankaj Mishra, front-cover review in The New York Times Book Review
If God is in the details, Ms. Desai has written a holy book. Page after page, from Harlem to the Himalayas, she captures the terror and exhilaration of being alive in the world." Gary Shteyngart, author of Absurdistan
It's a clash of civilizations, even empires . . . The idea of an old empire, the British one collides against the nouveaux riche American one. The story ricochets between the two worlds, held together by Desai's sharp eyes and even sharper tongue. . . . This is a . . . substantial meal, taking on heavier issues of land and belonging, home and exile, poverty and privilege, and love and the longing for it." Sandip Roy, San Francisco Chronicle (front page review)
Briskly paced and sumptuously written, the novel ponders questions of nationhood, modernity, and class, in ways both moving and revelatory." The New Yorker
Editor's Choice Kiran Desai writes beautifully about powerless people as they tangle with the modern world and in so doing she casts her own powerful spell." Elizabeth Taylor, Chicago Tribune
An endearing view of globalisation . . . The Inheritance of Loss is a book about tradition and modernity, the past and the future-and about the surprising ways both amusing and sorrowful, in which they all connect. . . . A wide variety of readers should enjoy." Boyd Tonkin, The Independent (London)
Impressive . . . a big novel that stretches from India to New York; an ambitious novel that reaches into the lives of the middle class and the very poor; an exuberantly written novel that mixes colloquial and more literary styles; and yet it communicates nothing so much as how impossible it is to live a big, ambitious, exuberant life. . . .Desai's prose becomes marvelously flexible . . . always pulsing with energy." Natasha Walter, The Guardian
A magnificent novel of humane breadth and wisdom, comic tenderness and powerful political acuteness." Hermione Lee, chair of the 2006 Man Booker Prize
With her second novel, Kiran Desai has written a sprawling and delicate book, like an ancient landscape glittering in the rain. . . . Desai has a touch for alternating humor and impending tragedy that one associates with the greatest writers, and her prose is uncannily beautiful, a perfect balance of lyricism and plain speech." O: The Oprah Magazine
An astute observer of human nature and a delectably sensuous satirist. . . . Perceptive and bewitching. . . . Desai is superbly insightful in her rendering of compelling characters, and in her wisdom regarding the perverse dynamics of society. . . . Incisively and imaginatively dramatizes the wonders and tragedies of Himalayan life and, by extension, the fragility of peace and elusiveness of justice, albeit with her own powerful blend of tenderness and wit." Booklist (starred review)
Stunning . . . In this alternately comical and contemplative novel, Desai deftly shuttles between first and third worlds, illuminating the pain of exile, the ambiguities of post-colonialism and the blinding desire for a better life' when one person's wealth means another's poverty." Publishers Weekly (starred review)
[An] exceptionally talented writer . . .She doesn't falter . . . penning a book that is wise, insightful and full of wonderfully compelling and conflicted characters. . . . The Inheritance of Loss distinguishes her as a writer of note. . . . A deft and often witty commentary on cultural issues. . . . Abundant with illuminating detail and potent characters . . . With its razor insights and emotional scope The Inheritance of Loss amplifies a developing and formidable voice." Jenifer Berman, Los Angeles Times
Desai's Indian characters are exquisitely particularfunny but never quaint, full of foibles but never reduced by authorial condescension. Bittersweet, entertaining, and just shy of tragic, The Inheritance of Loss is surprisingly wise." Economist
Desai is a gorgeous writer, capable of pulling us along on a raft of sensuous images that are often beautiful not because what they describe are inherently so, but because she has shown their naked truth. It is her language that draws us in and pins us there. Elegant and brave" Sue Halpern, The New York Review of Books
In keeping with the confident touch displayed throughout this rich, beguiling tale, the final scene treats the heart to one last moment of wild, comic joyeven as it satisfies the head by refusing to relinquish the dark reality that is the life of the characters. . . . It is a work full of color and comedy, even as it challenges all to face the same heart-wrenching questions that haunt the immigrant. . . . Nothing sours the warm heart at the center of this novel. Desai is sometimes compared to Salman Rushdie, and the energy and fecundity of imagination in her works do make them somewhat akin to his. But the tenderness in her novels is all her own." Marjorie Kehe, Christian Science Monitor
"A rich, expansive work." Dintia Smith, The New York Times
Desai employs a kaleidoscopic technique to illuminate fractured lives. . . . A rich stew of ironies and contradictions. Desai's eye for the ridiculous is as keen as ever." Kirkus Reviews
Desai's descriptions and her humor make this novel of national and personal identity fascinating." Nola Theiss, Kliatt
Desai's assurance and energy keep the plot on track and bring her ambitious tale to a fittingly strong conclusion. 3 ½ stars" People
A meditative look at the conflicting bonds of love and duty." Vogue
Ambitious . . . The book's magic lies in such rich images as an Indian judge wearing a silly white wig atop a dark face in the burning heat of summer.' A-" Missy Schwartz, Entertainment Weekly
Desai shed light on the tribulations of all Indians abroad. . . . The passages about life in India are especially evocative, capturing the interplay between the country's politics and people's lives. . . . Desai's nearly painterly attention to the small, yet utterly disturbing, human details . . . sticks with the reader. . . . Details its characters' hardships head-on, and her elegant prose makes their experiences hard to forget." Reena Jana, Time Out
"Vast and vivid, full of tastes and smells, voices and accents, humor and fury. It is a captivating book." Stephanie Deutsch, The Washington Times
A tender story of a crotchety Anglophile Indian judge; his orphaned sixteen-year-old grand­
daughter, Sai; his subservient cook; and the cook's son, Biju, whose hellish passage through the dirty basements and prep kitchens of glittering New York City restaurants bleakly parallels the goings-on back home . . . [Desai's] is an incredibly unromantic vision, and seldom has an author offered so fearless a glimpse into how ordinary lives are caught up in the collision of modernity and cultural tradition." Jenny Feldman, Elle
Shimmering with honesty and humanity . . . This novel is finely accomplished." Bharti Kirchner, Seattle Times
Lush, multi-textured . . . The lyrical prose invites rumination and re-reading." Jack Reardon, Milwaukee Journal Sentinel
Impeccably beautiful the story of a modernizing India, a nation looking forward and backward at once, with its people trying to find their place in a new world of new opportunities." Geeta Sharma-Jensen, Milwaukee Journal-Sentinel
A finely textured story that mixes post-Raj dilemmas of modern India with the challenges of Indian immigrant life in New York." Carlin Romano, Philadelphia Inquirer
Desai's strength lies in her ability to capture, with humor and grace, the nuanced complexities of the characters and their times. . . . [A novel] that brings both caring and understanding." Robin Vidimos, Denver Post
Elegant . . . Desai's meditation on colonialism and identity remind us of V.S. Naipaul. . . . What distinguishes Desai is her generosity, a deeply felt sympathy for her characters. . . . A poignant reminder of how the past haunts the present." Lester Pimentel, Newark Star-Ledger
The young Desai proves her literary legacy (her mother is the inimitable Anita Desai) as she deftly unfurls piece by disparate piece the stories of each of the lost souls searching for connection." The Bloomsbury Review
"Very real and compelling main characters and a few wonderful minor ones as well. . . Desai is a confident and talented writer. Her novel is full of wisdom and subtle parallels; it is both funny and bitterly sad. . . . She is never preachy. . . or even predictable. . . . Desai has secured her place with the list of great contemporary Indian authors exploring life and society in India and elsewhere: think Salman Rushdie and Rohinton Mistry. The Inheritance of Loss is lovely and highly recommended. It is smart, witty and honesta powerfully engrossing novel." Sarah Rachel Egelman, BookReporter.com
Desai writes with assurance and lyricism about life in India, and her insights into how South Asia has been affected by America are fascinating and timely. This is an impressive, original novel from a welcome new voice in Indian fiction." Julie Hale, Bookpage
"Impressive... An exuberantly written novel that mixes colloquial and more literary styles." Guardian Weekly (UK)
Stunning" Suzanne Snider, Columbia Magazine
Entertaining and enriching . . . The reader is lured into a Graham Greene kind of literary landscape. . . . [This is a] mesmerizing and emotionally moving novel." Arthur J. Pais, India Abroad
An impressive familiarity with local customs and prejudicesOf particular note is Desai's voluptuous use of sensory detail to craft a mountainous world of fog, mist, and lush vegetation." Joanne McCarthy, Magill Book Reviews
Her achievement is considerable." Mandira Sen, Women's Review of Books
A nation's tragedies, great and small, are revealed through the hopes and the dreams, the innocence and the arrogance, the love betrayed, and the all too human failings of a superbly realized cast of characters. Kiran Desai writes of postcolonial India, of its poor as well as its privileged, with a cold eye and a warm heart. The Inheritance of Loss is an exquisite novel; mature, significant, and a first-rate read." Binnie Kirshenbaum, author of An Almost Perfect Moment