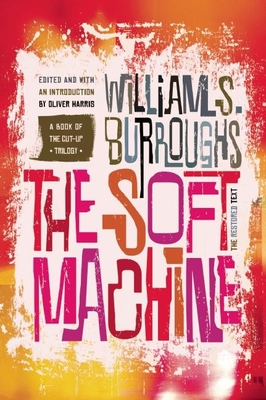 The Soft Machine: The Restored Text
Publication Date:
May 6th, 2014
The Book Tavern
1 on hand, as of Dec 1 2:19pm
(Classic Lit)
On Our Shelves Now
Description
A total assault on the powers that turn humans into machines by writing and fixing our life scripts, Burroughs' original "cut-up" book was itself rewritten in three different forms. This new edition of The Soft Machine clarifies for the first time the extraordinary history of its writing and rewriting, demolishes the myths of his chance-based writing methods, and demonstrates for a new generation the significance of Burroughs' greatest experiment. Edited from the original manuscripts by renowned Burroughs scholar Oliver Harris, this revised edition incorporates an introduction and appendices of never before seen materials.
Praise for The Soft Machine: The Restored Text
The voice in The Soft Machine is talking about time. . . . [It] slips deliberately and frequently, sometimes ironically and sometimes not . . . rattles off elliptical allusions, throws away joke after outrageous joke, shifts gear in mid-sentence, never falters. It is precisely this voicecomplex, subtle, allusivethat is the fine thing about The Soft Machine and about Burroughs."Joan Didion
One of the most interesting pieces of radical fiction we have."The Nation
[Burroughs's] great fictions [show] his superb, hard-edged satirical visions of cancerous and addictive consumerism; his elegiac and poetic invocations of sadness and dislocation; his enormous fertility of ideas and imagery." Will Self
Out of the dirt, the excrement, the couplings, Burroughs makes a disgusting, exciting poetry."Sunday Times
The author, no longer raging in obscurity with his devils, has devised a technique, the Cut Up and Pemutation. . . . Burroughs writes, and cuts, and pastes, and adds, and recuts, repastes, rearranges by hazard."The New York Times Book Review
Burroughs is the greatest satirical writer since Jonathan Swift."Jack Kerouac