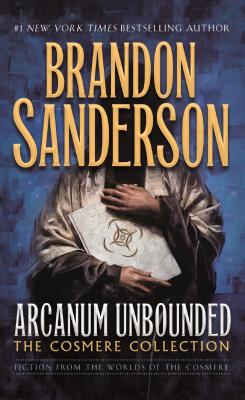 Arcanum Unbounded: The Cosmere Collection
Publication Date:
February 27th, 2018
The Book Tavern
1 on hand, as of Sep 25 11:17pm
(SciFi/Fantasy)
On Our Shelves Now
Description
An all-new 120-page Stormlight Archive novella, Edgedancer, is the crown jewel of Arcanum Unbounded: The Cosmere Collection, the first book of short fiction by #1 New York Times bestselling author Brandon Sanderson.
These wonderful works convey the expanse of the Cosmere and tell exciting tales of adventure that Sanderson fans have come to expect, including the Hugo Award-winning novella The Emperor's Soul and an excerpt from the graphic novel White Sand.
Arcanum Unbounded also contains the novella Edgedancer, a tale from the Stormlight Archive that bridges the gap between Words of Radiance and Oathbringer.
Arcanum Unbounded is an indispensable volume no Sanderson fan can do without.
Other Tor books by Brandon Sanderson
The Cosmere

The Stormlight Archive
The Way of Kings
Words of Radiance
Edgedancer (Novella)
Oathbringer
The Mistborn trilogy
Mistborn: The Final Empire
The Well of Ascension
The Hero of Ages
Mistborn: The Wax and Wayne series
Alloy of Law
Shadows of Self
Bands of Mourning
Collection
Arcanum Unbounded
Other Cosmere novels
Elantris
Warbreaker
The Alcatraz vs. the Evil Librarians series
Alcatraz vs. the Evil Librarians
The Scrivener's Bones
The Knights of Crystallia
The Shattered Lens
The Dark Talent
The Rithmatist series
The Rithmatist
Other books by Brandon Sanderson

The Reckoners
Steelheart
Firefight
Calamity
Praise for Arcanum Unbounded: The Cosmere Collection
For the Mistborn series
"Mistborn utilizes a well thought out system of magic. It also has a great cast of believable characters, a plausible world, an intriguing political system, and despite being the first book of The Final Empire, a very satisfying ending. In short, it's one of those great kettle books, in which the author has thrown not merely a bone of an idea and a few potatoes of originality, but half a cow and everything in the garden. And then added seasonings. Highly recommended to anyone hungry for a good read."—Robin Hobb
"It's rare for a fiction writer to have much understanding of how leadership works and how love really takes root in the human heart. Sanderson is astonishingly wise." —Orson Scott Card
"Sanderson is an evil genius. There is simply no other way to describe what he's managed to pull off in this transcendent final volume of his Mistborn trilogy." —RT Book Reviews (Gold Medal, Top Pick!) on The Hero of Ages

"He has created a fascinating world here."—Washington Post Bookworld
"Mistborn is a[n] . . . enjoyable, adventurous read . . . [it] should satisfy."—Locus
"The action never lets up, and the characters never lose their endearing humanity.... A fast-paced fantasy adventure set in a fascinating world and populated with lovable, memorable characters." —Kirkus Reviews, on Shadows of Self
"Sanderson's fantasy world partakes equally of steampunk, early industry, and the Wild West, and he cleverly incorporates the metal-shaping magic of feruchemists and allomancers. Fantasy fans will savor this exciting escapade." —Publishers Weekly, on Shadows of Self
"Fast, smart dialog and an abundance of exciting action keep the pages turning." —Library Journal, starred review, on Shadows of Self
"Intrigue, politics, and conspiracies mesh complexly in a world Sanderson realizes in satisfying depth and peoples with impressive characters."—Booklist, on The Well of Ascension
"This mystico-metallurgical fantasy combines Vin's coming-of-age-in-magic and its well-worm theme of revolt against oppression with copious mutilations, a large-scale cast of thieves, cutthroats, conniving nobles and exotic mutants." —Publishers Weekly, on The Well of Ascension
For the Stormlight Archive
"I loved this book. What else is there to say?" —Patrick Rothfuss, New York Times bestselling author of The Name of the Wind, on The Way of Kings
"While the recent HBO adaptation of George R.R. Martin's "Game of Thrones" has revitalized the epic fantasy genre, Sanderson brings enough new material to the epic fantasy format to keep it interesting… Sanderson will not disappoint." —Vanguard Dohlenaga, on The Way of Kings
"Promising beginning to a hew high-fantasy series. This great big book pulled me in early on the strength of the world building, but the nicely drawn characters drew me in further for enjoyment . . .and anticipation of the next volume."—The San Diego Union-Tribune, on The Way of Kings
"It's a classic story of intrigue, magic, and war, with a large cast of characters and multiple settings lovingly detailed in a way only possible in volumes of this size. Readers will plunge into it."—Booklist, on The Way of Kings
"Sanderson's fondness for misleading the reader and his talent for feeding out revelations and action scenes at just the right pace will keep epic fantasy fans intrigued."—Publishers Weekly, on The Way of Kings
"Sanderson is, if nothing else, absolutely amazing at worldbuilding."—RT Book Reviews, on The Way of Kings
"This is a great choice for fans of Robert Jordan and Terry Brooks." —Voice of Youth Advocates, on The Way of Kings
"The best part…is the compelling, complex story of Dalinar, Kaladin, and Shallan as they struggle though emotional, physical, and moral challenges. Fans and lovers of epic fantasy…will eagerly await the next volume." —Library Journal, on The Way of Kings
"I give this book my highest recommendation and think The Way of Kings will be one of those landmark novels of Epic Fantasy against which future novels will always be measured. "—SFFworld.com, Rob. H. Bedford, on The Way of Kings

For Elantris
"The intrigue and excitement grow steadily in this smoothly written, perfectly balanced narrative; by the end readers won't want to put it down....Sanderson is a writer to watch."—Publishers Weekly, starred review
"While every new fantasy author is hailed as unique, new, and different, Brandon Sanderson's Elantris does indeed provide an absorbing adventure in a unique, different, and well-thought-out fantasy world, with a few nifty twists as well."—L. E. Modesitt, Jr.
"Brandon Sanderson is the real thing--an exciting storyteller with a unique and powerful vision. Elantris is one of the finest debuts I've seen in years."—David Farland
"Brandon Sanderson's Elantris is a marvelous, magic monster of a book, packed full of intrigue and daring, based around a killer high concept. When the city of the gods becomes a city of the damned, who and what do you believe in? The story twists and turns, characters bait traps for one another as they vie for secular and religious power, and no one is necessarily who or what they seem. Royal houses rise and fall, the fate of all Humanity is in the balance, and maybe, just maybe... the gods are coming back. All this and a genuinely touching love story too. Elantris, the book that put epic back into fantasy."—Simon R. Green, the NY Times bestselling author of the Deathstalker, Nightside, and Hawk & Fisher series
"Elantris, Brandon Sanderson's excellent debut novel, is marked by vivid and strongly drawn characters (including a memorable female character) and ingenious plot twists that will keep the reader turning pages. Don't miss it!"—Katherine Kurtz