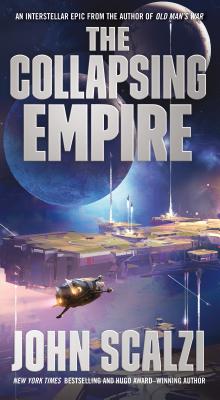 The Collapsing Empire (The Interdependency #1)
Publication Date:
January 2nd, 2018
Publisher:
Tor Science Fiction
The Book Tavern
1 on hand, as of Dec 1 2:19pm
(SciFi/Fantasy)
On Our Shelves Now
Description
*2018 LOCUS AWARD WINNER OF BEST SCIENCE FICTION NOVEL*
*2018 HUGO AWARD FINALIST FOR BEST NOVEL*

"John Scalzi is the most entertaining, accessible writer working in SF today." —Joe Hill, author of The Fireman

The first novel of a new space-opera sequence set in an all-new universe by the Hugo Award-winning, New York Times-bestselling author of Redshirts and Old Man's War

Our universe is ruled by physics. Faster than light travel is impossible—until the discovery of The Flow, an extradimensional field available at certain points in space-time, which can take us to other planets around other stars.
Riding The Flow, humanity spreads to innumerable other worlds. Earth is forgotten. A new empire arises, the Interdependency, based on the doctrine that no one human outpost can survive without the others. It's a hedge against interstellar war—and, for the empire's rulers, a system of control.
The Flow is eternal—but it's not static. Just as a river changes course, The Flow changes as well. In rare cases, entire worlds have been cut off from the rest of humanity. When it's discovered that the entire Flow is moving, possibly separating all human worlds from one another forever, three individuals—a scientist, a starship captain, and the emperox of the Interdependency—must race against time to discover what, if anything, can be salvaged from an interstellar empire on the brink of collapse.
"Fans of Game of Thrones and Dune will enjoy this bawdy, brutal, and brilliant political adventure" —Booklist on The Collapsing Empire
"Political plotting, plenty of snark, puzzle-solving, and a healthy dose of action...Scalzi continues to be almost insufferably good at his brand of fun but think-y sci-fi adventure." —Kirkus Reviews on The Collapsing Empire
"Scalzi is one of the slickest writers that SF has ever produced." —The Wall Street Journal on The Human Division
The Interdependency Series
1. The Collapsing Empire
2. The Consuming Fire
Praise for The Collapsing Empire (The Interdependency #1)
Praise for The Collapsing Empire

"Provocative and unexpected." —The Wall Street Journal
"Scalzi has constructed a thrilling novel so in tune with the flow of politics that it would feel relevant at almost any time." —Entertainment Weekly, Grade B+
"Scalzi builds a fascinating new interstellar civilization in order to destroy it....[The Collapsing Empireis] amusing escapism full of guts and brains." —Ars Technica
"Scalzi mixes science, history, and politics with sharp action and intriguing characters. Readers will be thrilled to take another wild ride across the universe with the author of the "Old Man's War" series." —Library Journal, starred review
"Fans of Game of Thrones and Dune will enjoy this bawdy, brutal, and brilliant political adventure" —Booklist
"Scalzi continues to be almost insufferably good at his brand of fun but think-y sci-fi adventure." —Kirkus Reviews
Praise for John Scalzi

"As much as Scalzi has the scientific creativity of Michael Crichton, he also has the procedural chops of a Stephen J. Cannell to craft a whodunit with buddy-cop charm and suspects aplenty–most of them in someone else's body."­­ —USA Today on Lock In
"If anyone stands at the core of the American science fiction tradition at the moment, it is Scalzi." —The Encyclopedia of Science Fiction, Third Edition
"Plenty of action, great character development, vivid and believable world-building, and a thought-provoking examination of disability culture and politics. . . . Yet more evidence that Scalzi is a master at creating appealing commercial fiction." —Kirkus Reviews (starred review) on Lock In