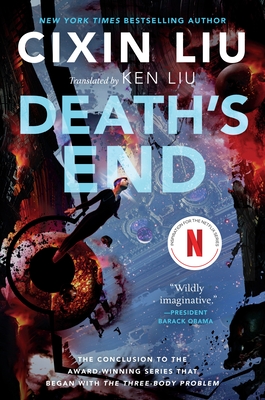 Death's End (The Three-Body Problem Series #3)
Publication Date:
September 5th, 2017
The Book Tavern
1 on hand, as of Dec 9 11:18pm
(SciFi/Fantasy)
On Our Shelves Now
Description
Soon to be a Netflix Original Series!
"The War of the Worlds for the 21st century… packed with a sense of wonder." – Wall Street Journal
The New York Times bestselling conclusion to a tour de force near-future adventure trilogy from China's bestselling and beloved science fiction writer.
With The Three-Body Problem, English-speaking readers got their first chance to read China's most beloved science fiction author, Cixin Liu. The Three-Body Problem was released to great acclaim including coverage in The New York Times and The Wall Street Journal and reading list picks by Barack Obama and Mark Zuckerberg. It was also won the Hugo and Nebula Awards, making it the first translated novel to win a major SF award.
Now this epic trilogy concludes with Death's End. Half a century after the Doomsday Battle, the uneasy balance of Dark Forest Deterrence keeps the Trisolaran invaders at bay. Earth enjoys unprecedented prosperity due to the infusion of Trisolaran knowledge. With human science advancing daily and the Trisolarans adopting Earth culture, it seems that the two civilizations will soon be able to co-exist peacefully as equals without the terrible threat of mutually assured annihilation. But the peace has also made humanity complacent.
Cheng Xin, an aerospace engineer from the early twenty-first century, awakens from hibernation in this new age. She brings with her knowledge of a long-forgotten program dating from the beginning of the Trisolar Crisis, and her very presence may upset the delicate balance between two worlds. Will humanity reach for the stars or die in its cradle?

The Three-Body Problem Series
The Three-Body Problem
The Dark Forest
Death's End
Other Books
Ball Lightning
Supernova Era
To Hold Up The Sky (forthcoming)
Praise for Death's End (The Three-Body Problem Series #3)
"Wildly imaginative, really interesting." —President Barack Obama on the Three-Body Problem trilogy
"A breakthrough book . . . a unique blend of scientific and philosophical speculation, politics and history, conspiracy theory and cosmology." —George R. R. Martin, on The Three Body Problem
"Extraordinary." —The New Yorker, on The Three Body Problem
"Remarkable, revelatory and not to be missed." —Kirkus Reviews, starred review, on The Three Body Problem
"A must-read in any language." —Booklist, on The Three Body Problem
"A meditation on technology, progress, morality, extinction, and knowledge that doubles as a cosmos-in-the-balance thriller.... a testament to just how far [Liu's] own towering imagination has taken him: Far beyond the borders of his country, and forever into the canon of science fiction. —NPR, on Death's End
"The best kind of science fiction, familiar but strange all at the same time." —Kim Stanley Robinson, on The Three Body Problem