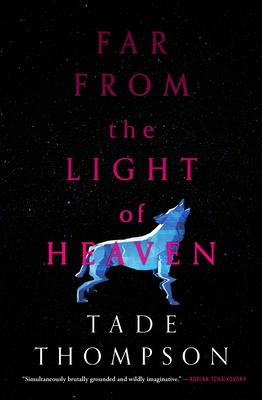 Far from the Light of Heaven
Publication Date:
October 26th, 2021
The Book Tavern
2 on hand, as of Dec 1 2:19pm
(SciFi/Fantasy)
On Our Shelves Now
Description
"Simultaneously brutally grounded and wildly imaginative." —Adrian Tchaikovsky, Arthur C. Clarke Award winner
A tense and thrilling vision of humanity's future in the chilling emptiness of space from rising giant in science fiction, Arthur C. Clarke Award winner Tade Thompson
The colony ship Ragtime docks in the Lagos system, having traveled light-years to bring one thousand sleeping souls to a new home among the stars. But when first mate Michelle Campion rouses, she discovers some of the sleepers will never wake.
Answering Campion's distress call, investigator Rasheed Fin is tasked with finding out who is responsible for these deaths. Soon a sinister mystery unfolds aboard the gigantic vessel, one that will have repercussions for the entire system—from the scheming politicians of Lagos station, to the colony planet Bloodroot, to other far-flung systems, and indeed to Earth itself.
Praise for Far from the Light of Heaven
"Gripping and skillfully told, with an economy and freshness of approach that is all Tade Thompson''s own. The setting is interstellar, but it feels as real, immediate, and lethal as today's headlines." —Alastair Reynolds
"[I]nventive, exciting and compulsively readable...This book is like the Tardis, larger inside than out, with a range of ideas, characters, and fascinating future settings making it probably the best science fiction novel of the year." —The Guardian
For more from Tade Thompson, check out:
The Wormwood Trilogy
Rosewater
Rosewater: Insurrection
Rosewater: Redemption
Praise for Far from the Light of Heaven
"Gripping and skillfully told, with an economy and freshness of approach that is all Tade Thompson''s own. The setting is interstellar, but it feels as real, immediate, and lethal as today's headlines. Whatever he does next, it's bound to be  interesting."—Alastair Reynolds
"This character-driven, locked-room murder mystery set in space is as intriguing as the title… With aliens, androids, too-curious politicians, and a rogue AI, this new novel from Thompson manages to be both a romp and a puzzle."—Buzzfeed
"Simultaneously brutally grounded and wildly imaginative. The twists keep on coming."—Adrian Tchaikovsky, Arthur C. Clarke Award winner
"[A]n intriguing mix of real space science and mystery: It's "Gravity" meets "The Murders in the Rue Morgue"....completely engrossing." —New York Times
"[I]nventive, exciting and compulsively readable...This book is like the Tardis, larger inside than out, with a range of ideas, characters and fascinating future settings making it probably the best science fiction novel of the year."—The Guardian
"This energetic thriller features compelling characters, believable space logistics, dreadful consequences, and horror leavened by humor."—Booklist
"A real treat. It's a gripping space opera with the characters fighting for their lives aboard a dying starship. I enjoyed it so much and can't wait to see what he does next."—Martha Wells, New York Times bestselling author
"[A] book brimming with big ideas, imaginative flair, and memorable characters."
 —Locus
"Inventive. Thompson's appealing take on long-distance space travel, subversion of typical AI tropes, tender characterization, and cleverly constructed suspense makes this worthwhile fare. Readers looking for a smart sci-fi mystery should snap this up."—Publishers Weekly
Previous praise for Tade Thompson:
"Smart. Gripping. Fabulous!" --- Ann Leckie, award winning-author of Ancillary Justice on Rosewater
"Mesmerising. There are echoes of Neuromancer and Arrival in here, but this astonishing debut is beholden to no one." --- M. R. Carey, bestselling author of The Girl with all the Gifts on Rosewater
"A magnificent tour de force, skillfully written and full of original and disturbing ideas." --- Adrian Tchaikovsky, Arthur C. Clarke Award winning author of Children of Time on Rosewater
"A sharply satirical, ingenious thriller about an alien invasion that's disturbing familiar. Tade Thompson has built a fascinating world that will suck you in and keep you guessing. This book will eat you alive, and you'll like it." --- Annalee Newitz, author of Autonomous on Rosewater
"Part thriller, part mystery and part phantasmagoric journey across a strange yet not-too-distant future, and reminiscent at times of both Roger Zelazny and Nnedi Okorafor, Rosewater is the hardboiled, Nigerian alien invasion story you always wanted." --- Lavie Tidhar, award winning author of Central Station