Discounted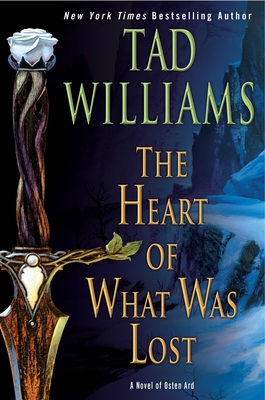 The Heart of What Was Lost (Osten Ard)
Previous price:

$18.00
Current price:

$15.00
Publication Date:
January 2nd, 2018
Usually Ships in 2 to 14 Days
Description
New York Times-bestselling Tad Williams' ground-breaking epic fantasy saga of Osten Ard begins an exciting new cycle! 
 
The perfect introduction to the epic fantasy world of Osten Ard, The Heart of What Was Lost is Tad Williams' follow-up to his internationally bestselling landmark trilogy. Osten Ard inspired a generation of modern fantasy writers, including George R.R. Martin, Patrick Rothfuss, and Christopher Paolini, and defined Tad Williams as one of the most important fantasy writers of our time. 




 
A NOVEL OF OSTEN ARD
 
At the end of Memory, Sorrow, and Thorn, Ineluki the Storm King, an undead spirit of horrifying, demonic power, came within moments of stopping Time itself and obliterating humankind. He was defeated by a coalition of mortal men and women joined by his own deathless descendants, the Sithi.
In the wake of the Storm King's fall, Ineluki's loyal minions, the Norns, dark cousins to the Sithi, choose to flee the lands of men and retreat north to Nakkiga, their ancient citadel within the hollow heart of the mountain called Stormspike. But as the defeated Norns make their way to this last haven, the mortal Rimmersman Duke Isgrimnur leads an army in pursuit, determined to end the Norns' attacks and defeat their ageless Queen Utuk'ku for all time.
Two southern soldiers, Porto and Endri, joined the mortal army to help achieve this ambitious goal—though as they venture farther and farther into the frozen north, braving the fierce resistance and deadly magics of the retreating Norns, they cannot help but wonder what they are doing so very far from home. Meanwhile, the Norns must now confront the prospect of extinction at the hands of Isgrimnur and his mortal army.
Viyeki, a leader of the Norns' military engineers, the Order of Builders, desperately seeks a way to help his people reach their mountain—and then stave off the destruction of their race. For the two armies will finally clash in a battle to be remembered as the Siege of Nakkiga; a battle so strange and deadly, so wracked with dark enchantment, that it threatens to destroy not just one side but quite possibly all.
Trapped inside the mountain as the mortals batter at Nakkiga's gates, Viyeki the Builder will discover disturbing secrets about his own people, mysteries both present and past, represented by the priceless gem known as The Heart of What Was Lost.
 
Praise for Osten Ard:
 
"Inspired me to write my own seven-book trilogy.... It's one of my favorite fantasy series."
—George R. R. Martin, New York Times-bestselling author of The Game of Thrones
 
"Groundbreaking...changed how people thought of the genre, and paved the way for so much modern fantasy. Including mine."
—Patrick Rothfuss, New York Times-bestselling author of The Name of the Wind
 
"Tad Williams is a master storyteller, and the Osten Ard books are his masterpiece." —Brandon Sanderson, New York Times-bestselling author of Mistborn
"Memory, Sorrow, and Thorn is one of the great fantasy epics of all time."
—Christopher Paolini, New York Times-bestselling author of Eragon
Praise for The Heart of What Was Lost (Osten Ard)
Praise for Tad Williams:
"Inspired me to write my own seven-book trilogy.... It's one of my favorite fantasy series." —George R. R. Martin, New York Times-bestselling author of A Game of Thrones
 
"Groundbreaking.... Changed how people thought of the genre, and paved the way for so much modern fantasy. Including mine." —Patrick Rothfuss, New York Times-bestselling author of The Name of the Wind
 
"Tad Williams is a master storyteller, and the Osten Ard books are his masterpiece. Williams' return to Osten Ard is every bit as compelling, deep, and fully-rendered as the first trilogy, and he continues to write with the experience and polish of an author at the top of his game." —Brandon Sanderson, New York Times-bestselling author of Mistborn
"Memory, Sorrow, and Thorn is one of the great fantasy epics of all time." —Christopher Paolini, New York Times-bestselling author of Eragon
 
"Readers who delight in losing themselves in long complex tales of epic fantasy will be in their element here, and there is the promise of much more to come in future volumes." —Locus
 
"Panoramic, vigorous, often moving.... Williams adroitly weaves together the tales...heralding a suitably epic and glorious conclusion." —Publishers Weekly
"Highly recommended. [Williams] draws on many mythologies for the background of his fantasy epic...story spiced with political intrigue and strong appealing heroes." —Library Journal
"That Williams has turned this functional little tome into a gem unto itself not only speaks to his enduring talent as a spinner of fantasy, but to the durability of Osten Ard itself — an awesome, immersive realm well worth revisiting all these years later." —NPR
"The Heart Of What Was Lost feels like a long-lost epilogue to the trilogy—Williams writes as though he never left Osten Ard at all." —B&N Sci-Fi Fantasy Blog
 
"A grand fantasy on a scale approaching Tolkien's The Lord of the Rings." —Cincinnati Post