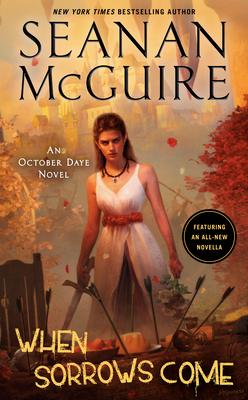 When Sorrows Come: An October Daye Novel
Publication Date:
August 2nd, 2022
The Book Tavern
2 on hand, as of Dec 8 11:19am
(SciFi/Fantasy)
On Our Shelves Now
Description
Toby's getting married! Now in paperback, the fifteenth novel of the Hugo-nominated, New York Times-bestselling October Daye urban fantasy series.
It's hard to be a hero. There's always something needing October "Toby" Daye's attention, and her own desires tend to fall by the wayside in favor of solving the Kingdom's problems. That includes the desire to marry her long-time suitor and current fiancé, Tybalt, San Francisco's King of Cats. She doesn't mean to keep delaying the wedding, it just sort of...happens. And that's why her closest friends have taken the choice out of her hands, ambushing her with a court wedding at the High Court in Toronto. Once the High King gets involved, there's not much even Toby can do to delay things...
...except for getting involved in stopping a plot to overthrow the High Throne itself, destabilizing the Westlands entirely, and keeping her from getting married through nothing more than the sheer volume of chaos it would cause. Can Toby save the Westlands and make it to her own wedding on time? Or is she going to have to choose one over the other?
Includes an all-new bonus novella!
Praise for When Sorrows Come: An October Daye Novel
Praise for the October Daye series
New York Times and USA Today bestselling series
"The top of my urban-paranormal series list! I am so invested in the worldbuilding and the characters.... The romance is real and awesome, but doesn't overshadow the adventure." —Felicia Day
"The 13th outing for Daye is just as fresh and exciting as the first. McGuire has built a complex world, where seemingly loose ends are woven tightly into the series. Highly recommended." —Library Journal (starred)
"October has evolved from an embittered loner into a fierce protector of her chosen family, making for a richly emotional tale filled with series-standard fare of adventure, intrigue, and blood-soaked mayhem." —Publishers Weekly
"The worldbuilding in this series has astonishing depth, and Night and Silence is no exception—12 books in, McGuire is still giving readers fascinating new pieces of the Faerie puzzle." —Booklist
"I can't believe McGuire can come up with another adventure as riveting as this one. But then I say that after every book in this series." —SFRevu
"McGuire has never lacked for courage in her writing.... The phenomenally inventive October Daye series showcases her narrative daring and ingenuity beautifully." —RT Reviews
"Prepare to be dazzled.... Like the best of urban fantasy, with each reveal and mystery solved, Toby's world grows ever more enticing. As seductive as Faerie itself, this is one series I could never give up." —All Things Urban Fantasy
"These books are like watching half a season of your favorite television series all at once.... More than anything else, it's the fun of it all that's kept me returning to McGuire's books and to this series." —SF Signal 
"The plot is strong, the characterization is terrific, the tragedies hurt...and McGuire's usual beautiful writing and dark humor are present and accounted for. This has become one of my favorite urban fantasy series." —Fantasy Literature